'The Bachelorette' Week 8 Preview Teases a Major Exit Around Hometowns and a Dramatic 'Men Tell All' Episode
It's all going down next week on The Bachelorette Season 17 with Katie Thurston's Hometown Dates and the cast reunion special episode. So what can Bachelor Nation fans expect moving forward? Luckily, ABC dropped a new Bachelorette week 8 preview to tease what happens ahead of Hometowns and "Men Tell All" on July 26.
[Spoiler alert: This article contains spoilers from The Bachelorette Season 17 Weeks 7 and 8.]
Who went home in 'The Bachelorette' Week 7? Who is left and going to Hometowns?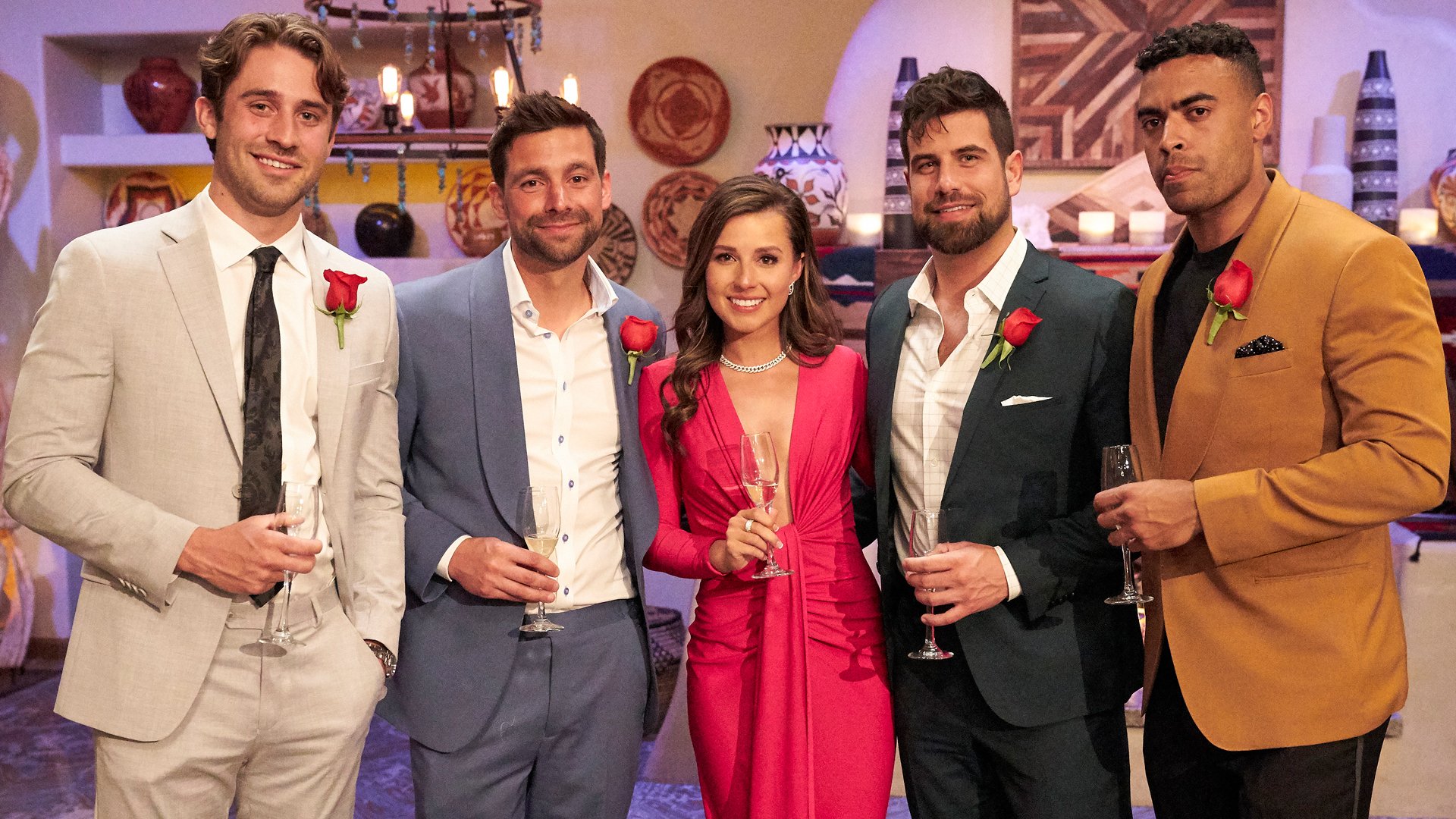 Katie sent three men home in The Bachelorette Season 17 Week 7. The current lead let Brendan Scanzano go during a private conversation. She also eliminated Mike Planeta after the day portion of their one-on-one date.
Meanwhile, Katie sent Andrew Spencer packing at the final four rose ceremony. Then when the exes reunited the following day, Katie asked Andrew S. to come back. But in the end, the contestant turned down her offer and left the show.
Now, there are four men left going into week 8 of The Bachelorette, aka the week of Hometowns. So Katie is hoping to meet the families of Michael Allio, Blake Moynes, Greg Grippo, and Justin Glaze. However, there seems to be some trouble on the horizon.
'The Bachelorette' Week 8 preview highlights Katie Thurston's Hometowns
The first half of The Bachelorette Week 8 preview focuses on Hometowns and Katie's connection with her final four suitors. At the start of the promo, Katie gets some advice from co-host Tayshia Adams.
"I haven't admitted to anybody that I'm in love with them," Katie says.
Then Tayshia encourages the bachelorette to go for it. "If you feel it, say it," Tayshia says.
Meanwhile, it's clear Katie's contestants need some reassurance. When speaking with Bachelorette producers, Greg is seemingly frustrated that Katie hasn't fully confessed her feelings.
"I'm introducing her to my family tomorrow, but she hasn't told me she's falling in love with me yet," Greg says.
Justin also admits he hasn't told Katie he loves her. But he seems confident there's "still time" left. Then Michael A. says he feels "conflicted" and is "at war with himself." Blake seems to be in the same boat, questioning whether he really understands the depth of Katie's connections with the other men. 
"Is she thinking about one or two guys over another? You think you know, and then you just don't," Blake says in a voiceover.
Then Greg adds, "You wanna feel like you're the only one, but you're not."
Finally, the Hometowns segment of The Bachelorette Week 8 promo wraps with a few words from Katie. But it doesn't look like good news, as the lead hints at an early exit.
"All I'm looking for is to be in love and find my person, and it's very possible that my person just left," Katie says through tears.
'The Bachelorette' Week 8 promo trailer teases what's next for 'Men Tell All'
Clearly, there's plenty of drama when Katie heads to Hometowns in week 8 of The Bachelorette. Now, it looks like more is on the way in the "Men Tell All" special. 
Unfortunately, the promo doesn't show any new clips of the cast reunion. However, The Bachelor franchise promises fans a "Men Tell All" episode unlike any other. 
The Bachelorette trailer also reveals which contestants are likely to appear, including fan-favorites Tre Cooper and Connor Brennan. Of course, season villains, such as Thomas Jacobs and Hunter Montgomery, are also featured. 
Meanwhile, ABC recently released the synopsis for The Bachelorette Season 17 Week 8. The description for the July 26 episode suggests the "Men Tell All" will take center stage. But before the cast reunion, viewers will watch a contestant experience an "emotional realization" that will result in a "heartbreakingly honest conversation with Katie." 
There's also no mention of Hometowns. But the new episode will include a sneak peek at the last two episodes of The Bachelorette Season 17. So get ready. Katie's journey is coming to an end, and it's going to be wild.The Bachelorette Season 17 with Katie Thurston airs Monday nights on ABC.