'The Bachelorette' Week 9 Preview Teases Hometowns and Heartbreak for Katie Thurston Ahead of Her Finale
We're nearing the end of The Bachelorette Season 17 with Katie Thurston, but it looks like there's major heartbreak surrounding Hometowns in the week 9 episode. On Aug 2., the lead will finally meet the families of her final three men. But from the looks of The Bachelorette Week 9 preview, things may not end well for Katie and one of her suitors. Here's a breakdown of all the clues in the new promo trailer.
[Spoiler alert: This article contains spoilers from The Bachelorette Season 17 Weeks 8 and 9.]
Who makes it to Hometowns in 'The Bachelorette' Season 17 Week 9?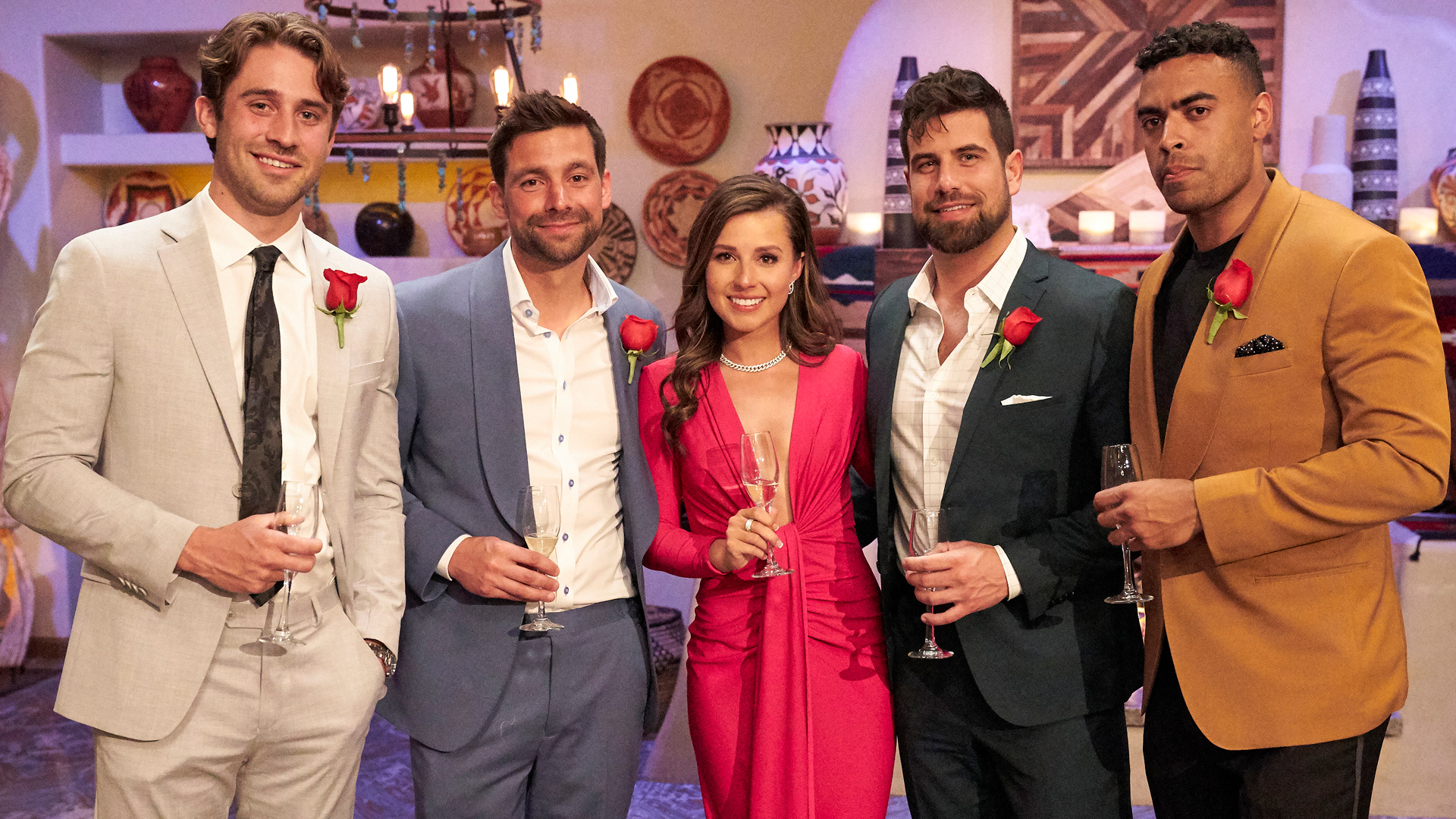 In The Bachelorette Week 8 on July 26, Michael Allio self-eliminated, and he went home to his son, James. Katie was heartbroken. However, she understood the decision. 
"It just doesn't feel right. Our connection is still there, and our connection is unexplored," Katie said. "It's just hard to know the impact of him leaving right now. Michael is someone I saw myself walking away with. … I know his decision is the best decision for his family."
Meanwhile, Michael and Katie reunited during the "Men Tell All" reunion. Michael made it clear he still had feelings for the bachelorette. However, Katie suggested that the door was closed, noting her ending happened the way it was supposed to.
Now, Katie is headed to Hometowns with Justin Glaze, Blake Moynes, and Greg Grippo in The Bachelorette Season 17 Week 9. And it seems the drama is just getting started.
'The Bachelorette' Week 9 preview highlights Hometowns for Greg Grippo, Blake Moynes, and Justin Glaze
It's clear how invested Katie, Greg, Justin, and Blake are in The Bachelorette Week 9 preview. The teaser opens with romantic shots as the men confess their feelings for Katie. Then the bachelorette shares how she feels about Hometown Dates and the rest of her journey. 
"I came here to fall in love, and not just any kind of love. But the forever kind," Katie says in a voiceover. "I  have three great guys. Saying 'I love you' is something I've chosen to keep private. I don't want to tell one guy I love him until the very end. Now, we're going into Hometowns, and meeting someone's family is huge."
Finally, the promo trailer jumps to Hometowns. Blake's mom tells Katie that her son is smitten. Katie reveals that Justin was the first one to kiss her on night one. Greg also gets emotional on his Hometown Date, and his mom tells Katie she's worried her son will eventually leave heartbroken. Then Katie gets really honest.
"At the end of this, everybody gets hurt except one man," Katie says.
This moment jumps straight into the drama between Katie and Greg. The contestant reveals he's "falling so hard" for the bachelorette. However, he's "sick to his stomach" when he thinks about the other men. Later, Greg is worried because he senses "something isn't right" with Katie. He's also spotted trying to escape Bachelorette producers at the resort.
Meanwhile, Blake and Justin seem to stress out about expressing their feelings. Blake's family encourages him to tell Katie he loves her. Then Justin says there's "still time" to tell Katie how he feels. But his friend reminds him there are only two weeks left.
Does Katie Thurston quit 'The Bachelorette' Season 17 before she picks someone?
The Bachelorette Season 17 Week 9 preview also highlights how serious Katie is about ending her journey with an engagement. At one point in the teaser, someone says they don't know how Katie will recover without a proposal in the finale. Then the teaser suggests something unexpected happens to derail her plans, as the bachelorette admits she "doesn't know what to believe in anymore."
Meanwhile, Katie seemingly tries to quit her Bachelorette journey. While wearing a dark blue top, the lead says she's "done" as she storms through the resort's courtyard. Then when speaking with co-host Kaitlyn Bristowe, Katie says everything is "blowing up" in her face. She also asks for someone to book her flight home.
Now, it seems The Bachelorette team might've already teased who sparks Katie's "I'm done" moment. In the season 17 blooper reel, Katie and Greg are seen together, and the lead is wearing the same dark blue top. Greg is also dressed in the same outfit he was wearing while trying to get away from Bachelorette producers. But whatever the case, it doesn't look like the blowup with make Katie quit the show.
In an interview with Us Weekly from June 2021, Katie revealed that she would have left if not for Kaitlyn and Tayshia Adams. 
"At that moment, I was at my lowest and really wanted to leave," Katie said. "If it wasn't for the amazing women who have been bachelorettes before helping me navigate that, I probably would have. And so I'm so thankful for all of them."
Whether Katie's season of The Bachelorette ends with an engagement, there's plenty of drama ahead. So get ready. The grand finale is coming up in two weeks.
The Bachelorette Season 17 airs Monday nights on ABC.