'The Bachelorette': When Will Zac Clark and Tayshia Adams Get Married? The Reality Stars Teased Their Wedding Plans
'The Bachelorette' Season 16 stars Tayshia Adams and Zac Clark open up about getting married, wedding plans, and their thoughts on kids.
When Tayshia Adams picked Zac Clark in The Bachelorette Season 16 finale, Bachelor Nation fans started to look toward the couple's future. So when will Clark and Adams get married? The former reality stars recently teased their potential plans. But don't expect a massive televised wedding anytime soon.
Zac Clark and Tayshia Adams are happily engaged after 'The Bachelorette' Season 16
There's no denying the spark between Clark and Adams on The Bachelorette Season 16. The reality stars slowly opened up to one another and shared their expectations beyond The Bachelor bubble. Then by the finale, both Clark and Adams realized they were in love. 
Before the final rose ceremony, Adams eliminated runner-up Ben Smith. Then Clark proposed to Adams — and she accepted. 
"The other night when we were talking, we spoke about this idea of someone choosing you, and I can't picture another day, another moment without you in my life," Clark said. "If you let me, I'm gonna choose you right now, I'm gonna choose you tomorrow morning, I'm gonna choose you next week, and next year. I'm gonna choose you forever because I love you. Marry me."
Zac Clark and Tayshia Adams share future marriage and wedding plans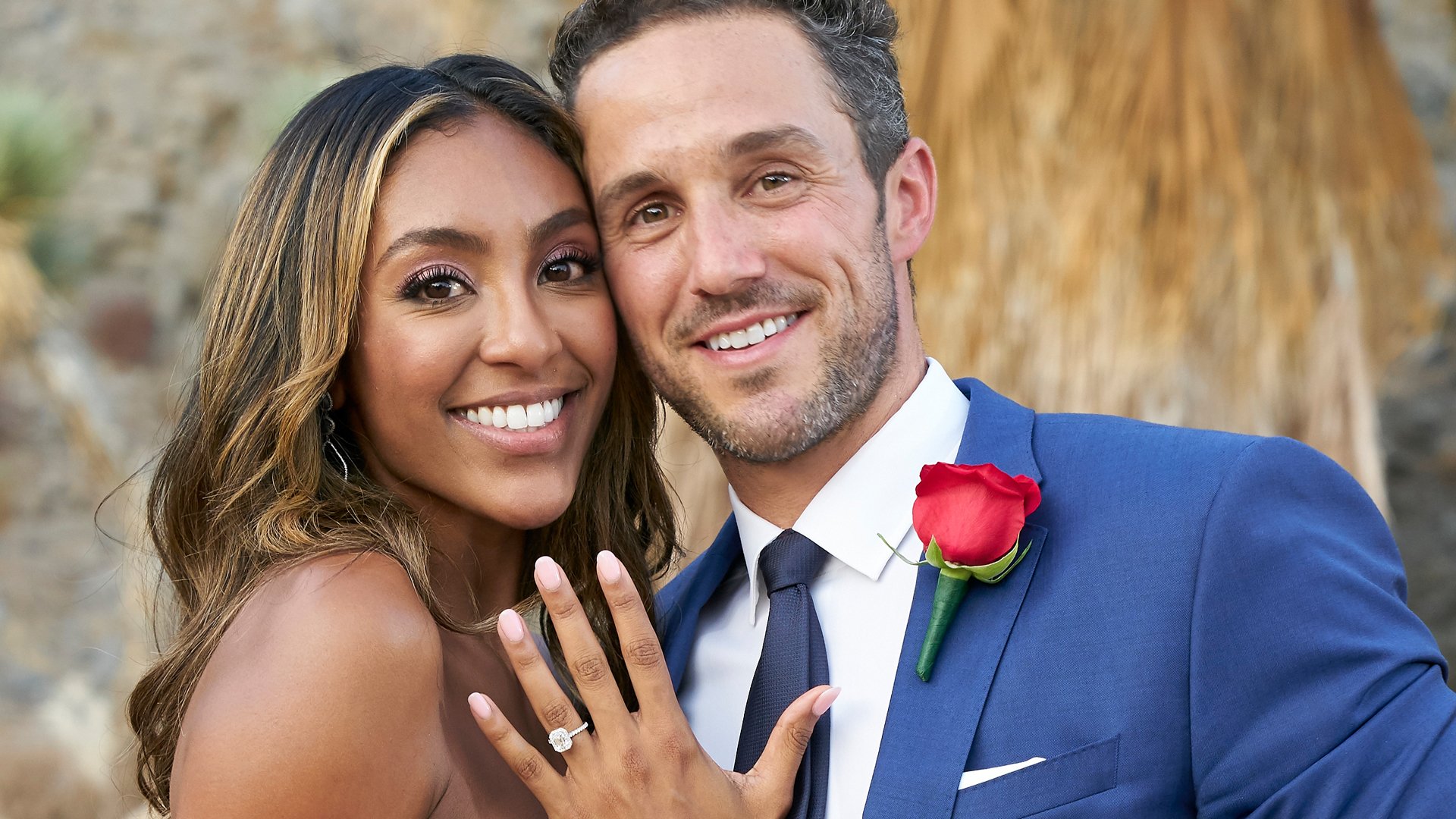 While The Bachelorette Season 16 did not give fans the "After the Final Rose" special Adams and Clark deserved, they were given other opportunities to update viewers on their relationship and future plans together. In an interview with Good Morning America from December 2020, Clark and Adams were asked whether they were planning a long engagement or gearing up for a big wedding. For now, it seems the couple will focus on dating. But even so, Clark admitted he wants to throw a big event.
"We're just going with the flow at the moment," Adams said. "We're just gonna date each other."
Then Clark added, "I want a big wedding when the day does come. She might think differently and she's gonna get what she wants. But I wanna date you. You know? I wanna date you and take you out and all those things."
Meanwhile, Adams revealed when she might tie the knot with Clark in the Jan. 7 episode of the Click Bait with Bachelor Nation podcast. 
"Honestly, if it was up to Zac, we would be married already. He's ready to go," Adams said. "I'm gonna slow date him now. We're gonna take it kinda slow for a hot minute. I'm doing the whole bicoastal thing. That'll be fun. We'll probably get married in a year or so. Give us a year. Not 2021, maybe 2022."
'The Bachelorette' stars Tayshia Adams and Zac Clark discuss kids and the future of their family
While Bachelor Nation fans patiently wait for Adams and Clark to set a wedding date, The Bachelorette stars are planning their future together. As Adams mentioned, she will be bicoastal, as she lives in California while her fiancé resides in New York. But when speaking with Entertainment Tonight, Clark and Adams revealed they've already spoken about settling down on one coast. 
Meanwhile, in an interview with People, Adams revealed why she isn't in a rush when it comes to marriage and kids. 
"We already have this," the bachelorette said, pointing to her engagement ring. "I'm not going anywhere. He's not going anywhere. It's an amazing sense of security that we don't really have to worry about. I just want to be dated, and he asked me for the same thing. So we're just going to have fun for the next year."
That said, Clark joked that Adams wanted "17 children" and they'd have to "get to work" to meet the goal. Then Adams laughed and responded, "In a perfect world, I would love to have five children — and he didn't shy away from that."
Clark added, "Let's go!"
The Bachelor Season 25 airs Monday nights on ABC.