Bad Bunny and J Balvin – Which Reggaeton Singer Has A Higher Net Worth?
Find out which reggaeton star has a higher net worth: Bad Bunny or J Balvin?
The Super Bowl halftime show over two weeks ago was Jennifer Lopez and Shakira's night to shine, showcasing Latin music and culture. The Puerto Rican and Colombian superstars' performances had been anticipated for months.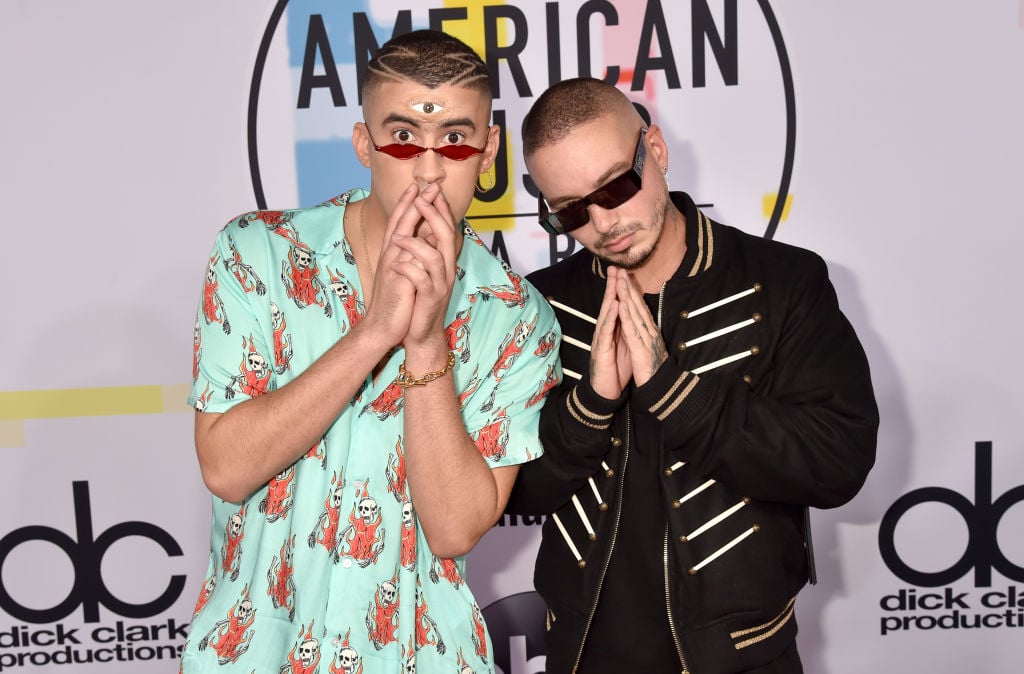 Surprising fans on the international stage with headliners Shakira and Lopez were reggaeton stars Bad Bunny and J Balvin. If anyone had never heard of them prior to that night, well, now they had.
Find out more about these two powerhouse music stars, plus which has a higher net worth.
How each got their starts
It's not easy to talk about J Balvin without talking about Bad Bunny in the same breath. Their paths cross, and often, in discussing their careers.
Balvin, whose full name is José Álvaro Osorio Balvin, is the most popular reggaeton singer in Colombia. His anthem song, Mi Gente (My People), stayed at the top of Billboard's Hot Latin Songs chart for three consecutive months, and has more than 2 billion YouTube views. Even Beyonce got in on the action, recording a remix of the song.
The 34-year-old reggaetonero was born in Medellin, Colombia. He moved to the U.S. at the age of 17, living briefly in Oklahoma and New York City. His big break came in 2014 with his song 6 AM with Puerto Rican singer Farruko, which reached the number 2 spot on Billboard.
As for Bad Bunny, the Puerto Rican superstar's real name is Benito Antonio Martínez Ocasio. Born in Almirante Sur, Puerto Rico in 1994, Bad Bunny hit it big in 2018 with his collaboration with Drake, on the hit single, "Mia".
Balvin and Bad Bunny vaulted to the top of the charts again with I Like It, on which the two collaborated with Cardi B.
Balvin and Bunny's appearance at the Super Bowl halftime show
The night of the Super Bowl halftime show, the buzz was high on who Lopez and Shakira would be bringing out as their show guest. The money was on Cuban-American star Pitbull, since the game was being played in Miami, which is synonymous with Pitbull.
The shock was palpable when first, Puerto Rican Bad Bunny walked out to perform on stage with Colombian Shakira, and then Colombian J Balvin with Puerto Rican Lopez.
It was a resounding message of unity and cultural pride.
J Balvin and Bad Bunny collaborated last summer
The two Latin trap stars worked together on music in the summer of 2019, releasing their collaboration album, Oasis.
In a joint interview with Complex at the time, the two explained the album's title.
"What is an oasis for you?" Balvin asked, to which Bunny replied, "It means more than just water. An oasis of what? Friendship?"
Bunny went on, "It's a rescue, a relief, to freshen up. When you go to an oasis, you go there to supply yourself with the vital things you are missing, things that you need. That's why it says water, because human beings can't live without water."
Whose net worth is higher?
As for their net worths, if you guessed that Bad Bunny's net worth is higher, you're wrong. According to Celebrity Net Worth, Bad Bunny has a net worth of $8 million, while J Balvin's is double that, at $16 million.
Read more: Shakira's Post-Super Bowl No. 1 Hit – Almost 20 Years After The Song Was Released