Bad Bunny Wants To Collaborate With BTS but Says He Has To Do This 1 Thing Before That Can Happen
Reggaeton singer Bad Bunny has collaborated with a number of musical artists throughout his career. However there's one musical act he's yet to release a song with, and it's none other than South Korean boy band, BTS.
Seeing as BTS is one of the biggest singing groups in the industry, Bad Bunny is open to the idea of releasing a hit song with the band. But there's one thing he has to do before that can happen and it isn't something that can be accomplished overnight.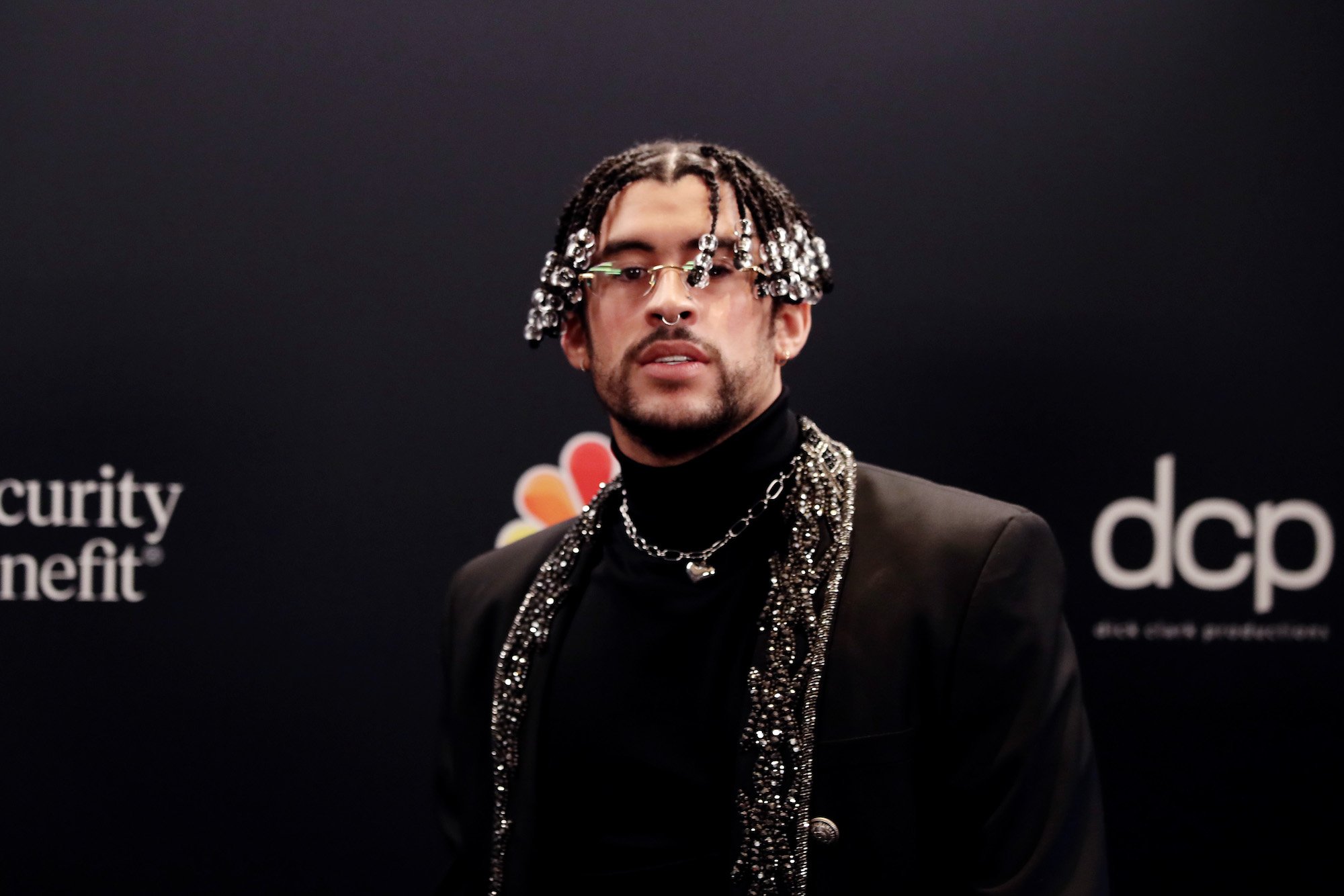 Bad Bunny says he wants to learn how to dance before collaborating with BTS
Bad Bunny is no stranger to collaborating with fellow artists.
Throughout his career, the singer, whose real name is Benito Martínez Ocasio, has worked with musicians such as Rosalía, Cardi B, Daddy Yankee, and more.
However, the singer has yet to hit the studio with BTS, despite numerous requests from fans and ARMYs alike.
During a recent interview with E! News, Bad Bunny revealed that he has pondered the idea of collaborating with Big Hit Entertainment's Bangtan Boys.
RELATED: Rihanna's 2020 Savage X Fenty Show Features Musical Performances by Bad Bunny, Rosalía, Travis Scott, and More
Though he's open to releasing a song with RM, Jin, Suga, J-Hope, Jimin, V, and Jungkook, the singer says there's one thing he has to cross off his checklist before that can happen: "I have to learn how to dance first."
"I know how to dance, but not like BTS," he explained to the outlet before getting up and demonstrating his best dance moves.
"When I learn to dance like BTS, I'm going to collab with them," he added.
Unfortunately, Bad Bunny didn't give a timeline for when fans can expect him to pair up with the famed K-pop group. But seeing as the band has been releasing hit after hit with fellow musicians recently, it wouldn't be surprising if it's only a matter of time before they join forces with the reggaeton star.
BTS has already collaborated with several big-name artists
Collaborating with fellow musicians is nothing new for BTS.
Over the past year, the band has collaborated with several well-known artists, such as Nicki Minaj, Halsey, Steve Aoki, and Max. Though the band has worked alongside a number of notable artists, it's likely they are nowhere near done teaming up with big named musicians.
RELATED: BTS Asks Ariana Grande to Collaborate and ARMY Has Never Been More Ready
Back in 2019, the group opened up about their dream American collaborators during an interview for Beats 1 on Apple Music. Not only did they name Drake and Billie Eilish, but they also mentioned singer Troye Sivan, who later lent a hand in writing the group's song "Louder Than Bombs" alongside fellow pop star Allie X.
Seeing as BTS's dream of working with Sivan came true, we wouldn't be surprised if Drake and Eilish also took the brand up on their offer to make music together.
But until that happens, we'll just wait patiently for BTS to team up with Bad Bunny for what would surely be an unforgettable single.