Bam! What Happened to Food Network Superstar Emeril Lagasse?
Find out what celebrity chef Emeril Lagasse has been up to after leaving Food Network in the early 2000s.
It's been a while since we've seen Emeril Lagasse 'Bam!' his way through his Food Network shows. For a while in the 1990s and early 2000s, it seemed as though the Massachusetts native was the Food Network with at least three or four programs running throughout any given week.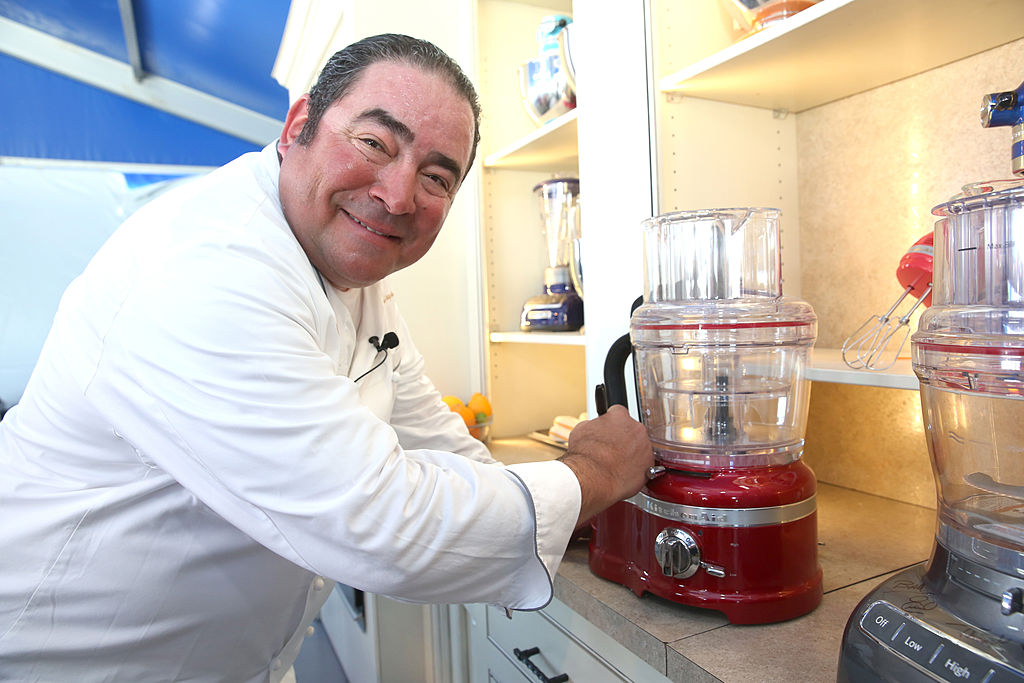 Here's what we know about the 60-year-old celebrity chef, what he's up to now, and the opportunity he chose to put aside to become a chef.
Why did Lagasse leave the Food Network?
At one time, Lagasse's The Essence of Emeril and Emeril Live! were top-rated shows on the Food Network. Celebrities would drop by to Emeril Live! including Charlie Daniels, Patti LaBelle, Michael McDonald, Joe Perry, Sammy Hagar, Aretha Franklin, Patton Oswalt, and Jimmy Buffet.
At some point, Emeril Live! dropped in popularity and ratings. It was clear the network was moving more in the direction of competitions/reality shows and away from instructional food preparation shows.
Lagasse wasn't interested in moving with that current. He told GQ in 2016 "I'm old-fashioned, and I want to teach people how to cook, how to eat, how to serve, how to shop, how to drink wine, how to mix a cocktail properly," he said. "I didn't necessarily at the time want to get into this competition stuff." 
How Lagasse became a household name
Lagasse was well known in the culinary world but became famous everywhere else when he began hosting The Essence of Emeril for Food Network in 1994. Emeril Live! followed soon after in 1997.
On Emeril Live! viewers got to see the chef allow the audience to taste the food that he prepared. After that, it was expected that Lagasse would let out a few catchphrases, such as "We're kicking it up a notch!," or "Yeah, baby!," or the classic, "Bam!," that have become a part of popular culture. 
Emeril Live eventually earned a CableACE Award in 1997.
What has he been up to?
Lagasse owns 11 restaurants in Las Vegas, New Orleans, Miramar Beach, and Bethlehem, PA. They include Emeril's New Orleans, Emeril's Coastal Italian, Delmonico Steakhouse, and Emeril's Chop House. His restaurants were his first love, and where he is still happiest working. His fans will be satisfied to know Lagasse is content doing what he truly enjoys.
"What really makes my clock go is still the restaurants," Lagasse continued with GQ. "I love people, I love being with my staff, I love learning together, I love making people happy with food, with wine, with service."
Lagasse is the best-selling author of 19 cookbooks including his first, Emeril's New New Orleans Cooking, which introduced his creative take on Creole cuisine.
The opportunity Lagasse gave up to become a chef
It's not a well-known fact that Lagasse was an accomplished percussionist, especially in his high school days. He performed at that time anywhere he could, including dances, weddings, and parties. Eventually, his talents were rewarded with a full college scholarship to the New England Conservatory of Music. In his parents' mind, it was an opportunity he could not afford to turn down. But he did.
Faced with a free ride to college to study music or having to pay his way through Johnson and Wales University's culinary program, Emeril took the hard way, but the right way for him.
He chose a culinary career and never regretted it. Neither have his legion of fans. It's a good bet that, if Lagasse returned to Food Network in some capacity, his show would be a huge hit.
Read more: The 1 Food Guy Fieri Won't Touch