Barack Obama's Favorite Food Is Broccoli, But What Does He Like to Eat On Cheat Days?
President Obama once declared that his favorite food is broccoli, but what does the former Commander-in-Chief like to splurge on when it comes to his cheat days.
Former President Barack Obama's favorite food is not what you might expect. Despite having all kinds of options to pick from, Obama once revealed this his favorite food of all time is actually broccoli. While we have no doubt that Obama loves to indulge in a steaming plate of the green veggie, we also know what he likes to eat on his cheat days.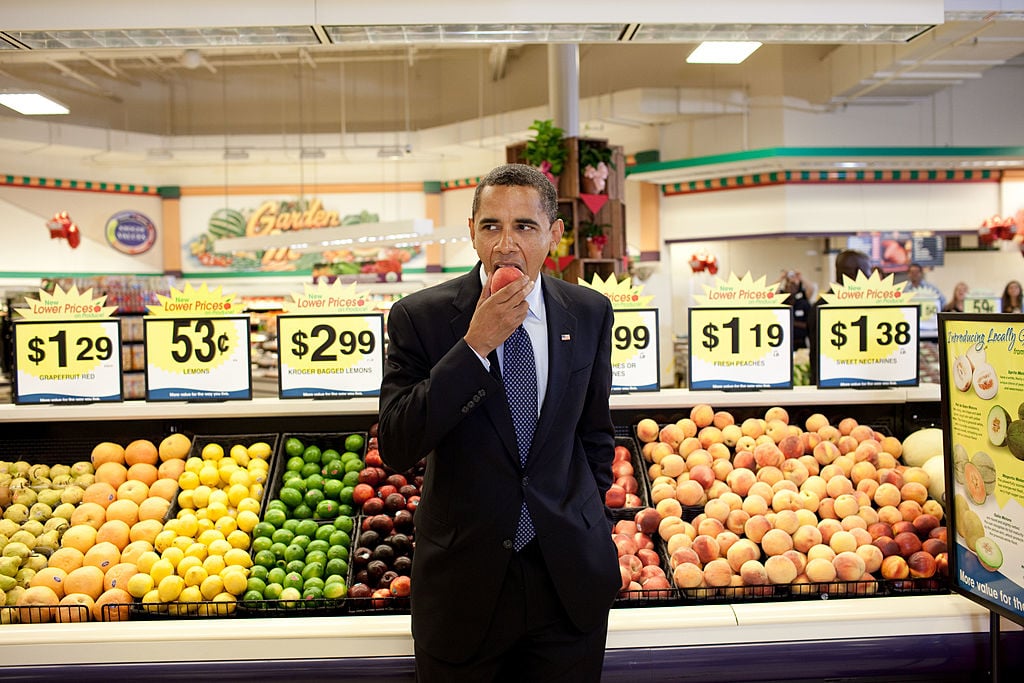 Barack Obama's favorite food is broccoli
Obama enjoys a good burger like the rest of us, but when it comes to his favorite food, broccoli is at the top of his list.
Back in 2013, Obama was asked about his favorite type of food during a White House engagement geared toward children. According to the Telegraph, Obama revealed that broccoli is his favorite food, though he did not reveal how he likes it cooked.
Barack Obama's favorite food is the exact opposite of former President George H.W. Bush, who once said that he cannot stand the taste of broccoli. In the 1990s, Bush revealed that he has not eaten the veggie since he was a child and doesn't think he'll ever touch it again.
"And I haven't liked it since I was a little kid and my mother made me eat it. And I'm President of the United States, and I'm not going to eat any more broccoli!" he stated.
For Obama's part, he picked broccoli in part to highlight the importance of healthy eating. He was asked about the staple during an event that encouraged children to eat more vegetables, setting them up for healthier eating habits at a young age.
"Food can be fun. It can be healthy," Obama said at the time. "You are setting up habits that are going to be great your entire life."
President Obama loves this treat on cheat day
Broccoli aside, there are times when Barack Obama indulges and eats his what might be his second favorite meal of all-time. And that dish is featured at a Washington D.C. restaurant called Ben's Chili Bowl.
According to Pittsburgh Post-Gazette, prior to his inauguration, Obama stopped by the local eatery with Adrian Fenty, the mayor of D.C., and ordered a half-smoked chili-dog, complete with cheese fries and a large sweet tea.
"Ya'll have some Pepto-Bismol?" Obama said in a clip of the outing.
After Barack Obama's visit went viral, Ben's Chili Bowl witnessed an increase in customers. Many of these newcomers were tourists wanting to grab a bite to eat at the same place as Obama did.
Obama, of course, is hardly the first celebrity to enjoy a meal at Ben's Chili Bowl. The long-time establishment has seen many celebrities come and go, with disgraced comedian Bill Cosby being one of their most frequent guests. Ben's even went so far as to paint over Cosby's mural inside the restaurant with one of President Obama.
There is no telling what Obama's favorite haunt is now that he is out of Washington, but it's probably safe to assume that he still stops by Ben's Chili Bowl whenever he is in town.
Barack Obama's other favorite foods
One of Obama's other secret cheat day meals is pizza. According to Spoon University, pizza is one of Obama's top choices, outside of chili, of course. In fact, the Obamas frequently ordered this Italian staple during his time at the White House.
It all started on the campaign trail in Missouri, when Barack Obama asked a staffer to get some pizza, they went out and got their favorite — Pi Pizzeria. He Liked the St. Louis style deep dish pizza so much he said it was the best he had ever had. He even had the owners come to Washington D.C. to make the pizza together.
Other dishes the Obamas enjoyed during their two terms in office were chips and guac, honey, chocolate-covered macadamia nuts, burgers (his favorite being Ray's Hell Burger), and salmon (which Barack Obama loved to pair with broccoli).
Obama and his family also gained a reputation for being healthy eaters when he was president. Michelle had a prized garden at the White House while he constantly encouraged children to eat local veggies.
The couple also did a lot to change American Food Policy and get people to start developing healthier eating habits. Barack Obama and Michelle Obama did so by endorsing healthy foods and banning chemicals and fats in certain processed foods.