'Barbarians' Movie Review: Iwan Rheon and Tom Cullen Captivate in Toxic Masculinity Home Invasion Movie
Barbarians is a wild gem of a cult thriller. Writer/director Charles Dorfman shows real promise in his directorial feature debut. He combines the dark and awkward situational comedy along with thriller elements that examine toxic masculinity along the lines of class. Barbarians falls victim to several genre clichés, but it remains an enjoyable ride nevertheless.
'Barbarians' is a home invasion drama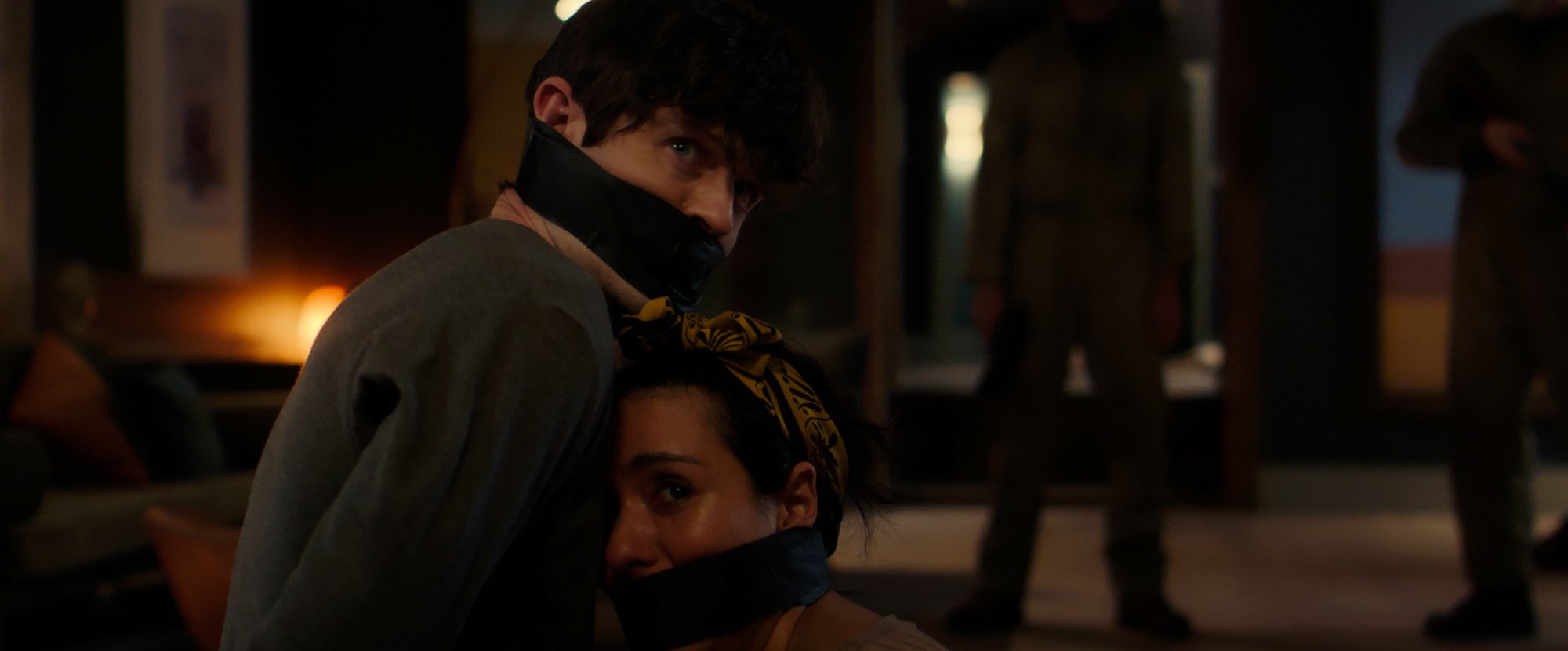 Seemingly picturesque couple Adam (Iwan Rheon) and Eva (Catalina Sandino Moreno) recently moved into their dream home. Their future looks bright and they are finally taking their relationship to the next level. They invite Lucas (Tom Cullen) and his actor girlfriend, Chloe (Inès Spiridonov), over to celebrate Adam's birthday and the couple's new home. However, not everything is as it seems.
Barbarians explores many layers of secrets that unravel over the course of their dinner. The doorbell suddenly interrupts their awkward evening, but things are about to get a whole lot worse. A group of mask-wearing intruders enters their home and have plans to turn their night into one of terror and fear.
Writer/director Charles Dorfman makes a statement on the competition of toxic masculinity
Barbarians begins somewhat more as a drama with occasional hints of dark comedy. The further that they get into their dinner, the more tense and awkward the film becomes. Dorfman's screenplay incorporates loads of foreshadowing that teases the night ahead of them.
This foreshadowing extends into symbolism dropped at the very beginning with an injured fox along Adam's jogging path. He initially attempts to help the wounded animal, but it snaps at him. Barbarians has a primal and animalistic quality to it that informs both the narrative and the characterizations. Some of it can become a bit heavy-handed, but the more subtle components offer an intriguing insight into its lead characters.
Eva and Chloe contribute to the narrative, but the film really focuses on Adam and Lucas. Barbarians is largely about the competition of toxic masculinity. They constantly try to compete in varying ways, showcasing why they are the superior man, including their social class. However, this only further extracts their insecurities, which ultimately bleed into a home invasion that sets things in a horrifically dangerous direction.
'Barbarians' falls victim to predictable genre tropes but remains an entertaining gem
Dorfman comes from the producing world, having worked on films such as The Lost Daughter and The King's Speech. However, Barbarians marks his first time in the writing and directing chairs, and he certainly delivers. Chris Richmond contributes solid production design, transforming a gorgeous house into a playground for something much more sinister.
Barbarians also gives the opportunity for recognizable actors to dive into different roles. Sandino Moreno is fun as Eva, who often contributes to the dark comedy. Meanwhile, Rheon moves on from his Ramsay Bolton past on Game of Thrones by successfully playing a cowardly man with commitment issues. Finally, Cullen is outstanding, fully leaning into the film's insanity. This film is at its best when it just allows the characterizations to drive the narrative, rather than the other way around.
Barbarians already has a lot going on before the home invasion even takes place. These characters are in danger from one another long before any animal mask-wearing assailants enter the home. Barbarians does trip on genre tropes that result in a scattered third act, but it remains a thrilling character study that packs a punch.
Barbarians lands in theaters and on-demand starting April 1.