'Barefoot Contessa': Has Ina Garten Changed Her Mind About Endorsing Products?
Food Network star Ina Garten recently sang the praises of Glossier products. The Barefoot Contessa never endorses anything – so why the big change?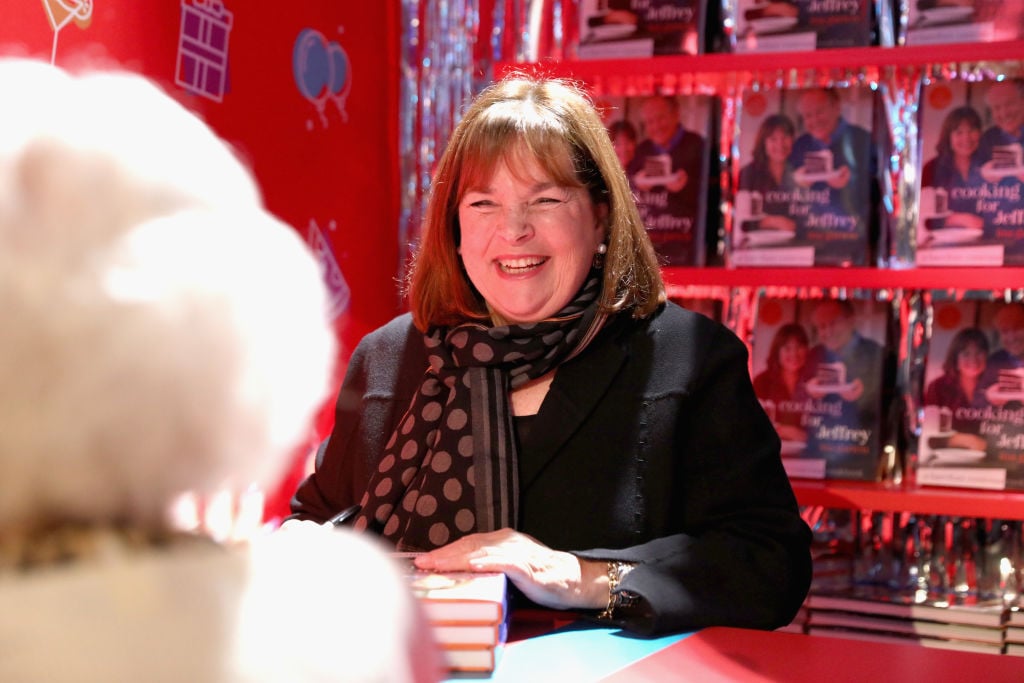 Here's her philosophy on product endorsements.
Ina Garten loves Glossier
Garten highly recommended Glossier's balm dot.com lip balms on her Instagram account. One doesn't really associate the Hamptons resident with cosmetics, or beauty regimens for that matter. She's, of course, our culinary diva, and expert in all things having to do with kitchen goings-on. So, it was a surprise when she gushed about Glossier in an Instagram post.
"Loved my visit today to @glossier !! Their collection of lip balm is – delicious! My favorite is birthday balm with a little glitter. Don't we all need a little glitter after the holidays?"
Garten has plugged other products
While the Brooklyn-born Garten has in the past shared her favorite recipes, breakfasts, kitchen gadgets, and baked goods, she's been more forthcoming with actual brand names and products.
For instance, her favorite Rosé? She explained to Bon Appétit in 2017 that she and her husband of over 50 years, Jeffrey, "don't have anything to drink if we're having soup, but when it warms up, I look forward to drinking my favorite rosé: Sinskey Vineyard's Vin Gris. I just learned what frosé is—maybe I'll make it for the first time this summer."
She and Jeffrey even have a favorite granola, which they enjoy as their evening dessert with a little yogurt and fruit.
"While we watch TV, we always have granola for dessert," she said. "A little strawberry or plain yogurt, fruit that's in season, and Bola granola. I buy granola because unless you can make something that's better than what you'd buy, there's no point in spending the time!" 
Garten's take on endorsing products
For the author and celebrated cook, it's not exactly endorsing products that she engages in. She considers her product suggestions just a friendly "hey, I like this and you might, too." No money is exchanged between any companies and Garten. And that's how she likes it.
In fact, she has an entire section called "Shop" on her Barefoot Contessa blog dedicated to those products that she loves and wants her fans to know about. For instance, she loves Libby's Pumpkin Puree, Grey Poupon Dijon Mustard, Olio Santo Olive Oil, and Diamond Crystal Kosher Salt.
As for whether she would like to ever officially endorse products, she told Food Network in 2014, "I've been asked to do everything from dining tables to clothing — who would want me to do their clothing? — to soy sauce. Yesterday I was asked to do something with the United Nations. I mean, solve the problems of the world? Yeah, I'll make everyone chicken pot pie and they'll be happy [laughs]!"
In her conversation with Bon Appétit, Garten humorously discussed how she avoids going shopping on her own in order to not succumb to the temptations of things she shouldn't have.
"My assistant, Lidey, shops for me to save having to go to the grocery store on the weekend. If I go to to the store myself, sometimes I end up impulsively getting the two forbidden things: Tate's chocolate chip cookies and vanilla Häagen-Dazs, if I'm being really bad."
Read more: 'Barefoot Contessa': Ina Garten Just Posted on Instagram About Her New Book