'Barefoot Contessa' Ina Garten's Birthday Sheet Cake Recipe Uses 1 'Unusual' Ingredient
Ina Garten's birthday sheet cake recipe is a crowd-pleaser that includes one ingredient that's unexpected but guarantees a moist cake. Garten demonstrated her picture-perfect birthday cake on an episode of Barefoot Contessa, complete with a decadent chocolate buttercream frosting.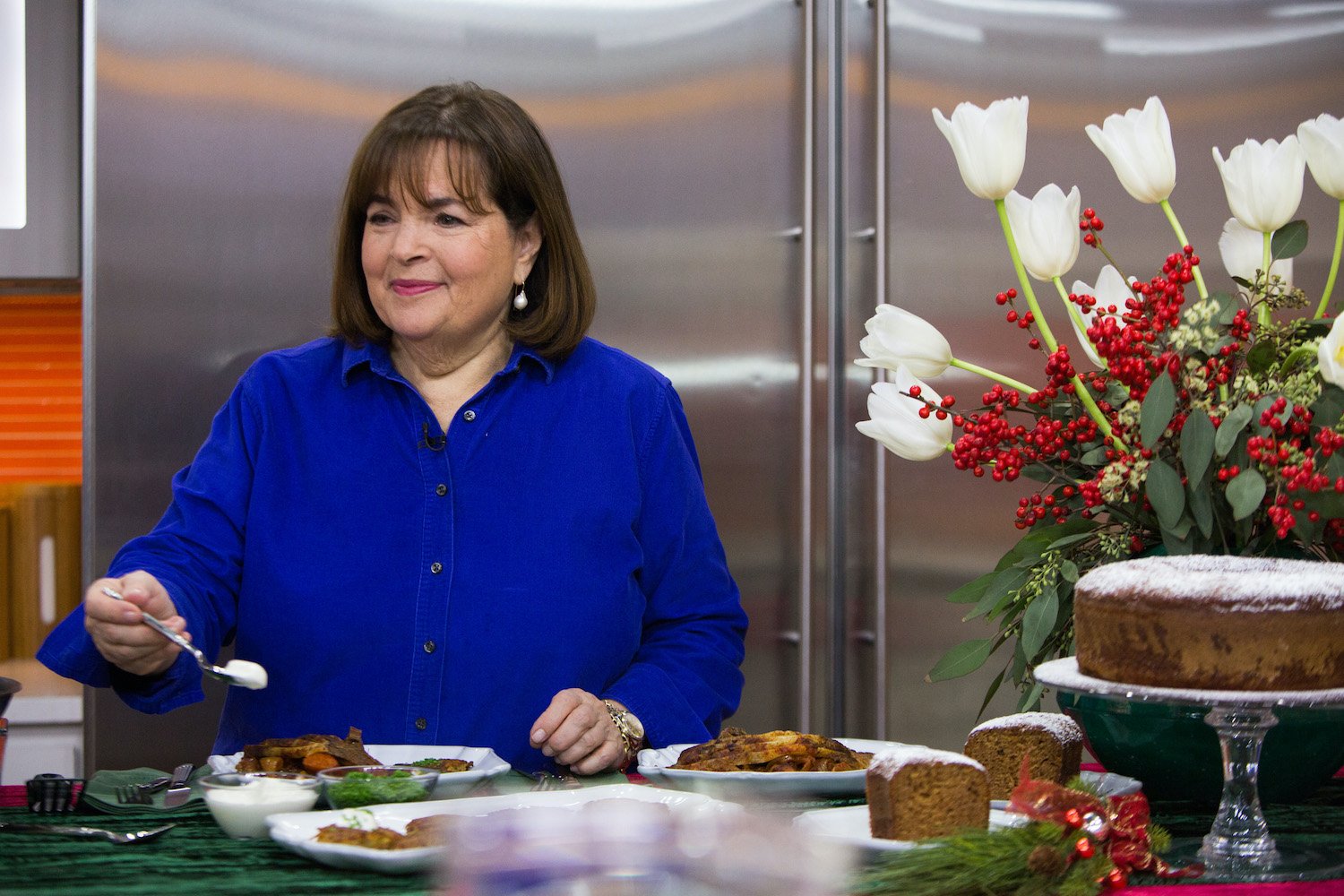 Ina Garten's vanilla birthday cake can be custom decorated
Garten's rich vanilla birthday cake is made in a sheet pan so there's plenty for everyone (and there's a good possibility there will be leftovers). The cake is topped with a delicious chocolate icing and, once frosted, it can be decorated with candies and/or sprinkles for a festive splash of color.
Preheat the oven to 350 degrees Fahrenheit. Butter and flour a sheet pan measuring 12 by 18 by 1 1/2-inch.
Make the cake by first creaming together butter and sugar on medium-high speed with an electric mixer for 5 minutes. Garten demonstrates adding the eggs slowly, the sour cream, vanilla, and lemon zest while the mixer runs at medium-high speed. She explains that the sour cream is "what keeps it really moist."
In her flag cake recipe (see below) Garten explains that sour cream is "a little unusual for a cake but it really gives it a nice richness."
She combines the dry ingredients in a mesh strainer and sifts them together, then slowly adds the ingredients to the mixer running at low speed. Mix everything until it's smooth, then pour the batter into a pan and spread it to the edges.
Bake the cake for 25 to 30 minutes until a toothpick comes out clean. Cool before frosting.
When making the frosting, Garten combines the chocolate chips and heavy cream in a glass bowl set over a pot of hot water. She stirs the mixture until the chips have melted and it becomes shiny. Remove the chocolate mixture from the heat and add the corn syrup and vanilla. Cool it to room temperature before adding it to an electric mixer and, using the whisk attachment, whisk the chocolate and butter together for a few minutes until it thickens.
Spread the frosting over the cake and decorate with M&Ms, candies, or sprinkles.
Ina Garten uses the sheet cake recipe for her American flag cake
Garten uses the same recipe for her beautifully decorated American flag cake. Instead of a chocolate frosting, however, she uses a cream cheese frosting and then decorates the cake with berries to resemble the flag.
Garten mixes the frosting ingredients then spreads ¾ of the frosting on top of the cake. "It's actually a cake that uses really simple ingredients but it looks so dramatic," she explains while placing the blueberries in the upper left corner.
The Barefoot Contessa star adds two rows of raspberries, two rows of white icing piped with a bag, then repeats as necessary until the cake has red and white "stripes." She finishes by piping stars on the blueberry corner of the cake.