'Barefoot Contessa' Ina Garten's Easiest Easter Dinner Includes a Surprising Store-Bought Main Ingredient
Barefoot Contessa star Ina Garten has blessed her fans with an easy, yet delicious Easter menu. The Food Network star's "easiest Easter dinner ever" includes a surprising store-bought main ingredient. There's also yummy sides and a sweet dessert.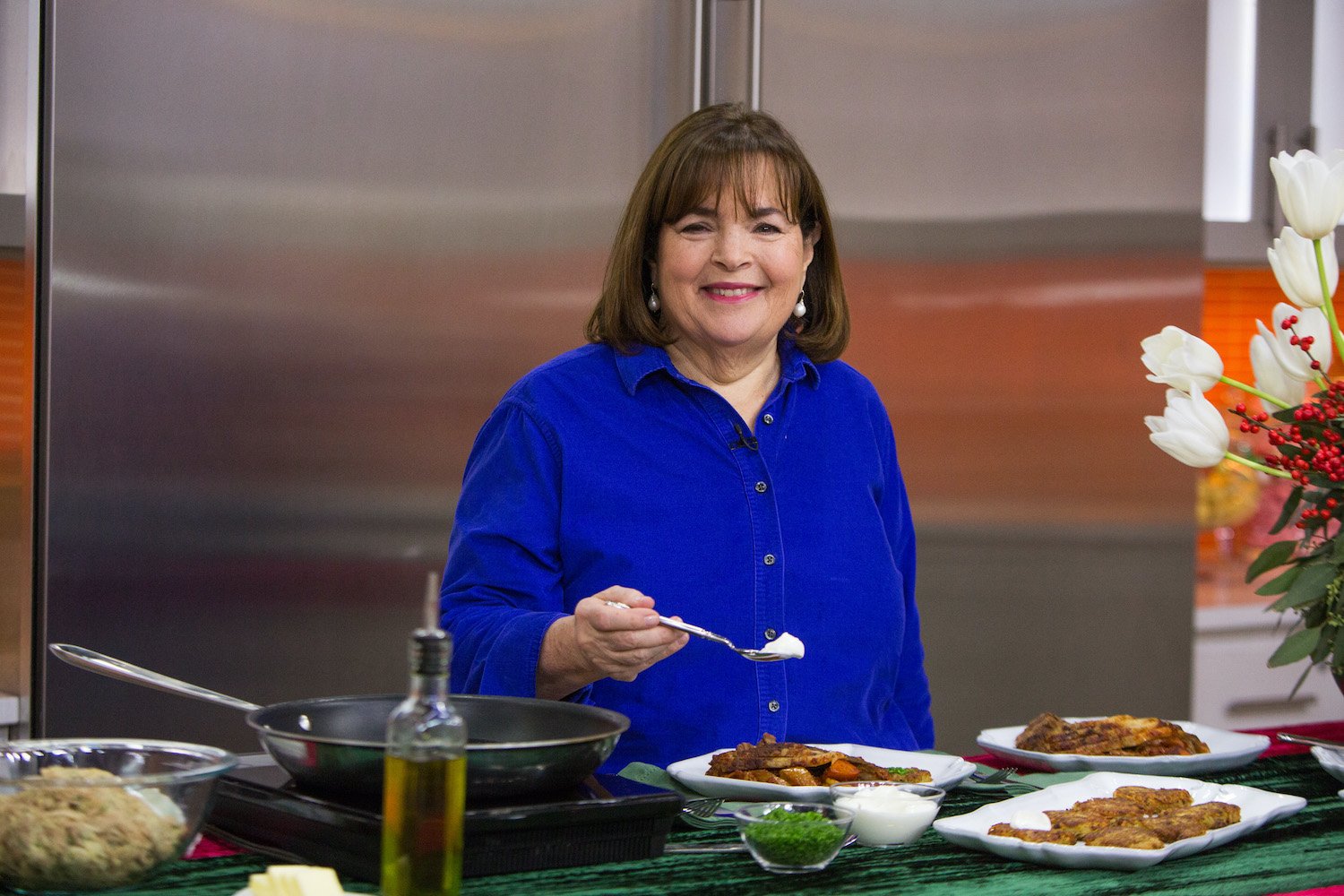 Ina Garten's suggests Parmesan Fennel Gratin as a side dish
For her easy Easter menu, Garten includes Parmesan Fennel Gratin as a side dish. You'll need three medium fennel bulbs, chicken stock, dry white wine, unsalted butter, panko breadcrumbs, freshly grated Parmesan cheese, fresh flat-leaf parsley, grated lemon zest, kosher salt, and freshly ground black pepper.
First, Garten says to cut the bulbs in half lengthwise through the core. Then, you remove most of the core by cutting a V-shaped wedge. Arrange the wedges in a single layer inside a gratin dish. Pour the chicken stock and wine over the fennel, then sprinkle with salt and pepper. Dot the fennel with diced butter and cover tightly with aluminum foil.
While the fennel is baking, you'll make the topping. The last step is to sprinkle the topping evenly, and then bake uncovered until browned.
Peas and Pancetta are simple and delicious
Another yummy side on The Barefoot Contessa's Easter menu is Peas and Pancetta. The only ingredients you'll need for this simple dish are pancetta, a large shallot, good olive oil, a box of frozen peas, julienned fresh mint leaves, salt, and pepper.
To begin, heat the olive oil in a medium sauté pan. Add the pancetta and shallot, and cook over medium heat for five to seven minutes. You should stir occasionally, until the pancetta is browned and the shallot is tender. Add the frozen peas, salt, and pepper, then cook over medium heat for five minutes. Stir in the mint, and taste for seasonings.
Ina Garten's easiest Easter dinner includes a store-bought ham
Garten says that her favorite Easter dinner is also her easiest. The cookbook author features Baked Virginia Ham as her main dish, which includes a fully-cooked, spiral-cut smoked ham from the grocery store.
All you have to do is make the glaze in a food processor, pour it over the ham, and bake at 350 degrees in a roasting pan for one hour.
Ingredients:
1 (14- to 16-pound) fully cooked, spiral-cut smoked ham
6 garlic cloves
8 1/2 ounces mango chutney
1/2 cup Dijon mustard
1 cup light brown sugar, packed
Zest of 1 orange
1/4 cup freshly squeezed orange juice
Don't forget the dessert
To finish off your holiday meal, Garten suggests Carrot Cake with Ginger Mascarpone Frosting. Compared to the main dish and the sides, Garten's dessert takes more time and more ingredients, but the results are worth it.
For the cake, you'll need sugar, vegetable oil, eggs, pure vanilla extract, flour, cinnamon, baking soda, kosher salt, carrots, raisins, and chopped walnuts. You'll make the cake in two, nine-inch cake pans lined with parchment paper.
Ina Garten has a recipe for homemade Ginger Mascarpone Frosting
Store bought is usually fine, but not when it comes to cake frosting. While the cake is in the oven, Garten suggests making her homemade Ginger Mascarpone Frosting. The recipe calls for Italian mascarpone cheese, cream cheese, confectioners sugar, heavy cream, vanilla extract, minced crystallized ginger, and kosher salt.
All you have to do is beat the ingredients (except for the salt and ginger) with an electric mixer fitted with the paddle attachment for about a minute. Until light and fluffy. Finally, add the crystalized ginger and salt, and beat for 30 seconds more.
The Barefoot Contessa airs Saturdays on the Food Network.