'Barefoot Contessa': Ina Garten Makes an Easy 'American Classic' Summer Dessert With Store-Bought Shortcuts
Ina Garten has the perfect summer dessert that uses quick shortcuts so it takes very little time to prepare. The Barefoot Contessa's easy ice cream sandwiches add a bit of the Food Network star's personal touch while using store-bought ice cream and cookies. Find out how she makes homemade ice cream sandwiches.
Ina Garten has the perfect summer dessert for all ages — easy homemade ice cream sandwiches that take very little time to make. Garten uses some store-bought shortcuts for the tasty dessert and adds a special Barefoot Contessa touch to take them to the next level.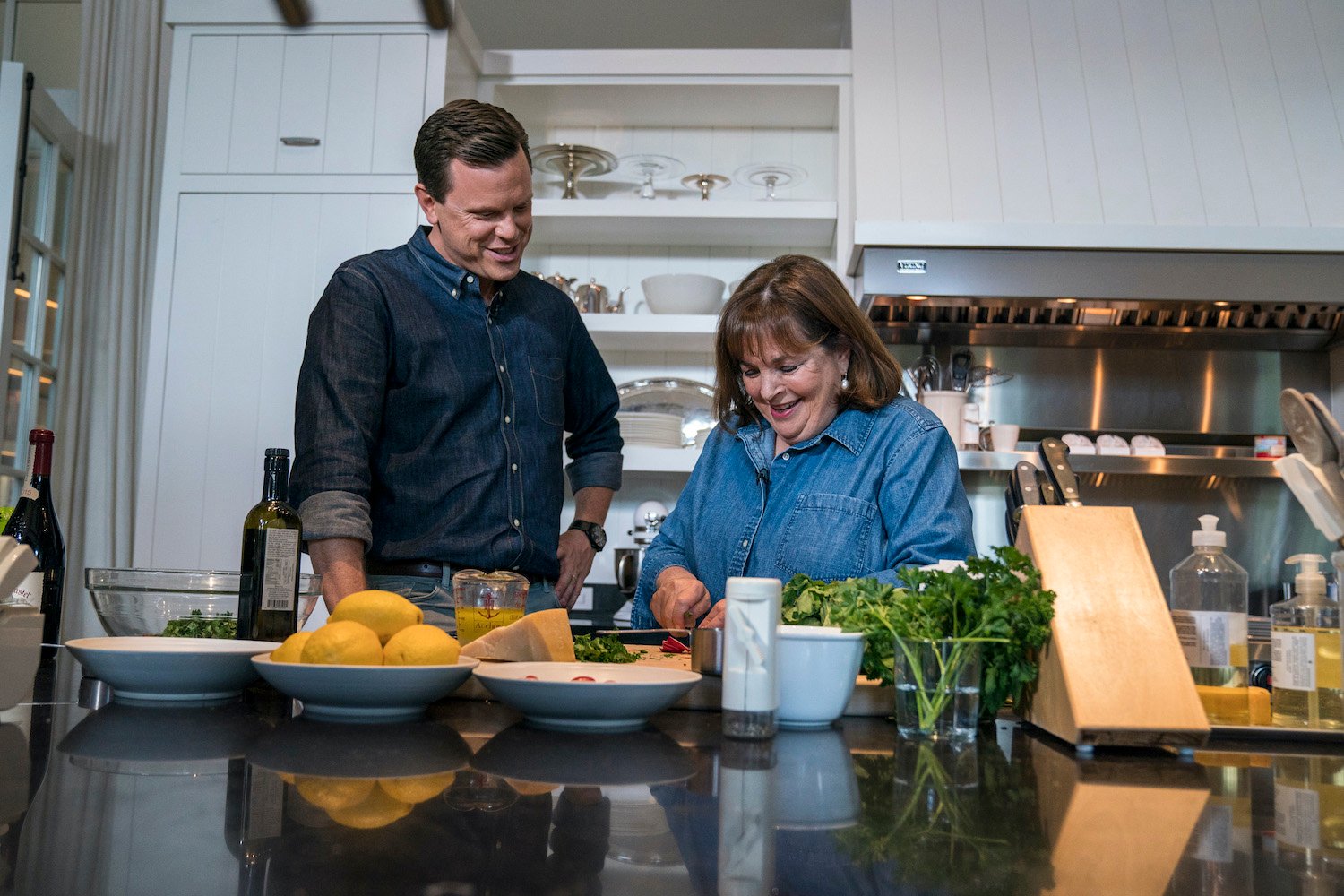 Ina Garten's homemade ice cream sandwiches are so easy to make
Garten shared the secret to her easy summertime dessert on an episode of Barefoot Contessa. "I love when you can take a few great ingredients from the store and make something really amazing for dessert," she explained. "Which is exactly what I'm going to do with my peanut butter and fudge ice cream sandwiches."
"It's kind of an American classic with the volume turned up," she added.
She takes the peanut butter and fudge ice cream and softens it so it's easier to press between the cookies. "Warm it up slightly in the microwave, for about 15 seconds," she advised.
Garten uses "really good peanut butter cookies" from a bakery and places one scoop of the ice cream on each cookie. "I mean, it doesn't get any easier than this," she noted. Then she places another cook on top, pressing down to "squish it a little bit so that it goes to the edges."
"That's why you need the ice cream a little bit softened, but not melted," she said about warming it so the cookies don't break.
She adds a 'Barefoot Contessa' touch to the easy dessert
Garten also shared that they tested a variety of ice cream and cookie flavors to make the sandwiches. "But this one, hands down" was the favorite.
The ice cream sandwich gets an extra crunch from toasted peanuts. After toasting them in a pan, she allows them to cool and adds salt to them. Then she chops the nuts in a food processor and pours them onto a plate so she can roll the side of each ice cream sandwich into the nuts.
"This is the fastest dessert ever, right?," she said.
She freezes the ice cream sandwiches for an hour so they harden. "I love these ice cream sandwiches. I love that the peanut butter cookie is crunchy, the ice cream is creamy, and the fudge is just rich and delicious," Garten said. "And then those toasted peanuts are salted."
"Just great texture, great flavor — now that's an American classic," she said as she placed them on a platter.
You can find the full recipe on the Food Network website.
Ina Garten has a coffee ice cream sandwich option too
You can make many combinations of ice cream sandwiches by using different flavored cookies and ice cream. Garten shared her coffee chocolate chip ice cream sandwiches as well and the process is the same as the peanut butter version.
"I make it with cookies — I just buy really good chocolate chip cookies," Garten noted. She used coffee chocolate chip ice cream that she scooped onto each cookie before pressing another cookie on top.
"So what I've got now is toffee bits," she said of the sweet crunchy add-on for her dessert. "You can just buy them at the store."
Garten placed the toffee on a plate and rolled each ice cream sandwich into the crunchy bits. "And if the ice cream is just a little softened, they'll stick," she explained.
The full recipe can be found on the Barefoot Contessa website.