Barefoot Contessa Ina Garten's Easy Garlic and Herb Roasted Shrimp Is a Super Fast Weeknight Dinner
Ina Garten has the perfect recipe for an easy weeknight dinner that takes less than 20 minutes to prepare and cook. The Barefoot Contessa star's garlic and herb roasted shrimp is made with just a handful of ingredients but is full of flavor.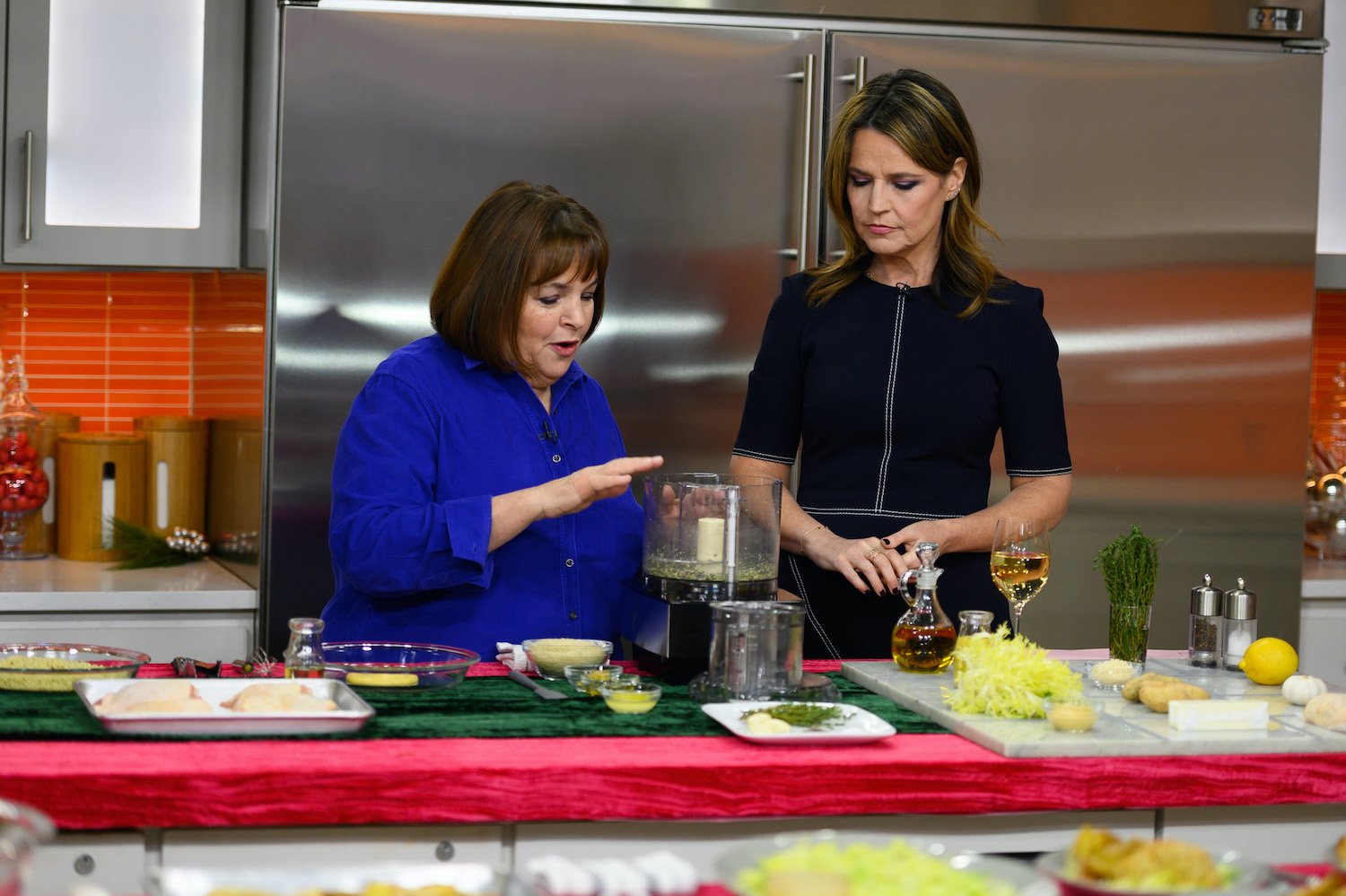 Ina Garten's garlic and herb roasted shrimp is a quick dinner
Garten demonstrated how to make her simple shrimp dinner on Barefoot Contessa. "Several years ago, I discovered that roasting shrimp for shrimp cocktail was so much better than boiling it," she explained. "And I thought, 'Well if I can roast it for shrimp cocktail, maybe I can do a dinner like that.'"
"So I came up with garlic and herb roast shrimp," she added.
The recipe is so easy that it comes together in just 20 minutes. Garten begins by melting butter and adding olive oil, garlic, rosemary (which she says is "unusual for shrimp, but it's really good"), salt, pepper, and pepper flakes.
"This is really the sauce," she explained. "This is a great weeknight dinner because it doesn't take long to put together." Garten only cooked the sauce for "literally a minute," then added lemon zest.
"I love the way the heat really brings out the lemon flavor," she noted.
Ina Garten's dinner is served in the pan she bakes it in
Garten prepared the shrimp by arranging them "in a concentric circle with their little tails up" in an ovenproof sauté pan then poured the sauce over the top of the shrimp.
She pointed out how her roasted shrimp dish is a perfect go-to meal when you want to minimize dirty dishes. "This is a great dish because not only am I going to bake it in this pan, but in fact, I'm going to serve it in the pan too," Garten noted.
She added lemon slices in between the shrimp and roasted it for 12 to 15 minutes in a 400 degree Fahrenheit oven.
"That's pretty fast, right?," she said. After removing it from the oven, Garten added a bit more flavor, squeezing lemon juice over the top. "And I would say, dinner doesn't get any faster than that."
The full recipe is available on the Food Network website.
The 'Barefoot Contessa' star makes an easy roasted shrimp salad too
In another episode of her cooking show, Garten explained how she discovered the idea to roast shrimp. "At Barefoot Contessa, we used to make hundreds of pounds of shrimp salad and we used to do it in big pots of boiling water," she shared. "I never really thought it added any flavor to the shrimp."
She continued, "And then one day, we started making chicken salad by roasting the chicken first instead of poaching it — and it was so delicious and I thought 'Why not do that with the shrimp?'"
The Barefoot Contessa star showed how to roast the shrimp by placing them on a sheet pan, drizzling the shrimp with olive oil, and adding salt and pepper. After mixing everything together, she spread the shrimp out in a single layer, then roasted them in a 400 degree Fahrenheit oven for 6 to 8 minutes.
She made a simple sauce consisting of mayonnaise, orange zest, orange juice, white wine vinegar, salt, and pepper and tossed it with the shrimp, then added dill, red onion, capers, salt, and pepper.
"And the roasted shrimp, it makes such a difference, you won't believe it," she said.
You can find the full recipe on the Food Network website.