Barefoot Contessa Ina Garten's Easy Goat Cheese in Phyllo Recipe Makes the Perfect Light Lunch
Ina Garten uses a simple shortcut ingredient to make easy warm goat cheese "packages" that can be a beautiful appetizer or be paired with a green salad for a lighter lunch or dinner. Find out how to make the Barefoot Contessa star's warm goat cheese in phyllo recipe.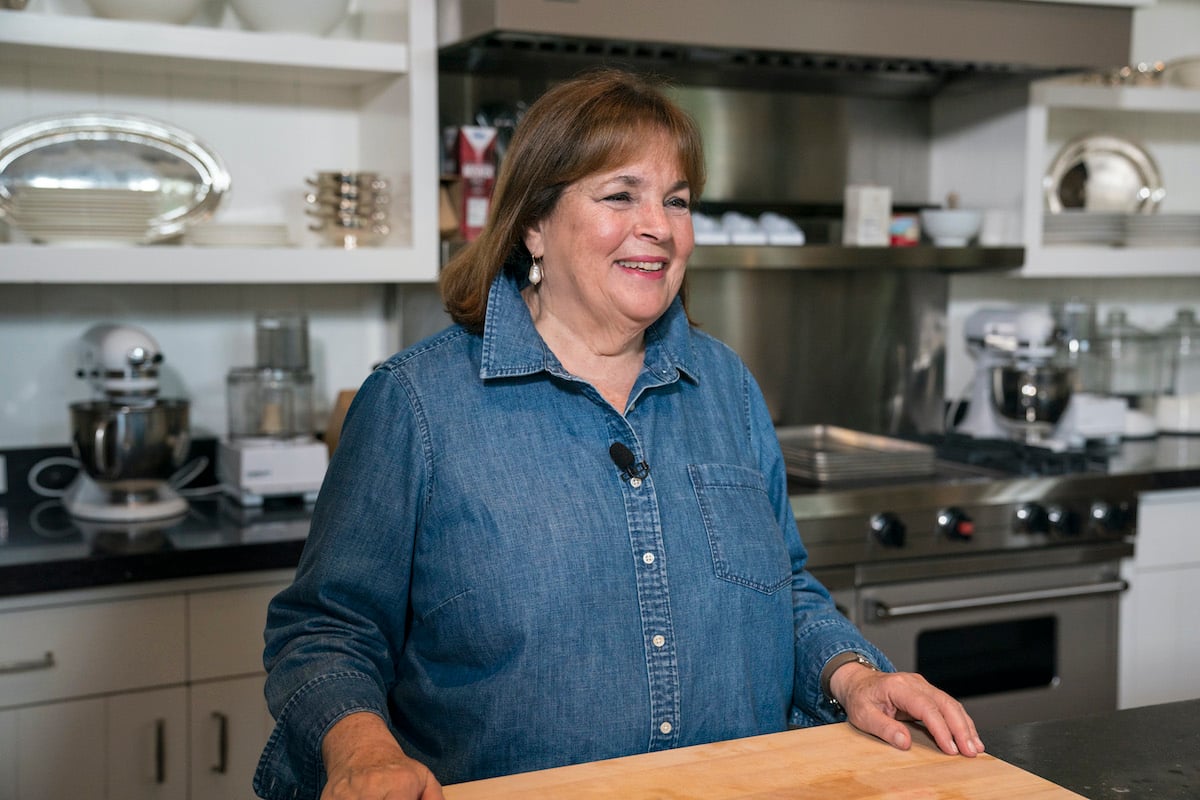 Ina Garten's warm goat cheese in phyllo recipe only has 4 ingredients
Garten demonstrated how to make her warm goat cheese in phyllo recipe on an episode of Barefoot Contessa and it's just four simple ingredients.
Garten shared a quick tip for working with phyllo dough — place a damp towel on top of the sheets of defrosted phyllo dough so it doesn't dry out. "Just a little dampness," she shared. "You don't want it to get too wet."
She started by laying one sheet of phyllo on her work surface and dabbed it with melted butter, then sprinkled it with bread crumbs. "That allows the layers to be really flaky and when I put the second sheet on… it's not going to stick," she noted.
Garten lined up the second sheet of dough on top of the first, brushed on butter, and sprinkled it with breadcrumbs. She repeated the process until she had four layers of phyllo stacked.
The Barefoot Contessa star had an easy trick for cutting the discs of goat cheese in half horizontally — she used dental floss. Garten demonstrated how to pull the floss through the cheese to make a clean, easy cut.
She sliced the stacked rectangle of phyllo dough in half so it was two pieces and placed each disc of goat cheese in the middle, then gathered the dough up to envelope the cheese. "Pull the ends up and make a little package," Garten said. "And it will all stick together because of the butter and the phyllo."
The Barefoot Contessa star continued the process until she had six little "packages" and placed them on a parchment-lined baking sheet. Garten brushed each of them with melted butter then baked the goat cheese phyllo packages in a 375 degree Fahrenheit oven for 20 minutes.
Garten pairs the goat cheese in phyllo recipe with a simple salad
Garten's flaky goat cheese in phyllo recipe makes a great appetizer on its own, but she likes to pair it with a simple salad for a light meal.
In her cookbook Make It Ahead, Garten shared that her French green bean salad with warm goat cheese is a go-to lunch for her. "When I'm in Paris, I love to have a big salad with warm goat cheese for lunch," she wrote. "By wrapping the cheese in phyllo dough and baking it, I end up with a delicious package that's crispy on the outside with creamy goat cheese inside. A cold salad with French string beans is the perfect counterpoint."
The Barefoot Contessa star places string beans in a pot of boiling water, simmers them for 3 minutes, then drains the beans and places them in ice water to halt the cooking. She drains the beans and tosses them with salad greens, then tosses the vegetables with a vinaigrette she made by whisking together olive oil, vinegar, mustard, shallots, salt, pepper, and dill.
To serve, Garten places the green bean salad on a plate and tops it with the warm goat cheese in phyllo.
The warm goat cheese packages can also be served on salad greens alone and topped with Garten's vinaigrette recipe made with champagne vinegar, Dijon mustard, garlic, olive oil, salt, and pepper.
The full recipe is available on the Food Network website.