Barefoot Contessa: Ina Garten Has an Easy Way of Making Her Coconut Cake Easter-Ready
"How easy is that?" is one of Ina Garten's catchphrases for a reason. The celebrity chef who films Barefoot Contessa at her "barn" in East Hampton, New York, is known for her simple and easy-to-make dishes. That includes adapting her recipes for holidays. Garten, 73, has a simple tip for making her Coconut Cake ready for Easter in a matter of seconds.
Ina Garten's Coconut Cake calls for classic cake ingredients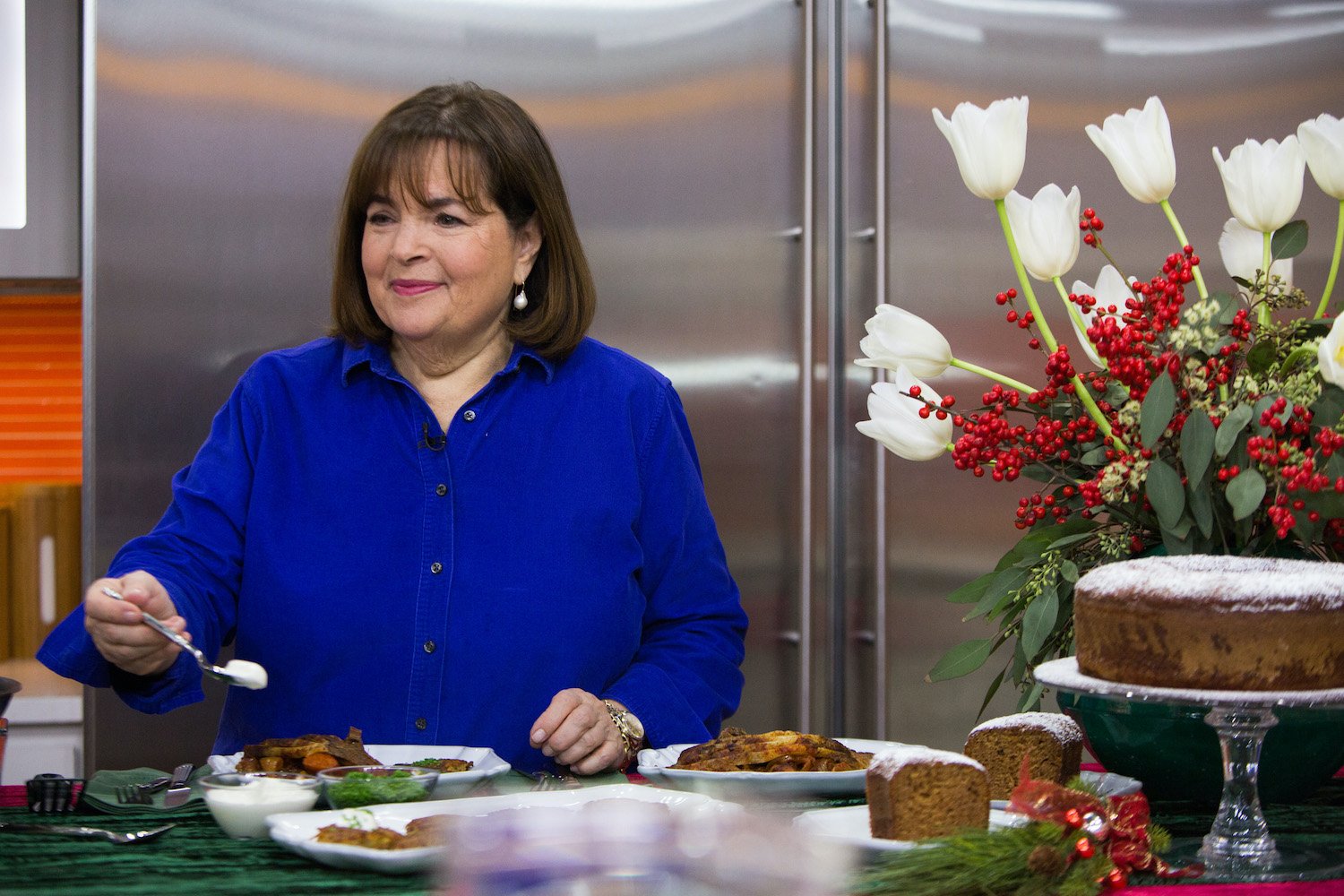 Similar to many of her other cake recipes, and cake recipes in general, the bestselling cookbook author makes this particular recipe with to-be-expected ingredients. Like traditional cakes, the Barefoot Contessa makes the batter by combining dry and wet ingredients. 
She starts with butter before adding eggs and pantry staples such as vanilla extract — Garten's go-to brand for vanilla Nielsen-Massey — flour, baking soda, baking powder, and salt. The one element that may come as a little bit of a surprise is almond extract. Garten uses it in the batter along with the vanilla. 
Not as common in baking, the almond extract could require a trip to the grocery store for some who don't already have it at home. Then, of course, there's the coconut, which Garten uses in the batter as well as the frosting.
Ina Garten 'loves' decorating her coconut cake with jelly beans for Easter
In a March 2016 post on her official Barefoot Contessa website, Garten gushed about her Coconut Cake being the perfect Easter treat.
"What is it about Easter and Coconut Cake?? They just go together!," she wrote before adding it's "one of the most popular cakes I've ever made." 
The cooking show host continued, saying she adds a classic Easter candy to it to make it festive after making the cake ahead.
"For Easter, I love to decorate it with jelly beans," she said. "I make the cake a few days in advance, wrap it well and refrigerate it. Then on Easter morning, I'll make the easy cream cheese frosting, assemble the cake, and cover it with a blizzard of sweetened shredded coconut."
As Garten says, how easy is that?
How to make Ina Garten's Coconut Cake 
The Barefoot Contessa starts by mixing together her wet ingredients (read: butter, eggs, vanilla, etc.) in a standing mixer. Then she sifts her dry ingredients to make sure they're combined.
After adding the dry ingredients to the wet, along with shredded coconut and a cup of milk, the batter is distributed between two cake pans. 
While the cakes are in the oven, Garten gets to work on the cream cheese frosting. She encourages using room temperature cream cheese to prevent lumps. Once the cakes have had time to cool, she frosts them. Finally, the two-layer cake is covered in shredded coconut. 
Ingredients for Ina Garten's Coconut Cake:
3/4 pound (3 sticks) unsalted butter, at room temperature, plus more for greasing the pans
2 cups sugar
5 extra-large eggs, at room temperature
1 1/2 teaspoons pure vanilla extract
1 1/2 teaspoons pure almond extract
3 cups all-purpose flour, plus more for dusting the pans
1 teaspoon baking powder
1/2 teaspoon baking soda
1/2 teaspoon kosher salt
1 cup milk
4 ounces sweetened shredded coconut
For the frosting:
1 pound cream cheese, at room temperature
1/2 pound (2 sticks) unsalted butter, at room temperature
3/4 teaspoon pure vanilla extract
1/4 teaspoon pure almond extract
1 pound confectioners' sugar, sifted
6 ounces sweetened shredded coconut
Another option besides this particular Garten cake recipe is to try the Barefoot Contessa's Coconut Cupcakes.