Barefoot Contessa: How Ina Garten Uses Leftover Soup to Make a 'Completely Different' Dish
Ina Garten has a solution for enjoying leftovers days later. Make one of her Barefoot Contessa soup recipes into a pasta sauce.
Ina Garten uses leftover soup to make pasta
RELATED: The 1 Barefoot Contessa Dish That Makes the 'Most Satisfying Lunch or the Perfect Dinner Side', According to Ina Garten
The Barefoot Contessa loves leftovers. Although she may not use them the way other people do. The Food Network star doesn't eat the same thing for days until it's gone. Instead, she uses leftovers to make another dish. Garten shared her love of two-fer recipes in a January 2019 post on her Barefoot Contessa website.
"I love a nice two-fer," she wrote. "I make a big batch of something and use the leftovers to make a second, completely different recipe the next day."
The Food Network star continued, giving an example involving two of her Barefoot Contessa recipes.
"This Tomato and Eggplant Soup is a hearty winter lunch, and I use the leftover soup as a sauce for delicious Baked Pasta with Tomatoes and Eggplant," she added. "No one will even know they're eating leftovers!!!"
Both recipes can be found in Garten's 2018 Barefoot Contessa cookbook, Cook Like a Pro.
The Barefoot Contessa starts by making her Tomato and Eggplant Soup
It's the Barefoot Contessa's Tomato and Eggplant Soup that makes one recipe into two. According to Food Network, here's how she prepares it. The best-selling cookbook author heats up "good" olive oil — Garten's preferred olive oil brand is Olio Santo — in a pot. Then she adds the eggplant. Once they are soft, she tosses in the onion and fennel followed by the garlic. 
Chicken stock (preferably homemade) comes next. Then the crushed tomatoes, fennel seeds, oregano, thyme, red pepper flakes, salt, and pepper go in the pot.
Meanwhile, chop a can of whole tomatoes using a food processor. Add them to the pot. Bring the soup to a boil and simmer for 15 minutes. Season to taste with salt and pepper before serving with Parmesan cheese and a drizzle of olive oil. 
Ingredients:
Good olive oil
Eggplant
Yellow onion
Fennel bulb 
Garlic
Good chicken stock, preferably homemade 
Crushed tomatoes, preferably San Marzano 
Whole dried fennel seeds 
Dried oregano 
Fresh thyme leaves 
Crushed red pepper flakes 
Kosher salt and freshly ground black pepper 
Whole peeled tomatoes, preferably San Marzano 
Parmesan cheese
The Barefoot Contessa then uses leftover soup as pasta sauce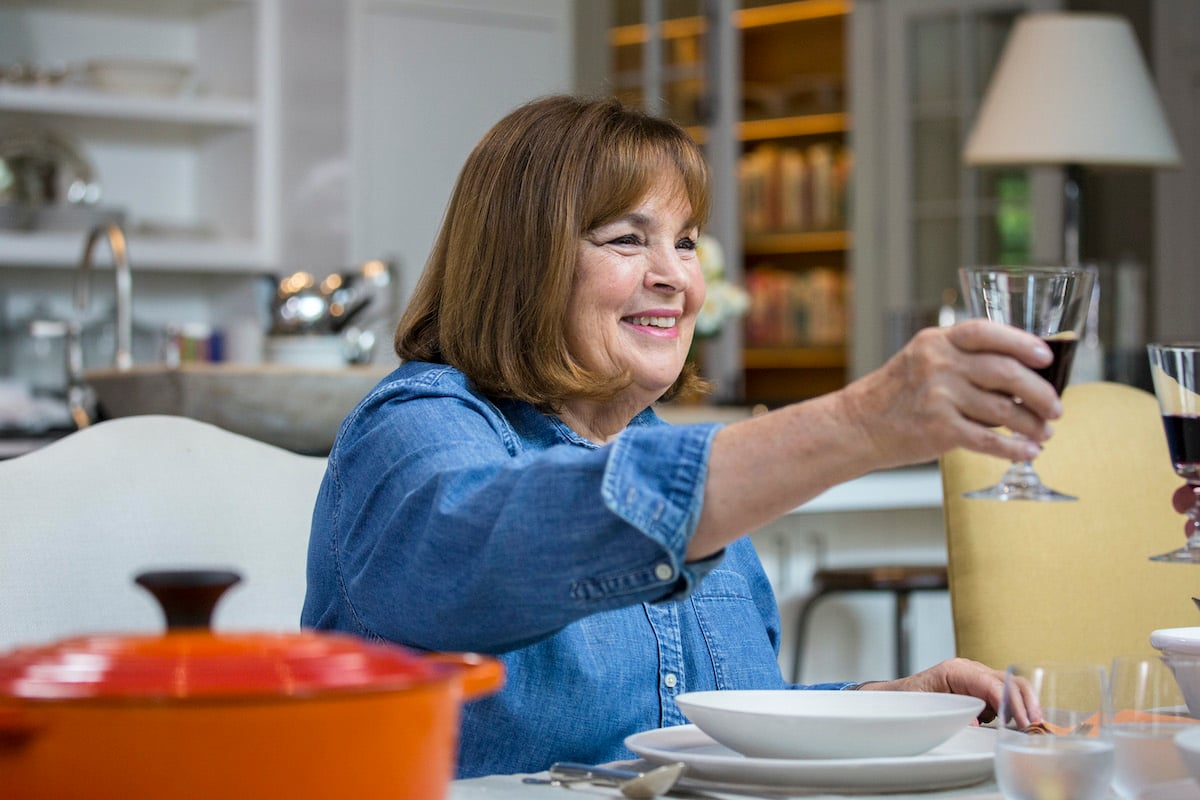 RELATED: Ina Garten Likes Thanksgiving Leftovers 'So Much' She Makes Them for Thanksgiving
Garten's Baked Pasta with Tomatoes and Eggplant is a simple Barefoot Contessa pasta recipe to make when the sauce is already done. Garten starts by cooking the pasta just until firm.
Then she pours the leftover Tomato and Eggplant Soup into a large bowl. The cookbook author mixes it with cheese, salt, and pepper before distributing it between gratin dishes. Garten then puts a small amount of butter on top of each one before baking.
With a few minutes to go in the oven, she sprinkles them with Parmesan. Once the cheese is melted, the pasta's ready to serve. 
Ingredients:
Kosher salt and freshly ground black pepper
Penne rigate and/or fusilli 
Tomato and Eggplant Soup
Fresh mozzarella
Freshly grated Italian Parmesan cheese
Unsalted butter