'Barefoot Contessa' Ina Garten On the 1 Thing You Should Never Bring To a Dinner Party
Barefoot Contessa Ina Garten has seen a surge in popularity during the pandemic. Yes, she was already a beloved celebrity chef before 2020. But during quarantine, Garten's gained more than a million new followers on social media.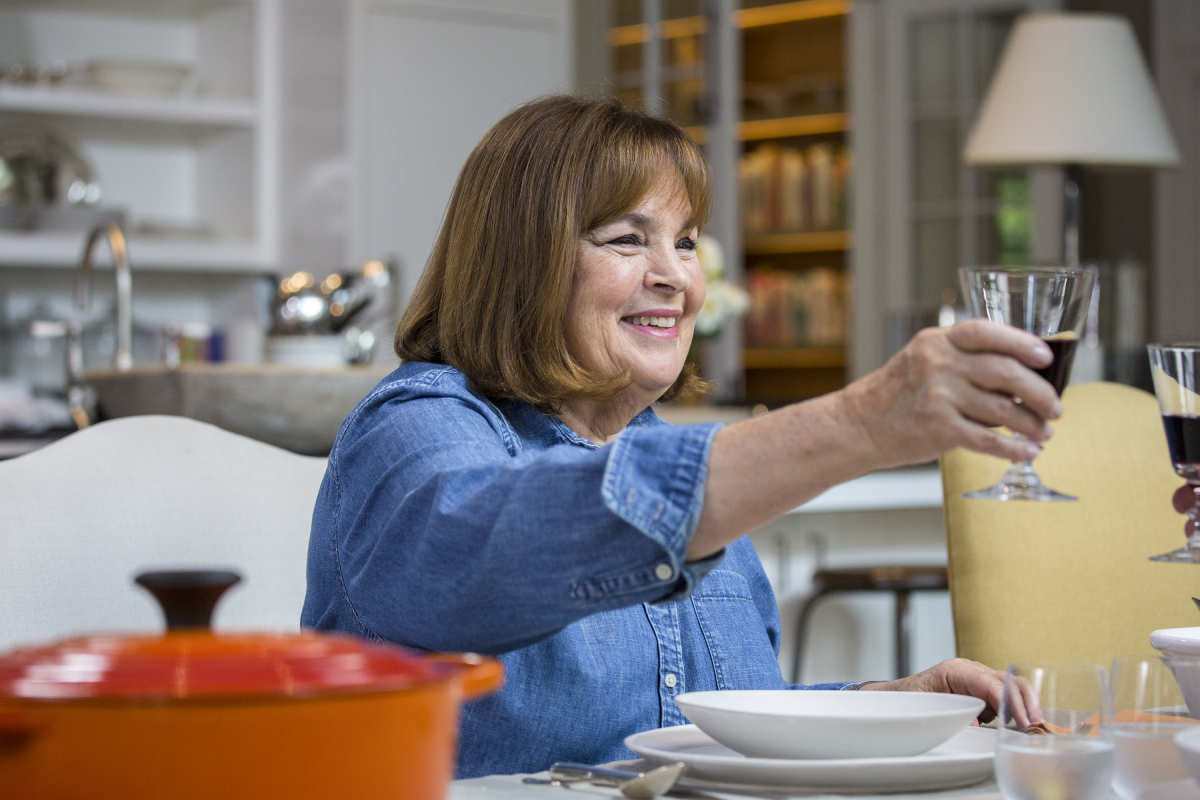 Fans have flocked to her pages for her Modern Comfort Food recipes and her giant cocktails. Garten is also full of wisdom when it comes to dinner parties, for those times when we can actually get together. She says that there is one thing that a guest should never bring.
Ina Garten admits that 'cooking is hard'
Many of us this year are missing out on holiday parties and family gatherings. Zoom calls aren't giving us that sense of community that Garten says food can give. She told The Star Tribune in 2016 that in her experience, everyone wants a home-cooked dinner. When you cook, everybody shows up.
"I always serve dinner in the kitchen, so that everybody is kind of a part of it. Somebody serves wine, I'm carving the chicken, someone is taking the plates out. You're all part of it, together," Garten explained. "That's where you create a community for each other, where you really talk and spend time caring about each other."
Garten added that for her, cooking is all about making people feel warm and comfortable. She says she has never invited someone who she doesn't love because "cooking is hard."
"You want to cook for people you love," Garten says.
Despite her success as a Food Network star and cookbook author, Garten says that cooking is not easy for her. She assumes that the people who are reading her books haven't been cooking professionally for 30 years, and so it can't be easy for them either.
The 'Barefoot Contessa' star tests her book recipes at dinner parties
Garten wants her fans to look at pics of her dishes and say, "that looks delicious." But she also wants them to look at the recipe and say, "I can actually make that" and "I can find the ingredients in the grocery store."
The Barefoot Contessa star says that her recipes are famously foolproof because she and her team works "really hard at it." If she went to the trouble to make a recipe and it didn't work, Garten admits she would be "really annoyed."
She will work with a recipe over and over again until it's exactly the way she wants it. Then, she will hand it over to her assistant Barbara, watch her make it, and learn even more. The final step in the process is serving the dish at a dinner party.
"It's one thing to make a tarragon shrimp salad and that's all you have to do all day. But for a party, you have to make three or four things, so if it's too complicated to make as a part of a menu, then it doesn't make it into the book," Garten revealed.
Ina Garten says you should never bring this 1 dish to a dinner party
In addition to her tips and recipes for dinner party hosts, Garten also has some words of wisdom for dinner party guests. She says that when you bring the host a gift, bring something that they can enjoy at breakfast, some good coffee, or a box of chocolates they can pass around after the meal.
"Don't ever bring something that has to be served at the meal, unless the host or hostess has asked for it," Garten explained. "I'm always afraid that if you bring a raspberry cheesecake — and they've made something for dessert that's good but not great — then everyone is going crazy for your raspberry cheesecake, and that's horrible for the hostess. It's rude."
Modern Comfort Food is now available in stores.