'Barefoot Contessa': Ina Garten Has Very Specific Rules for Her Kitchen Workspace
Barefoot Contessa star Ina Garten has some strict rules when it comes to her kitchen design. Garten shares her workspace guidelines, which keeps people from being underfoot while still nearby for entertaining. She also explains some of her organization tips and tricks as well as her need for two dishwashers.
Ina Garten developed the perfect kitchen workspace to create her Barefoot Contessa recipes and her strict rules are certainly helpful when it comes to kitchen design and productivity. Garten shared some of the things she's learned over the years about kitchen layout and organization for the best cooking experience.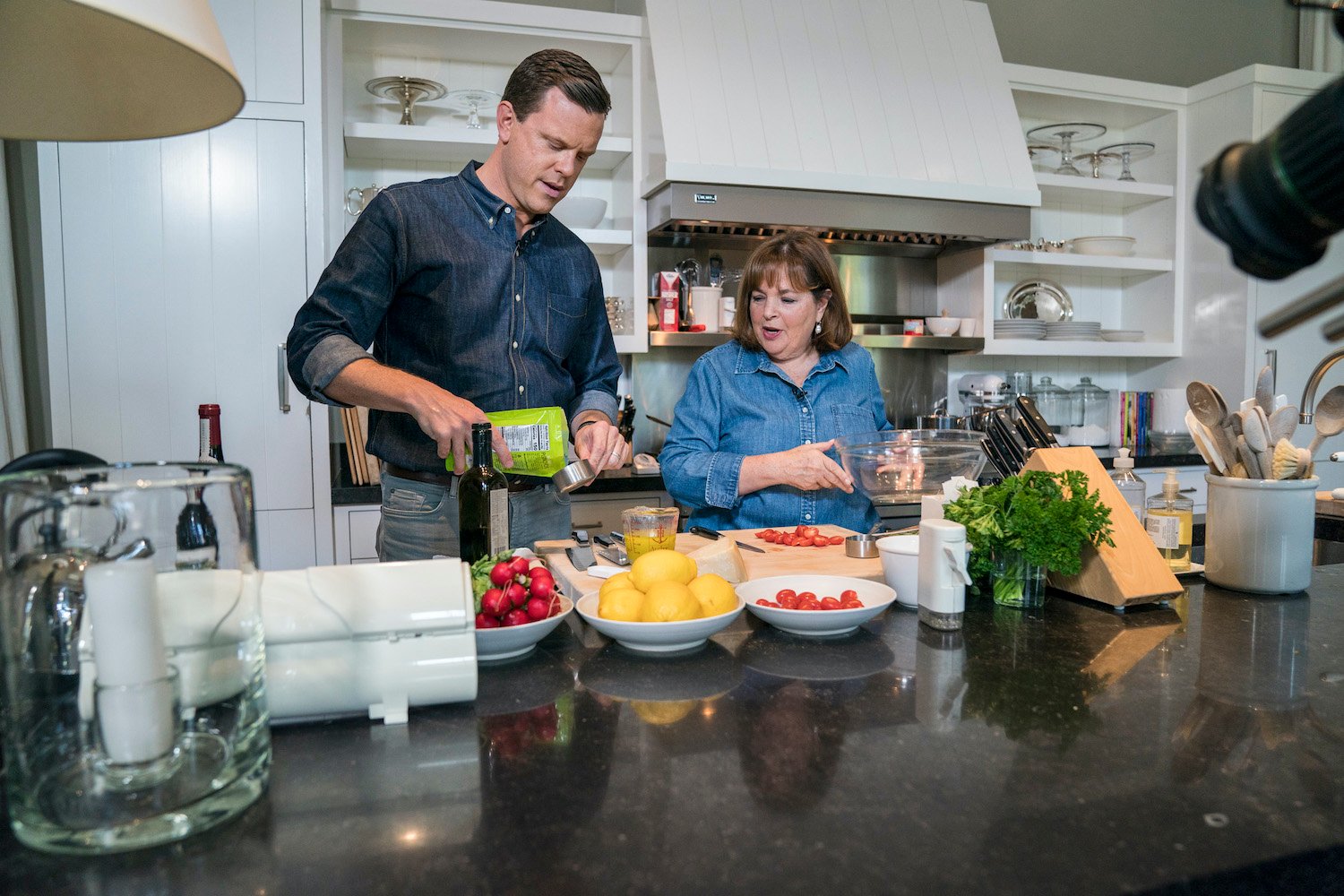 Ina Garten has strict rules for her kitchen design
During an interview with House Beautiful magazine in 2009, Garten shared the kitchen rules she follows for her cooking workspace.
"I think the most important thing is that the workspace isn't too big," she said. "That it's a space that you can actually handle easily. And the thing I think that people do wrong the most is that the workspace is out of the traffic area."
Garten explained the way her home is set up so you can walk from the dining room to the outside by passing through the kitchen, but you don't enter her workspace.
"So that if there are people — you know kids and dogs and friends — and running back and forth, they're not underfoot when I'm working," she explained.
Garten enjoys entertaining in the kitchen so she keeps her working area separate yet still connected to people by having them sit on the other side of her kitchen counter.
"Everybody can hang out there, they can hang out at the table, but my workspace between the island and the back counter are sort of sacrosanct," the Barefoot Contessa star noted. "Nobody moves around in there unless, of course, they're cooking with me."
Ina Garten explains why she needs two dishwashers
Garten also said she loves having two dishwashers in her kitchen and believes it's not a huge expense for the value she gets from the extra appliance.
"I have two dishwashers because — all the time I don't use it — but when I'm having a party, I could use four dishwashers!" she said. "It's a really important thing to me and for a few hundred dollars, you can buy a dishwasher and it's frankly cheaper than the cabinets. So it's a really useful thing to have."
Garten has an organization system for the plates and glasses she uses every day. She stores them on open shelves opposite the dishwasher to make it easy. "So all I have to do is unload the dishwasher, turn around, and put it away," she noted.
Ina Garten's kitchen is very organized
Garten also explained some easy ways she keeps the kitchen organized without a lot of effort or money.
"I have a huge basket for all those things that don't fit in drawers, like half sheet pans and baking racks, big cutting boards," she said. "You never know what to do with these things and I have a huge basket at the end of the counter, they all go in there."
During a tour of the 2009 Kitchen of the Year that Garten designed, she noted the crocks on her countertop that hold cooking utensils. "These are the things I use most," she explained. She puts the wooden tools in one crock and the stainless steel tools in another. "It looks neat, it looks organized, and you just reach out and get them."