'Barefoot Contessa' Ina Garten Just Shared 1 of Her Favorite Desserts and It 'Couldn't Be Easier to Make'
Barefoot Contessa Ina Garten's Instagram is the place to go when you are looking for new recipes. Whether she's cooking for Jeffrey or posting pics of a delicious dish from her latest cookbook Modern Comfort Food, Garten is always letting her 3.1 million followers know what's going on in her kitchen.
Recently, the Food Network star shared one of her favorite desserts, and it "couldn't be easier to make."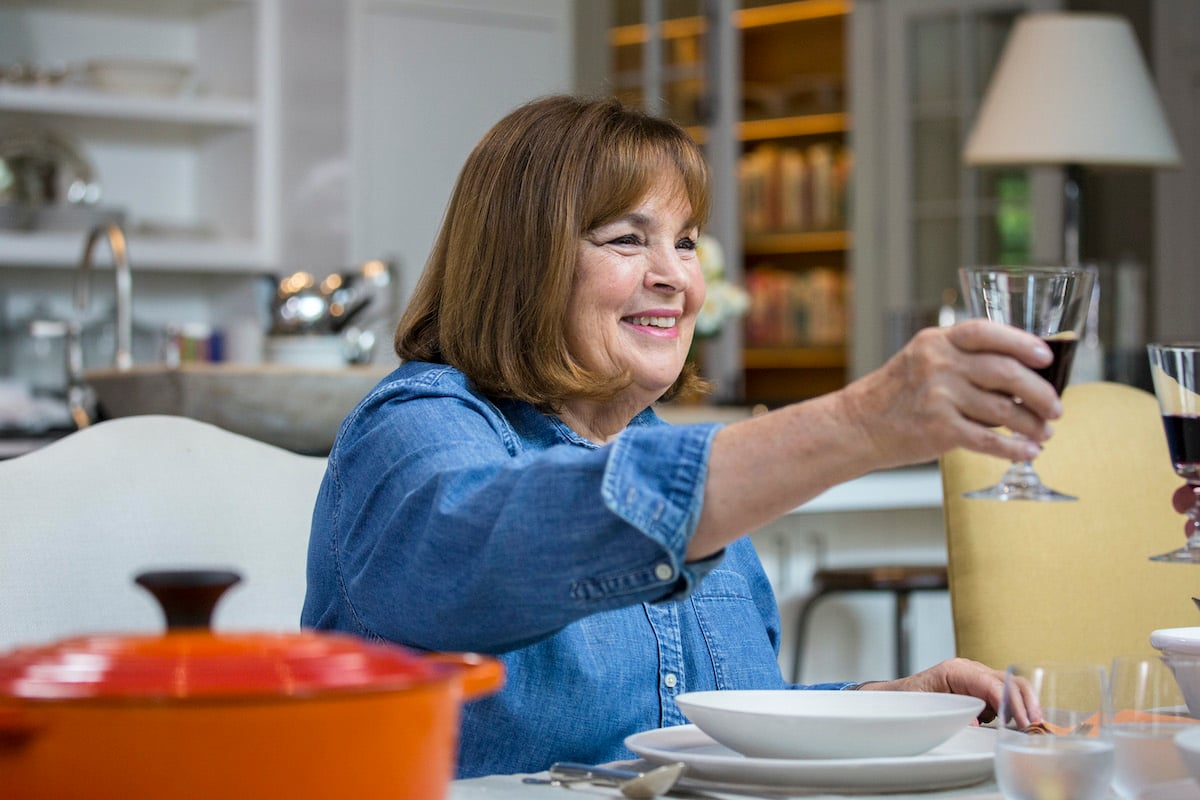 Ina Garten is ready to entertain again
After more than a year of no dinner parties at her Hamptons home, Garten says she's excited to start thinking about having her friends over again. In her post on April 22, Garten told her followers that everything around her feels like spring. So, she's thinking about making her Spring Green Spaghetti Carbonara for her guests at her first post-COVID get together.
"I took a delicious – but very rich! – classic pasta dish and added crisp green vegetables like asparagus, peas, and snow peas that add a wonderful freshness to a decadent carbonara," Garten wrote. "Plus a nice chilled glass of Chablis and I think my guests will be very happy!!"
She's working on a new 'Barefoot Contessa' cookbook
While Garten has been quarantining at home this past year, she's been keeping busy. In addition to making Jeffrey breakfast, lunch, and dinner everyday and posting comfort food recipes on Instagram, Garten's also been working on her 13th cookbook.
"Photoshoot this week for the next cookbook! These are the most gorgeous asparagus I've ever seen! @quentinbaconphoto," she captioned her April 15 Instagram post, tagging her longtime photographer Quentin Bacon.
One of Ina Garten's favorite desserts 'couldn't be easier to make'
On April 30, Garten revealed that one of her favorite desserts was her Perfect Pound Cake with Fresh Raspberry Sauce. Garten features this cake recipe in her book Foolproof, and she wrote in the caption that it "couldn't be easier to make."
The ingredients needed for Garten's Perfect Pound Pake include baking spray with flour, a quarter-cup demerara or turbinado sugar, three cups of sifted cake flour, a teaspoon of kosher salt, and two sticks of unsalted butter (at room temperature).
RELATED: Ina Garten, Ree Drummond, and Martha Stewart Have Very Different Tricks For Making the Perfect Chocolate Cake
You'll also need two-and-a-half cups of granulated sugar, six extra-large eggs (at room temperature), two teaspoons of pure vanilla extract, the seeds of one vanilla bean, two teaspoons of grated orange zest (two oranges), and one cup of heavy cream.
No preheated oven required
Garten makes it clear in her recipe that you do not preheat the oven. However, she does say to place a rack to where the cake will sit in the center. You will need a 12-cup tube pan (no removable bottom) or two loaf pans to make Garten's pound cake.
Start by spraying the tube pan or the loaf pans generously with baking spray and coat evenly. Then, sprinkle with the demerara sugar and tilt to get an even coating of the sugar on the bottom and sides. Set aside.
Combine the sifted cake flour and salt and pass the mixture through a sieve or a sifter from one bowl into another three times. Set aside.
An electric mixer is a must for the Ina Garten's Perfect Pound Cake recipe
The next part of Garten's recipe requires an electric mixer fitted with the paddle attachment. You'll need the mixer to beat the butter and granulated sugar on medium speed for five minutes. Don't stop until the mixture is light yellow and fluffy.
With the mixer on medium-low, add the eggs one at a time and mix well. Add the vanilla extract, vanilla seeds, and orange zest. With the mixer on low, add the flour mixture in thirds alternately with the cream, beginning and ending with flour and scraping down the sides of the bowl to combine. Garten says not to worry if it looks a little curdled.
Next, increase the mixer speed to medium and beat for three minutes until very light and fluffy. Pour the batter into the prepared pan, smooth the top, and place in the oven. Turn the oven on to 350 degrees and bake for 50 to 55 minutes (use the toothpick test). Let it cool in the pan for 30 minutes, then remove the cake to a baking rack and let it cool completely.
The Barefoot Contessa airs Saturdays on the Food Network.