Barefoot Contessa Ina Garten's 10 Best One-Pot Meals
Barefoot Contessa recipes from Food Network star Ina Garten are #kitchengoals. But those yummy dishes with "good" ingredients can sometimes be intimidating. Not every Garten recipe requires expert-level kitchen skills, though. Here are 10 of Garten's best one-pot meals that even a kitchen novice can handle.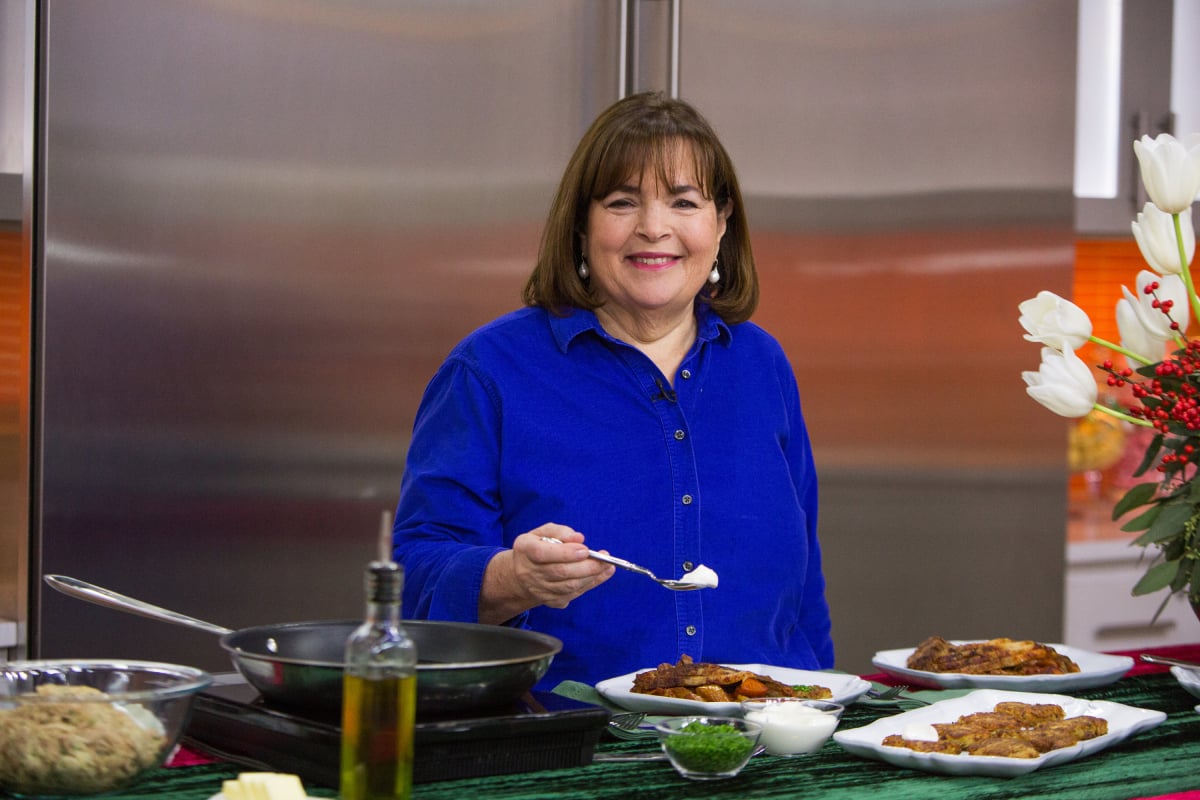 10. Mexican Chicken Soup served with tortilla chips, avocado, sour cream, and cheddar cheese
Before you put this one-pot meal together, you'll first need to roast the bone-in, skin-on chicken breasts on a sheet pan (rubbed with olive oil and sprinkled with salt and pepper) for about 45 minutes. When the chicken is cooked and has cooled, discard the skin and bones and shred the meat.
In a Dutch oven, cook onions, celery, and carrots in olive oil for a few minutes. Then add some garlic and let it cook for a few seconds before adding chicken stock, tomatoes in puree, jalapenos, cumin, coriander, salt, pepper, and cilantro.
Cut some fresh white corn tortillas into strips and add to the soup, then bring it to a boil. Lower the heat and simmer for 25 minutes, then add the shredded chicken and season to taste. Serve the Mexican Chicken Soup hot topped with sliced avocado, a dollop of sour cream, grated Cheddar cheese, and broken tortilla chips.
9. Try Ina Garten's take on Cioppino
Cioppino is an Italian-American seafood dish, and Garten's version is surprisingly easy to make. However, you will need a ton of ingredients to make this fish stew with garlic toasts. Including a homemade seafood stock comprised of good olive oil, large shrimp, yellow onion, carrots, celery, garlic, dry white wine, tomato paste, fresh thyme, salt, and pepper.
For the stew, you'll also need some fennel seeds, crushed red pepper flakes, crushed tomatoes, cod filets, sea scallops, more shrimp, mussels, Pernod, and parsley.
8. Tomato Soup with Grilled Cheese Croutons is perfect anytime of year
Garten's recipe for Tomato Soup with Grilled Cheese Croutons is from her Foolproof cookbook, and it can easily be enjoyed at any time of year. In a large dutch oven, the Barefoot Contessa says to cook chopped yellow onions in good olive oil until they are golden brown. Add garlic, then stir in chicken stock, tomatoes, saffron, salt, pepper, partially-cooked orzo, and heavy cream.
Serve hot with Grilled Cheese Croutons scattered on top, made with country white bread, butter and Gruyère cheese.
7. One-Pot Rigatoni is an easy weeknight dish
If you don't count the pot used to boil the noodles, you can include Garten's Rigatoni with Sausage and Fennel to her one-pot recipe list. This dish calls for basic ingredients and is relatively easy to make, without being too sausage-y or fennel-y.
Instead, it's the perfect flavor combination of sweet and mild fennel with rich and savory sausage in a creamy sauce that has some sweetness and subtle heat.
"Made just as directed and it was absolutely delicious!!" one happy fan wrote. "I used fresh basil at the end instead of parsley and used a little extra pasta water to thin out the sauce a tiny bit
This recipe is definitely a keeper!"
6. Make 'The Barefoot Contessa's' Jambalaya in a Dutch oven or stockpot
Another one pot recipe from the Barefoot Contessa's Foolproof cookbook is Jambalaya — an American creole and cajun rice dish that features seafood and veggies. Garten's version is an easy recipe that features andouille or kielbasa sausage, chicken thighs, and shrimp.
For the veggies, Garten calls for onion, red bell peppers, celery, plum tomatoes, jalapeño peppers, and garlic. You'll also need good olive oil, salt, pepper, butter, tomato paste, oregano, thyme, cayenne pepper, dry white wine, chicken stock, extra long-grain white rice, bay leaves, parsley, scallions, and freshly squeezed lemon juice.
5. You can make Ina Garten's Beef Bourguignon in advance
Garten's intermediate recipe for Beef Bourguignon comes from her Barefoot in Paris cookbook. It's a fantastic make-ahead dish that you can put together in a large Dutch oven. Start by cooking "good" bacon in "good" olive oil. Then, sear beef chuck cubes sprinkled with salt and pepper in the oil. Next, toss carrots, onions, salt, and pepper into the fat and stir. Let it cook for a few minutes and then add some garlic.
When you add the Cognac or good brandy, you have to stand back and light a match to burn off the alcohol. Then, you'll add good dry red wine, beef broth, tomato paste, and thyme. Bring the mixture to a boil and cover the pot before putting it in the oven to cook for about an hour.
The final step is to combine butter and flour with a fork and stir into the stew, then add in frozen onions and sauteed mushrooms. Serve with homemade toasted garlic bread.
4. It doesn't get much easier than 'The Barefoot Contessa's' Summer Garden Pasta
Keep your summer weeknight dinner simple and delicious by making Garten's Summer Garden Pasta from her At Home cookbook. It doesn't get much easier than this when it comes to Barefoot Contessa recipes.
All you need is cherry tomatoes, good olive oil, minced garlic, basil leaves, crushed red pepper flakes, kosher salt, freshly ground black pepper, angel hair pasta, and freshly grated Parmesan cheese.
Four hours before serving, combine the tomatoes, olive oil, basil, red pepper flakes, salt, and pepper in a large bowl and cover with plastic wrap. Let it sit at room temperature. Cook the pasta just before serving, then add the tomato mixture and top with cheese.
3. Ina Garten makes Shrimp & Swordfish Curry for her beloved Jeffrey
Garten's beginner recipe for Shrimp & Swordfish Curry comes from her cookbook Cooking for Jeffrey. The ingredient list is loaded with spices, including curry powder, coriander, cumin, turmeric, cayenne pepper, and cloves.
You'll also need butter, olive oil, yellow onions, red bell pepper, minced garlic, ginger, jalapeño pepper, plum tomatoes, clam stock, salt and pepper, swordfish, shrimp, and the zest and juice from one lime.
2. 'The Barefoot Contessa's' Skillet-Roasted Chicken and Potatoes
Garten's Skillet-Roasted Chicken and Potatoes comes from her most recent cookbook Modern Comfort Food. This beginner-level recipe is made almost entirely in a cast-iron skillet. However, there is some food prep required.
At least four hours before you plan on serving this dish, sprinkle the large bone-in, skin-on chicken thighs with salt and pepper. Then place them in a one-gallon sealable plastic bag and pour in some buttermilk. After sealing the bag, massage it lightly to make sure all of the chicken is coated with the buttermilk. Then let it marinate.
1. Serve a one-pot meal at Easter with the 'Barefoot Contessa's' Lamb Shanks & Orzo
Easter dinner can be made in one pot with Garten's recipe for Lamb Shanks & Orzo. From start to finish, this dish takes about three hours and 15 minutes. Including about 45 minutes of active cooking time.
"As good as any lamb shanks I've ever had at restaurants. Has always been one of my favorite dishes and this recipe did NOT disappoint!" one happy fan wrote. Another added, "This was such a great one-pot dish. Easy but looks and tastes elegant. Turned out great and will definitely make it again."
The Barefoot Contessa airs Sundays on the Food Network.