Barefoot Contessa Ina Garten's 10 Most Popular Dishes on the Food Network
Barefoot Contessa Ina Garten has been killing it on social media during the current pandemic, now here are her most popular recipes on the Food Network that you can make at home.
Barefoot Contessa star Ina Garten has exactly what you need to get through the quarantine. The Food Network star has been sharing her favorite dishes on Instagram, each one more mouth-watering than the next. With Garten's new season of Cook Like a Pro only a few weeks away, here are her 10 most popular dishes on the Food Network.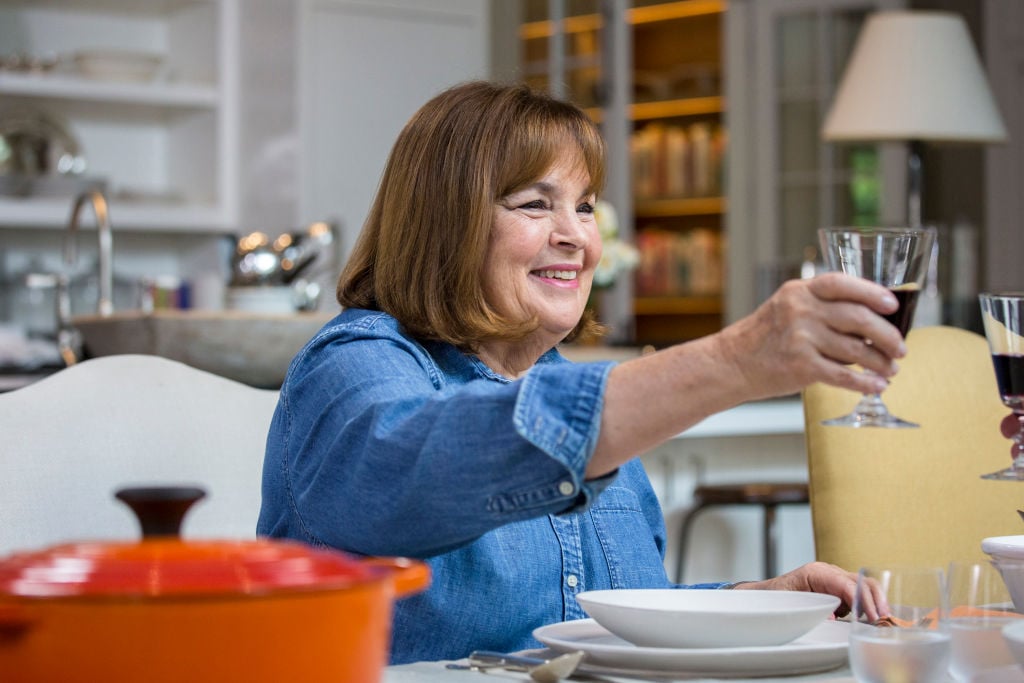 Barefoot Contessa Ina Garten shares top recipes on Instagram
With most of the world under quarantine, Garten has been posting her favorite recipes on Instagram for all of her followers to enjoy. Garten's posts have taken the social media platform by storm and fans cannot get enough of her amazing cooking.
In one of her most recent posts, Garten hilariously shared a recipe for how to make an entire pitcher of Cosmopolitans. The Barefoot Contessa herself told fans that they are going to "need a big pitcher" because "you never know who's gonna stop by," before adding, "wait a minute, nobody's stopping by!"
Garten went on to say that every hour is a "cocktail hour," telling her followers to "stay safe" before taking a drink of her freshly made Cosmopolitan.
While Garten is clearly making the best out of the current crisis, her 10 most popular dishes on the Food Network are sure to help everyone get through the quarantine.
10. Sauteed Broccolini
There are many ways to cook broccoli, but Garten prefers to blanch this yummy veggie before sautéing it in a large pan. Once the broccoli is cooked, add a bit of garlic and lemon zest and drain before serving.
9. Mac and Cheese
Garten's original mac and cheese is a dish to die for. Her latest version of this classic's trick is to refrigerate it overnight. This might seem a bit much, but it definitely worth the extra effort. In fact, after she posted about her new version on Instagram, her fans crashed her Barefoot Contessa site searching for the recipe.  
Garten also uses a blend of different cheeses for the dish, including white cheddar and Gruyère, which might be a little tricky to find.
8. Birthday Cake with Hot Pink Butter Icing
This three-layered birthday cake is sure to please people of all ages. The cake is made up of three tiers coated with a healthy dose of pink icing. You can finish the look by adding pink and white candy around the edge, with peppermint balls an ideal choice.
7. Strawberry Tarts
The Barefoot Contessa's strawberry tarts take around two hours to make. The trick to making the perfect tart is to make sure you do not stretch the dough when you put it in the pan. Garten's recipe yields four tarts.
6. Rugelach
Rugelach is a cinnamon treat that is a huge hit with children. These tasty treats are quick and easy to make and one batch makes enough to feed an entire household.
5. Real Margaritas
Garten really knows how to make a mixed drink, and her real margaritas are no exception. Garten uses a blend of lime juice, lemon juice, Triple Sec, tequila, and ice for this recipe. What makes this recipe great is that you can adjust the levels of each ingredient to your liking.
4. Orange Banana Smoothie
These orange banana smoothies might be the easiest recipe to make on this list. Simply combine all of the ingredients — orange juice, lime juice, banana, and strawberries — in a blender. Refrigerate the mixture once it is smooth and drink when cold.
3. Potato-Fennel Gratin
Garten's potato-fennel gratin is a great dish for gatherings, especially during the holidays or a weekend event. Just like her mac and cheese recipe, the Barefoot Contessa uses grated Gruyère cheese. The only downside to this is that you will likely have to grate your own cheese.
2. Popovers
To make these delicious popovers you will need an aluminum popover pan or some custard cups. Garten's recipe yields 12 popovers, so make sure you have enough spots when you start.
The secret to cooking the perfect popover is to preheat the pan before you add the batter, fill each cup a little under half, and avoid peeking until the 30 minutes have passed.
1. Oven-Fried Chicken
Ina Garten's most popular recipe on the Food Network is the Barefoot Contessa's delicious oven-fried chicken. The key to this dish is soaking the chicken in buttermilk placing them in the fridge overnight. The acid from the buttermilk helps tenderize the chicken, making for an amazing meal the next day.