Barefoot Contessa Ina Garten's 8 Best Soup and Stew Recipes
Barefoot Contessa's Ina Garten has the perfect soup recipes to warm your body when the temperature begins to drop. From a delicious wild mushroom and farro to roasted potato leek, you really cannot go wrong choosing from Garten's stunning array of winter soups. Here are the Food Network star's eight best soup and stew recipes.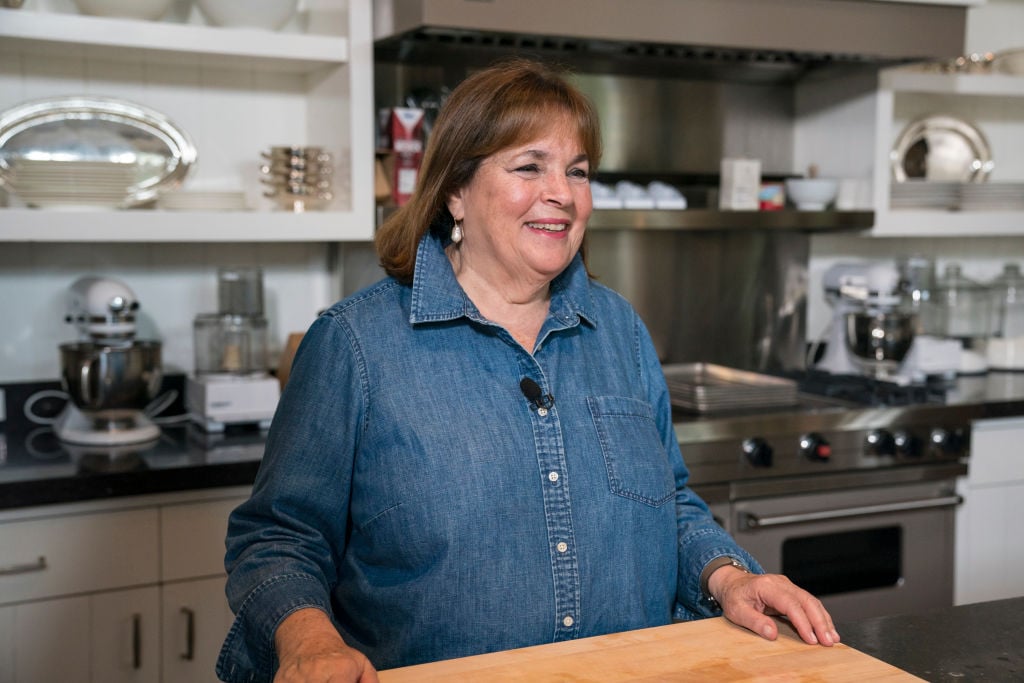 8. Parkers Beef Stew
This hearty dish is sure to brighten even the dullest winter day, at least when lunch or dinner rolls around. For this recipe, you will need a good quality chuck beef, one bottle of red wine, garlic cloves, bay leaves, yellow onions, carrots, white mushrooms, small potatoes, chicken stock, fresh rosemary, frozen peas, sun-dried tomatoes, and some Worcestershire sauce.
The cooking time is a little under three hours, but a batch is enough to serve around six people, giving you plenty of leftovers for the next day.
7. Onion and Fennel Soup Gratin
Ina Garten takes this classic dish and adds a bit of her own twist to it. As the Barefoot Contessa star might say, this is an ordinary dish "with the volume turned up!"
What's separates Garten's version of this classic is the addition of a bubbly Gruyère and some sourdough, toasted (of course). If you think this soup is amazing right out of the pot, it is just as good, if not better, the next day.
6. Roasted Potato Leek Soup
Roasted potato leek soup is another classic dish to serve up on a chilly winter day. The potatoes and leek combination really brings out the natural sugars in these vegetables, and this soup definitely packs a ton of flavor.
And in under three hours of prep and cook time, you can make enough to serve anywhere between six to eight guests.
5. Tomato and Eggplant Soup
There are plenty of ingenious recipes in this list, but Ina Garten's tomato and eggplant soup is one of her more clever ideas. The Food Network star cooks a huge portion of this soup the first day and then uses any leftovers to make another batch the following day.
If that isn't ingenious then we do not know what is. For Garten, it is the ultimate two-fer.
"I love a nice two-fer. I make a big batch of something and use the leftovers to make a second, completely different recipe the next day. This Tomato & Eggplant Soup is a hearty winter lunch, and I use the leftover soup as a sauce for delicious Baked Pasta with Tomatoes and Eggplant. No one will even know they're eating leftovers!!! The recipes are available on barefootcontessa.com! #CookLikeaPro" she wrote on Instagram.
4. Chicken Soup
A wintry soup list would not be complete without a classic bowl of chicken soup. But just like other recipes on this list, Ina Garten takes this traditional dish and adds a new level of comfort.
According to Food Network, what makes Garten's chicken soup different is the addition of several unique ingredients, like dill, thyme, parsnips, and matzo balls. This recipe will take you a few hours to complete, but it makes enough to feed 10 people and it totally worth the effort.
3. Mexican Chicken Soup
Speaking of different types of chicken soup, Garten's Mexican chicken soup should be something you keep on hand throughout the year. This delicious dish has just the right amount of spice to warm your heart in any season.
With toppings like shredded cheese, avocado, sour cream, and tortilla strips, it will definitely become a fan favorite in your home. Even better, it is super easy to make and does not require a lot of cooking time.
2. Coq au Vin
If there is any recipe you try on this list Ina Garten's Coq au Vin should be the one. This is a traditional French soup that, once again, gets updated by Garten in a rather unique way.
The prep time for this tasty soup is only 20 minutes, and after cooking for an hour-and-a-half, you will have a delicious dish that serves three. This dish is a little tricky to get right the first time, but practice always makes perfect.
1. Wild Mushroom and Farro Soup
This is one of Garten's favorite soups in her repertoire and for good reason. The Barefoot Contessa star often serves this dish as the first course for an evening, and she adds in plenty of veggies, pancetta, and Marsala wine.
This warm treat is best with a side of crusty bread, prepared to your liking. You can also switch things up a little by varying the ingredients to help find the perfect blend for your taste buds.
Cook along with Barefoot Contessa Ina Garten on the new Food Network app.