Barefoot Contessa: Ina Garten's Easy Trick to Making Perfect Potato Salad
Make an Ina Garten potato salad recipe and expect the Barefoot Contessa to steam the potatoes to get them perfectly cooked.
Spring is here and temperatures are rising. For many, that means potato salad at barbecues and picnics. Leave it to Ina Garten to have an easy and simple to make perfect potato salad. On her cooking show, Barefoot Contessa, the best-selling author once shared how she makes potato salad. 
Ina Garten starts with perfectly cooked potatoes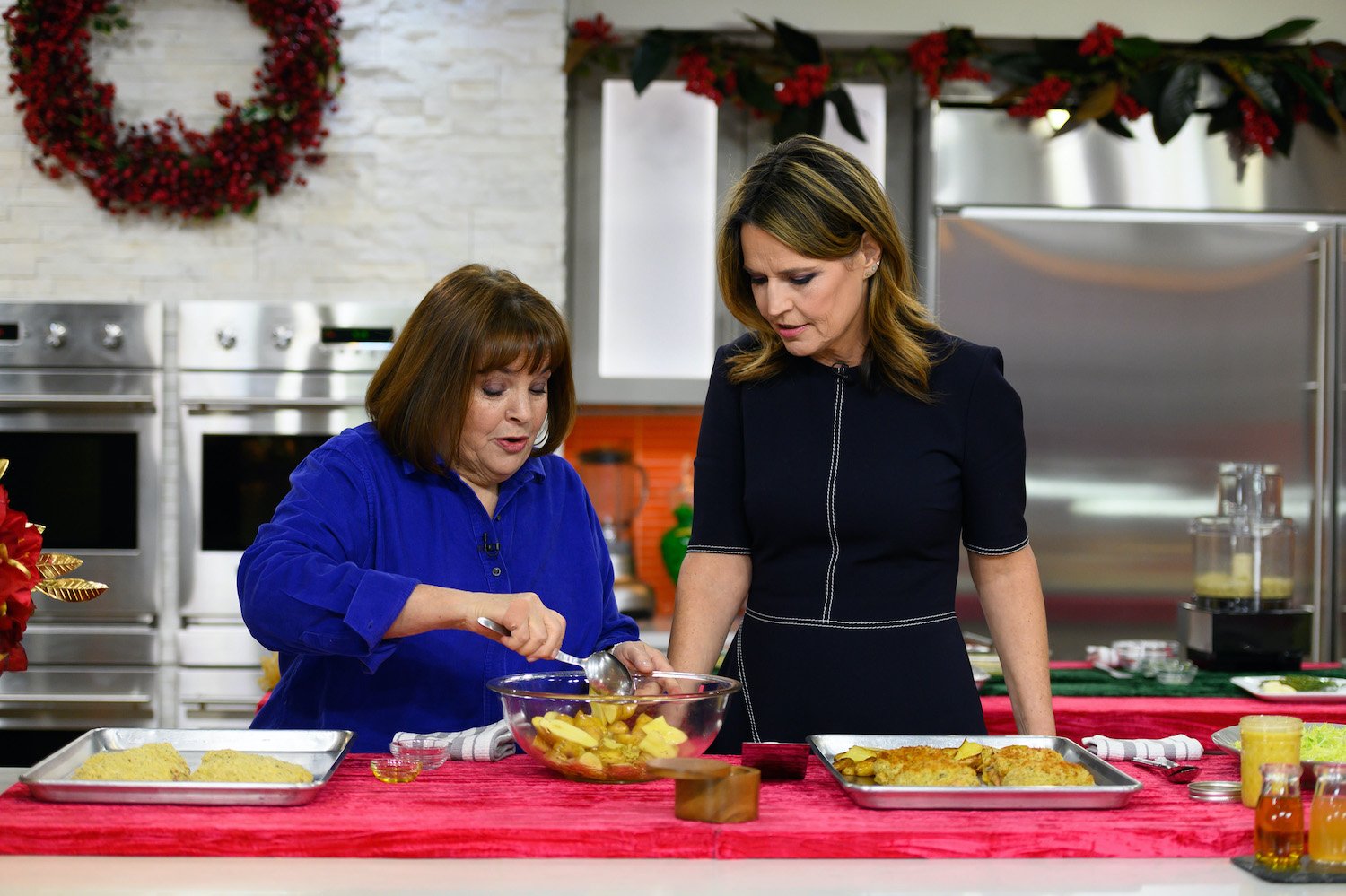 Potato salad starts with, er, potatoes. They're the star of the dish and to get them just right, Garten relies on a simple trick. During an episode of Barefoot Contessa, the cookbook author made her Tarragon Potato salad, and in the process, she explained how she gets perfectly cooked potatoes.
After all, they can't be overcooked or they'll fall apart when tossed with the dressing. So, how does she do it? Garten simmers the potatoes for anywhere from 15-30 minutes depending on size.
Then she drains the water from the pot and puts the potatoes in a colander. Here's the crucial step she calls her "secret" to cooking potatoes. She covers the colander with a kitchen towel to allow the potatoes to steam. 
"The steam gets in the potatoes and they end up perfectly cooked," she said in a video on Food Network's website. 
As Garten says, how easy is that? 
The Barefoot Contessa tosses warm potatoes with the dressing for added flavor
Don't wait for the potatoes to cool completely before tossing them with the dressing. Why? It makes for more flavorful potatoes. 
"I actually love to put the dressing on the potato salad while the potatoes are still warm because it really absorbs better," she said. 
Once the potatoes have been steamed and they're just cool enough to handle, Garten peels and chops them. Then she tosses them with the dressing so the potatoes can absorb it. 
Originally featured in Garten's cookbook, How Easy is That?, this recipe really lives up to the title. 
How to make Ina Garten's Tarragon Potato Salad
First, cook the potatoes being sure to use Garten's steaming trick. Peel and chop the potatoes when they're still warm making sure not to cut the potatoes too small. Otherwise, they'll fall apart into tiny pieces when tossed with the dressing. 
The Barefoot Contessa uses tarragon vinegar — Garten stores vinegar in the fridge — in this particular recipe but she says there's no need to buy a bottle. White wine vinegar is an acceptable substitue. She mixes the vinegar, herbs, lemon juice, mayonnaise, salt, pepper, and onion together to make the dressing.
Another tip from Garten? Don't add all of the dressing at once. Mix some of it with the potatoes before eventually adding the rest. Allow it to sit for at least 30 minutes so the flavors can develop.
Ingredients for the Barefoot Contessa's Tarragon Potato Salad: 
2 pounds medium Yukon Gold potatoes (6 to 8 potatoes)
Kosher salt
1 cup good mayonnaise
2 tablespoons freshly squeezed lemon juice
2 tablespoons tarragon or white wine vinegar
1 teaspoon freshly ground black pepper
3 tablespoons chopped scallions, white and green parts
3 tablespoons minced red onion
2 tablespoons minced fresh tarragon leaves
2 tablespoons minced fresh dill