'Barefoot Contessa': Why Ina Garten Always Wears Blue Shirts
Ina Garten is inarguably one of the most popular and beloved celebrity home cooks. She is relatable, yet sophisticated, with a variety of recipes and dishes that make her fans ooh and aah.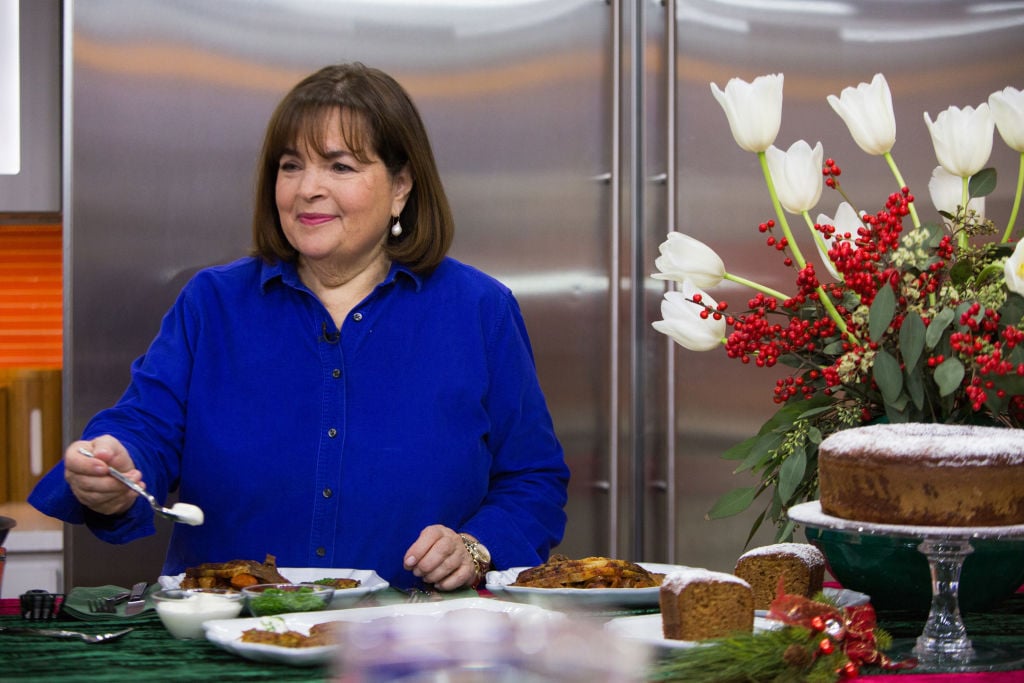 One thing that doesn't change about this Food Network star? Her attire. Garten can almost always be counted on to wear a blue button-down shirt. If not blue, then white, or perhaps black. Here's why.
She's been filming new episodes of her Food Network show
The 72-year-old has been filming new episodes of her Barefoot Contessa show on Food Network. Last week, she had fans on their knees with Instagram photos of her version of Shake Shack chicken sandwiches. Once again, we all pine for jobs as her kitchen assistants or, even better, as Garten's taste testers!
Garten said on her post, "I'm filming new episodes of Barefoot Contessa today and I just made these amazing fried chicken sandwiches inspired by the @shakeshack Chick'n Shack. The chicken is marinated in buttermilk and double-dipped in the coating mixture so that they're extra crispy—It's what's for lunch! (Link to the recipe in my bio!)"
Shake Shack's founder Danny Meyer replied to Garten's post, honored to be on her menu, even as an imitation. "There is no higher compliment than when @inagarten covers your song! You can cook me a Chick 'n Shack any day of the year. #honored @shakeshack."
The 'Barefoot Contessa' has a new cookbook publishing soon
The Hamptons foodie has been busy and now has a new, much anticipated cookbook forthcoming in Oct. 2020. It's called Modern Comfort Food and it's filled with just that: recipes sure to please and, yes, comfort your whole family.
Garten said on Instagram this week, "I'm so happy to tell you – my next book Modern Comfort Food will be available this October!! This book is filled with seriously satisfying recipes that you'll want to make for yourself and the people you love. The Boston Cream Pie alone will make you a hero in your house! In these anxious times, who doesn't want a little comfort?? You can preorder the book through the link in my profile!! xxxxx Ina"
Why Garten loves those button-down shirts
They're not fashionable or even that pretty, but it's hard to imagine Garten wearing anything but her button-down shirts. When she's photographed at events wearing other clothes, one has to do a double take, it's such a shock to the eyes. She explained to the Huffington Post in 2018 that she likes wearing these comfortable shirts for a reason. Let's just say she buys more than a couple at a time.
"I don't like wearing an apron when I'm working," she explained, "so I find a denim shirt or a corduroy shirt and I buy 25 of them. It's like a uniform and I don't have to worry about it. They can all just go into the washing machine. At night I get dressed up — I don't wear a denim shirt at night — but when I'm working, I always wear like a brown corduroy shirt or a blue denim shirt."
This is why we love Ina Garten. Practical and smart. How great is she?
Read more: 'Barefoot Contessa': Ina Garten Just Posted on Instagram About Her New Book