Every 'Batman' Movie in Order, From Adam West to Robert Pattinson as Bruce Wayne
Enter the world of Gotham and watch every movie in the Batman franchise. Here are all of the superhero movies centering around Bruce Wayne aka Batman in order of release date. 
'Batman: The Movie' (1966)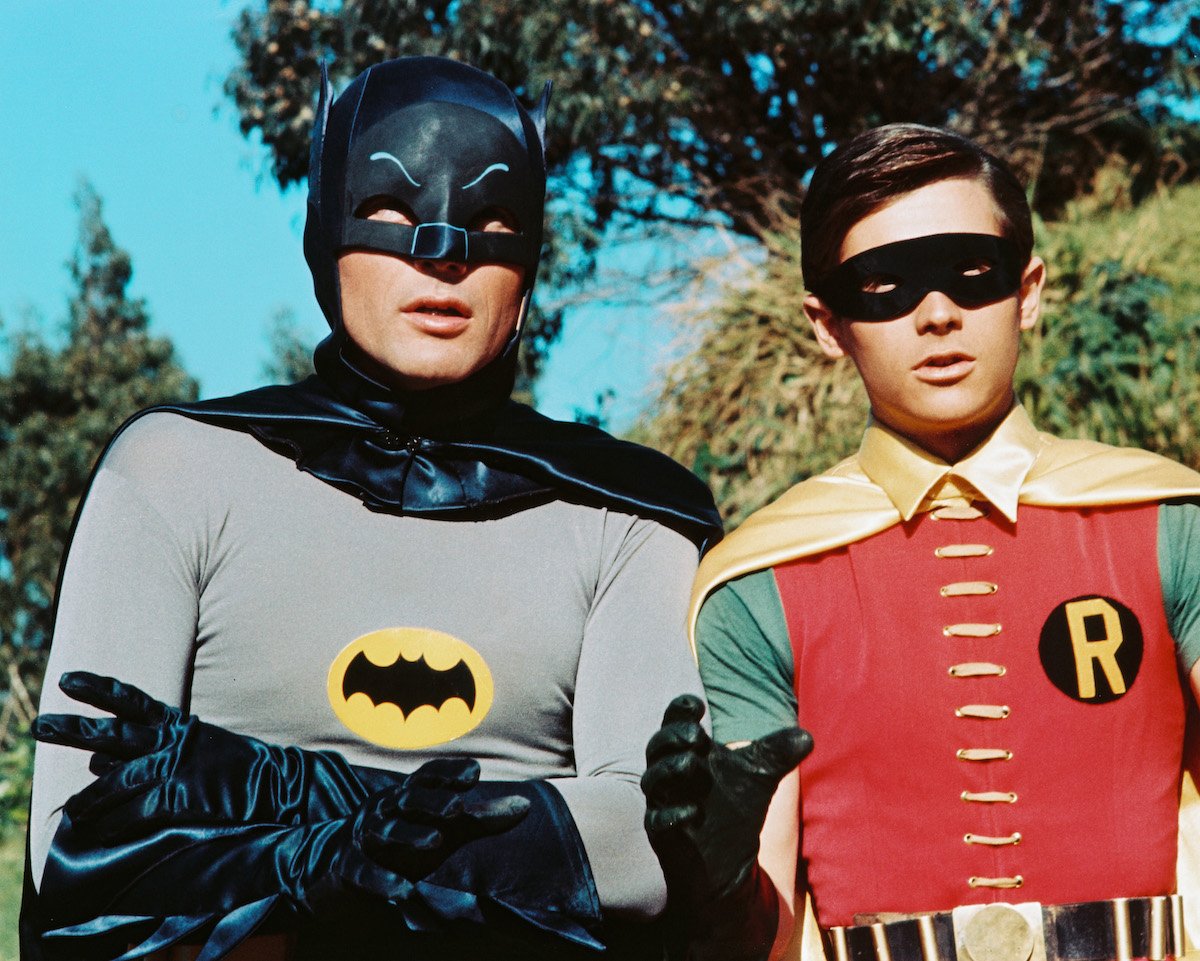 The original Batman movie is a far cry from present-day versions. Adam West's Batman is a much lighter version of the superhero. There are simpler plotlines as well as less sophisticated costumes and special effects.
Kid-friendly, Batman: The Movie centers around a downright silly Batman. West's Batman goes up against classic Batman characters including the Joker (Cesar Romero), Penguin (Burgess Meredith), and Catwoman (Lee Meriwether). 
Watch Batman: The Movie with Live TV on Hulu or rent it on Amazon Prime Video for $3.99. 
'Batman' (1989) 
The DC superhero dusted off his batmobile and put up the bat-signal more than 20 years later in 1989's Batman. This time the franchise hit the big screen with an entirely new feel. Gone were the kid-friendly aspects of the 1966 version. 
Director Tim Burton made Gotham grittier and darker. Michael Keaton played a more serious version of Bruce Wayne aka Batman. He went up against Jack Nicholson as the Joker. For his performance, Nicholson earned multiple award nominations including a Golden Globe nod. 
See Keaton as Batman and Nicholson as the Joker by streaming Batman on HBO Max or renting it for $3.99 on Amazon Prime Video or Apple TV. 
'Batman Returns' (1992) 
Keaton reprised his superhero role in 1992's Batman Returns. He once again teamed up with Burton. However Keaton's Batman faced off against a different villain. He fought Danny DeVito's Penguin. Keaton and DeVito starred in the film alongside Michelle Pfeiffer and Christopher Walken. 
Watch Batman Returns on HBO Max. 
'Batman Forever' (1995) 
Val Kilmer became the new Batman in Batman Forever. This time Batman teamed up with his sidekick, Robin (Chris O'Donnell), also known as Dick Grayson.
Directed by Joel Schumacher, Kilmer's Batman battled new villains Harvey Dent aka Two-Face (Tommy Lee Jones) and Edward Nygma's The Riddler (Jim Carrey). Famously, Carrey and Jones didn't get along during filming.
Watch Batman Forever on HBO Max. 
'Batman & Robin' (1997) 
The Batman franchise didn't wind down the '90s on a good note. Many critics and viewers responded negatively to George Clooney's turn as Batman and the movie as a whole.
Clooney's Batman & Robin co-stars included Alicia Silverstone (Batgirl), Uma Thurman (Poison Ivy), O'Donnell (Robin), and Arnold Schwarzenegger (Mr. Freeze). Although Clooney learned a lesson from the movie, audiences haven't forgotten about the box office failure. 
Watch Batman & Robin on HBO Max.
'Batman Begins' (2005) 
Christopher Nolan brought the franchise back to life with 2005's Batman Begins. Christian Bale played a young Bruce Wayne as he tries to help Gotham when the city's threatened by The Scarecrow (Cillian Murphy). 
Watch Batman Begins on HBO Max. 
'The Dark Knight' (2008) 
Widely considered to be the best Batman movie and one of the top superhero movies of all-time is The Dark Knight. Heath Ledger gave an iconic performance before his 2008 death. Bale reprises his role as Batman and Nolan once again sat in the director's chair. 
Watch The Dark Knight on HBO Max. 
'The Dark Knight Rises' (2012) 
The story continued after Ledger's death with The Dark Knight Rises. Nolan returned to direct the third installment in his Batman trilogy. Bale continued his turn as the DC superhero. This time he fought Tom Hardy as the villain Bane. 
Watch The Dark Knight Rises on HBO Max or stream it on Hulu and Amazon Prime Video with a premium subscription. 
'Batman v. Superman: Dawn of Justice' (2016)
What if instead of going up against a villain superheroes fought among themselves? That's what happened here. Two iconic superheroes went up against each other in this 2016 Batman movie. The rivalry between Batman (Ben Affleck) and Superman (Henry Cavill) didn't go over well with most critics or audiences. 
Rent Batman v. Superman: Dawn of Justice for $3.99 on Amazon Prime Video. 
'The Batman' (2022)
Twilight alum Robert Pattinson is the next Hollywood actor to take on the iconic role of Bruce Wayne and Batman. He's starring in 2022's The Batman. Directed by Matt Reeves, The Batman cast also includes Colin Farrell, Andy Serkis, Zoë Kravitz, and more.