'Baywatch' Was Pitched to NBC With a Custom Music Video
Baywatch is an iconic television show that is responsible for launching the careers of multiple stars, including David Hasselhoff, Jason Momoa, and Pamela Anderson. The series launched a media empire and went on to spawn several spinoffs and a major motion picture.
Still, the original series remains very popular with fans, even after going off the air in 1999. Baywatch is known for being cheesy, and according to a Mental Floss report, even the way that the show was originally pitched to executives was appropriately over-the-top. 
When did 'Baywatch' debut on television?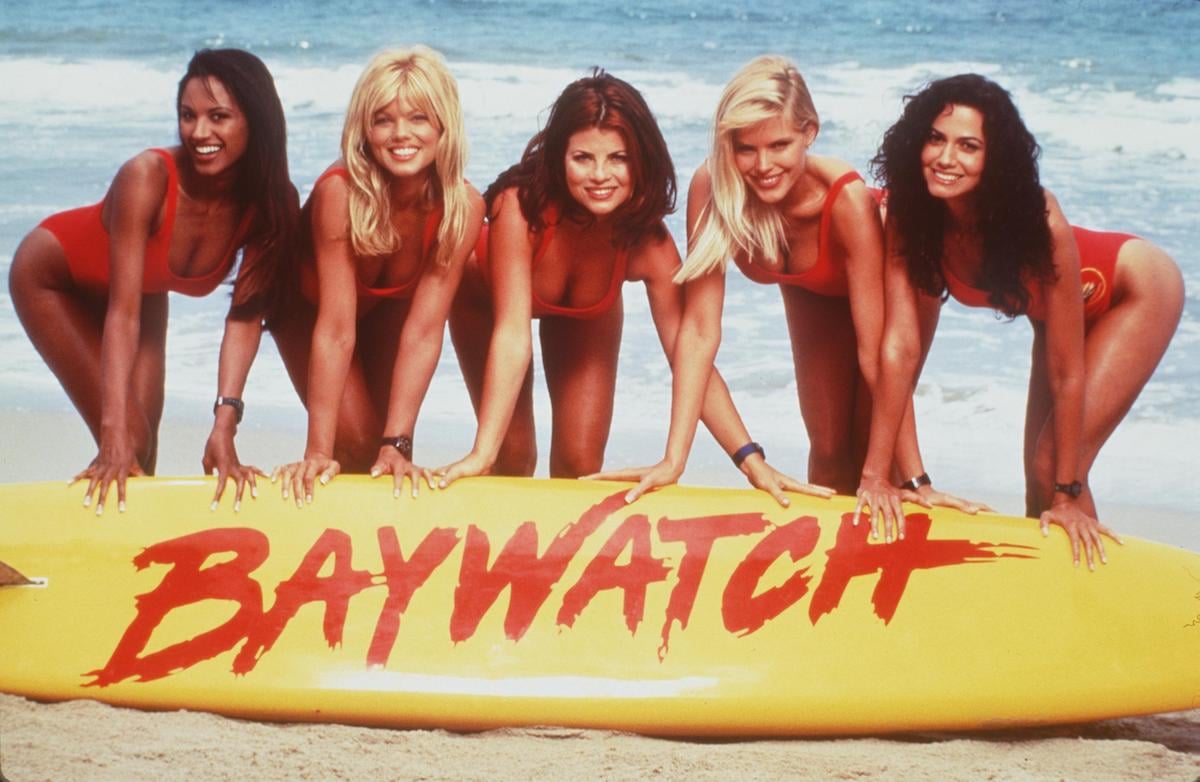 Baywatch first debuted on television in 1989. The series follows a group of California-based lifeguards and their daily patrols of the beach.
The lifeguards' personal lives are also dealt with, although the central themes of Baywatch involved the cast saving swimmers from various dangers, from shark attacks to serial killers. Baywatch is noted for featuring an ensemble cast, with many different actors coming and going over the years — but far and away, the two breakaway stars of Baywatch in the early years were David Hasselhoff and Pamela Anderson. 
David Hasselhoff appeared in the most episodes of the show, a total of 220 — and today, he is still best known for his work in Baywatch. Pamela Anderson, a model and "blonde bombshell," rose to fame as C.J. Parker on Baywatch, and she acted on the show for several years, even after she became a worldwide phenomenon.
Baywatch went off the air in 1999, but returned that same year in spinoff form, as Baywatch: Hawaii. 
'Baywatch' was pitched to network executives with a custom music video
Long before Baywatch started its iconic run on television, network executives were trying to think of the best way to make an impression in order to get a green light on the production. According to Mental Floss, Baywatch co-creator Michael Berk was told that a series about lifeguards wouldn't be financially viable for the network.
In order to prove to executives that he could make the show work, Berk and his production team shot a custom music video on Venice Beach, California, and set the video to Don Henley's popular tune, "The Boys of Summer."
Even though the video might not have proved that there was any great substance to the Baywatch concept, network executives were impressed enough by the video to go ahead and give the series the green light. 
'Baywatch' spawned several spinoff shows
Baywatch did prove to be a success, making Berk's point perfectly. Even though the series was rather superficial, featuring lots of slow-motion shots of lifeguards running in skimpy bathing suits, fans bought into the concept and tuned in on a weekly basis from the day that the series premiered in 1989 until the original series run wound to a close in 1999.
In 1995, the first spinoff series, Baywatch Nights, premiered on television, running for a total of two years. 
Only months after the original Baywatch ended its run, it returned to television as Baywatch: Hawaii, starring young actors such as Momoa. Baywatch: Hawaii didn't take off quite as the original series did, and it went off the air in 2011.
Still, the Baywatch franchise is going strong to this day in various forms, and in 2017, a full-length film feature was released, starring Dwayne Johnson and Zac Efron.