'Be My Guest': Ina Garten Has Famous Friends Over for Lunch in New Series
Ever wondered what it's like to have lunch at the Barefoot Contessa's East Hampton home? On the upcoming discovery+ series, Be My Guest with Ina Garten, viewers get a glimpse inside Ina Garten's "barn" in East Hampton, New York, as she lunches with celebrities.
Ina Garten currently hosts 'Barefoot Contessa: Modern Comfort Food'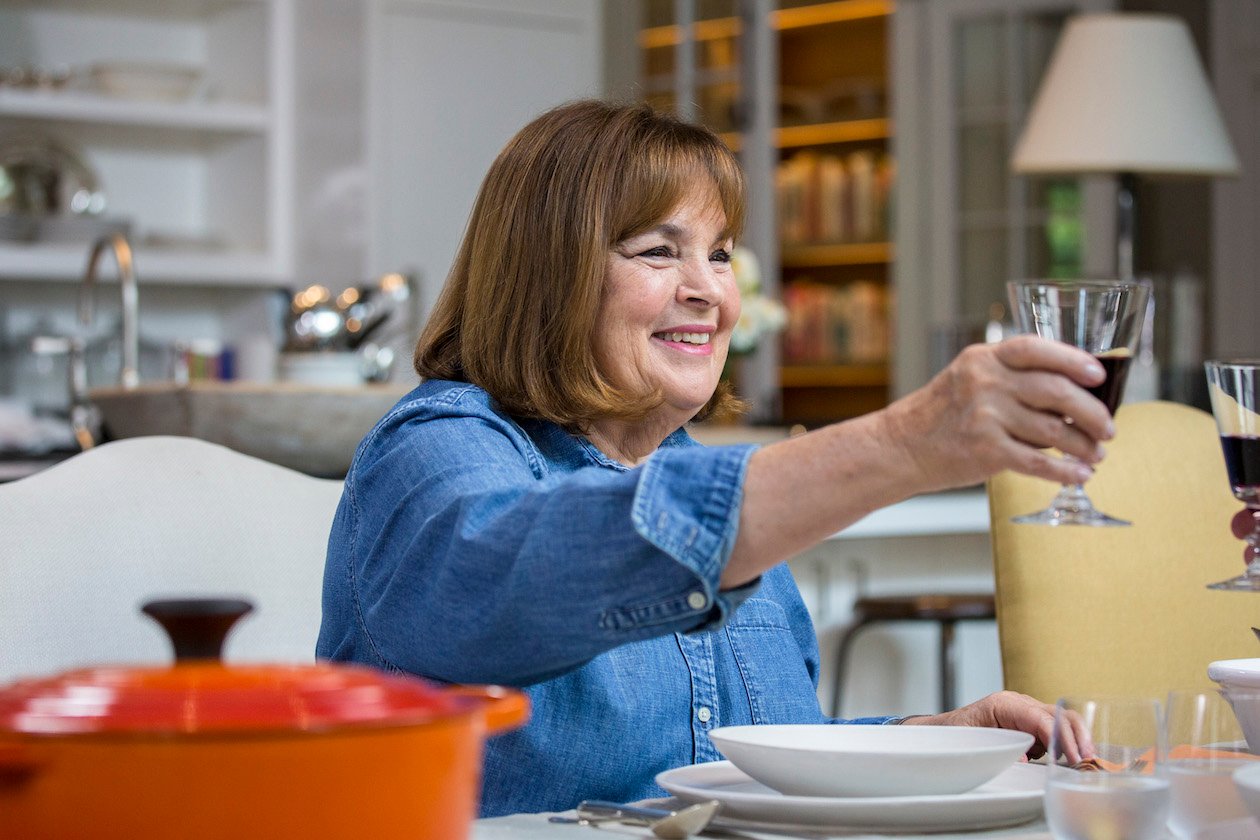 Garten has hosted her own cooking show, Barefoot Contessa, since 2002. Barefoot Contessa: Modern Comfort Food is the latest version of the award-winning program.
New episodes typically air every weekend on the Food Network. They feature Garten making recipes from her latest Barefoot Contessa cookbook, Modern Comfort Food, which hit shelves in October 2020.
Modern Comfort Food is filmed in Garten's "barn" not unlike previous seasons of the show. It comes after the 74-year-old self-filmed episodes of Barefoot Contessa in 2020.
The Food Network star's 'Be My Guest with Ina Garten' premieres in March 2022
Barefoot Contessa fans will have to wait to see Be My Guest with Ina Garten until March 26, 2022, according to Food Network. At that time, full episodes will be available on discovery+. 
But that's not all. The episodes will be followed by a "food-centric half-hour" on Food Network, which will air at 12 p.m. ET. There will also be a podcast accompanying the series. 
Be My Guest with Ina Garten Season 1 has four episodes set to debut weekly. As the title suggests, Garten invites friends over to her house for lunch. However, the show doesn't begin and end with lunch. Garten and her friends leave the "barn" and do some sightseeing in East Hampton.
Garten kicks off Be My Guest with Ina Garten with The Morning Show's Julianna Margulies. They talk about their childhoods and careers over margaritas and halibut before capping off the day with a drive to the beach.
Chef Erin French, the star of Magnolia Network's The Lost Kitchen, is another guest on Garten's discovery+ series. They bake a batch of Garten's banana crunch muffins and make meatloaf using French's father's recipe.
Another guest is journalist Willie Geist. Garten invites him over to learn more about him over bourbon sidecars. In the fourth and final episode of Be My Guest, Garten hosts her friends Rob Marshall and John DeLuca. They have watermelon cosmopolitans and share Hollywood stories before meeting Jeffrey Garten at 1770 house, one of the Barefoot Contessa's favorite spots in the Hamptons. 
The discovery+ series has 2 more seasons on the way
Be My Guest with Ina Garten hasn't even premiered yet, and it's already getting more episodes. That's right, additional episodes of the discovery+ series are on the way. This means it's likely Garten will have cameras at her home more than the usual six weeks it takes to film one season of Barefoot Contessa. 
Ahead of the show's premiere, it's been renewed for an additional two seasons, according to Variety. Be My Guest with Ina Garten Seasons 2 and 3 are set to begin production later in 2022. 
Meanwhile, Be My Guest with Ina Garten Season 1 premieres March 26, 2022, on discovery+. 
RELATED: Ina Garten's 'Barefoot Contessa' Cooking Show Isn't Scripted: '100% of the Dialogue Is Improvised'