The Beatles Became Popular in the U.S. With a Little Help From George Harrison's Sister Louise
George Harrison had a lot of support from his family, especially his sister Louise when he joined The Beatles. His mother (also Louise) was his No. 1 fan. She answered fan mail, invited some of her son's loyal fans to tea, and even became pen pals with one of them.
Initially, George's father was less-than-enthusiastic about his son quitting his job to become a full-time musician. Yet, he was just as much involved with George's fans as his wife.
However, George's sister had an even bigger job; helping her little brother reach stardom.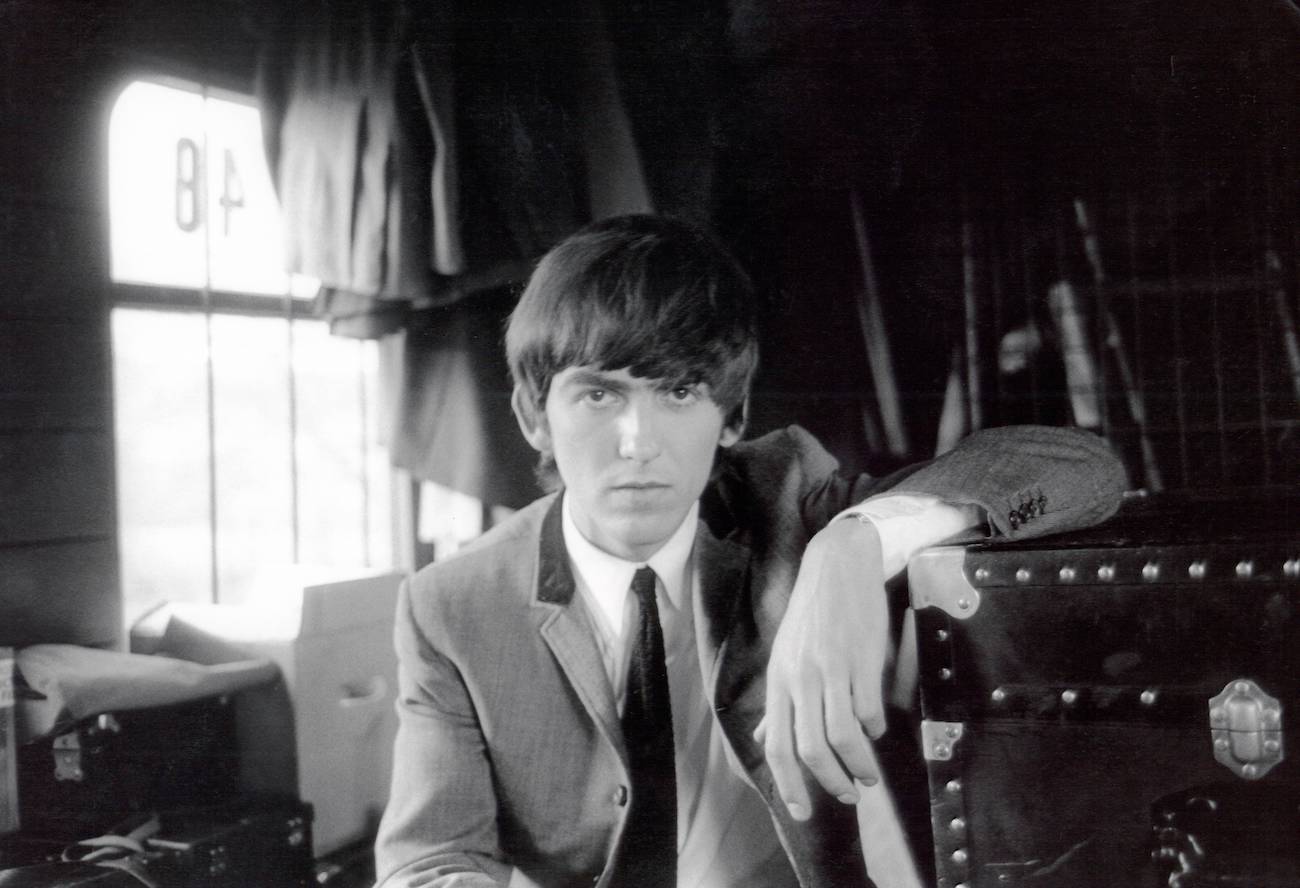 George Harrison's sister Louise helped make The Beatles popular in the U.S.
In 1963, The Beatles decided to take a holiday. John Lennon took his wife Cynthia to Paris, Paul McCartney and Ringo Starr went to Greece, and George visited his sister in America. On Sept. 16, George flew to the States with his older brother, Peter, becoming the first Beatle to do so.
Louise 'Lou' Caldwell lived at 113 McCann Street in Benton, Illinois, at the time. Louise had recently immigrated there with her husband Gordon, a nearby coal mine engineer. Benton, Illinois, is a small town, but George welcomed the quiet after experiencing the first waves of Beatlemania. No one recognized him, and he could experience some American staples without hassle.
Louise took her brothers camping at Shawnee National Forest, and they ate at burger joints. She also introduced George to Gabe McCarty, who was in the local band, the Four Vests. They hit it off, and McCarty brought George to the town's record shop. The store didn't have a single Beatles album.
According to Rolling Stone, George "was forced to bring his own copy to the WFRX-AM radio station in West Frankfort, where he hitchhiked with Caldwell to plug the Beatles' recent overseas smash, 'She Loves You.' DJ Marcia Schafer, then just 17, dutifully played the song."
However, that wasn't the last time Schafer saw Louise. George's sister kept coming back, requesting Schafer to play The Beatles. "Louise came to the station several times over the summer asking us to play the Beatles' music, which up to that time had only been available in England," Schafer told the Illinois Times in 2013.
So, thanks to Louise's hounding, The Beatles slowly trickled through the radio stations of America, starting in Illinois of all places. Within the following year, her brother's band became even more popular.
Louise wrote to The Beatles' manager suggesting he book the band on 'The Ed Sullivan Show'
During an interview courtesy of The Oklahoman Video Archive, Louise revealed that she tried getting The Beatles' music on the radio in Illinois prior to George's visit in 1963. She may have also been the mastermind behind one of The Beatles' most famous performances.
When asked if she traveled with The Beatles, Louise replied, "Well, I didn't travel with them very much. I traveled with them a little bit, but what happened was George came to visit me in Illinois, I'd moved to Illinois in 1963. He came to visit me in September with our other brother Peter, and during that time, I'd been trying to get their records played on radio stations all through the Midwest prior to him coming.
"I'd been working with Brian [Epstein-The Beatles' manager] and George Martin and Dick James-been writing back and forth to them giving them all the information that I could glean from Billboard, Cash Box, and Variety, they didn't have Rolling Stone back then.
"I found out as much as I could, gave him all this information, I called him every week and wrote letters to him all the time and at that time, of course, 'The Ed Sullivan Show' was a big thing every Sunday night. So, I kept at the bottom of the page, I would say get them on 'The Ed Sullivan Show.'
"I did get a couple of small radio stations in the Midwest to play, but, you know, that wasn't enough," Louise concluded.
Later, Louise attended The Beatles' performance on The Ed Sullivan Show in 1964.
Louise continued to keep her brother's legacy alive
When The Beatles' popularity skyrocketed, Louise said it all kind of "snuck up" on her. Throughout the band's early days, including their residency in Hamburg, Germany, she'd received letters from George. Then, suddenly, they were on The Ed Sullivan Show.
Since then, Louise has always been in the background, supporting her brother. She's always wanted to tell the truth about George's life too. Yet, she protected his private life.
Louise told the Texas Standard, "I've always been very, very concerned about protecting his privacy and that's why when I'm, you know, doing talks at conventions or whatever and people say to me 'Well, what was George like when he was a little, when he was a kid?' and I'd say 'well, you know, since he was so delved into when he became a Beatle, I think it's only right that I should keep his private life private."
Louise has also managed The Beatles tribute band Liverpool Legends since the mid-2000s. She hand-picked the band members, including Marty Scott, who plays her brother. Shortly after George died in 2001, Louise met Scott at a Beatle event and saw him play "While My Guitar Gently Weeps."
It made her cry because that was as close as she would get to see George perform again. Louise said she and Scott "adopted each other" after that.
Louise turned 90 in 2021, yet she's never had more followers who love hearing about George. Like George's wife Olivia and their son Dhani, Louise will always treasure her brother's legacy.