Bebe Winans Says Mariah Carey Shaded Whitney Houston When They First Met
When two superstars link up, it's often magical. That's exactly what happened when Mariah Carey and Whitney Houston joined forces on their iconic musical collaboration. But before the duet, there were rumors of a longstanding feud.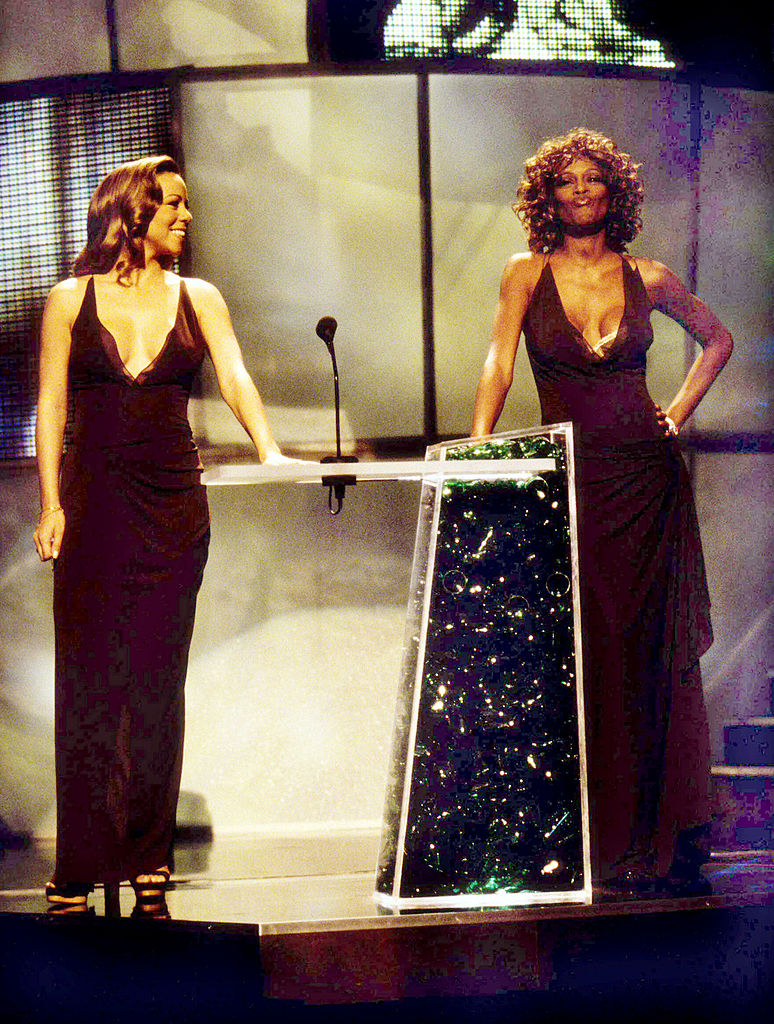 Both were the top divas on their labels and as two powerhouse vocalists, it was only natural for the media to create a story regarding them being at odds. 
Houston and Carey have always denied any rift between them but Houston's friend, gospel great Bebe Winans, recently revealed that there was some tension between the two.
Whitney Houston and Mariah Carey denied there was ever a feud
Rumors swirled for years that Carey and Houston didn't like each other. They were both at the top of their game being represented by the biggest music executives in the industry. Houston was a protégée of Clive Davis, while Carey was represented by Tommy Mattola.
But Carey says rumors of a rivalry was just that….rumors. "There was nothing, we didn't know each other," she told Variety in a Dec. 2019 interview.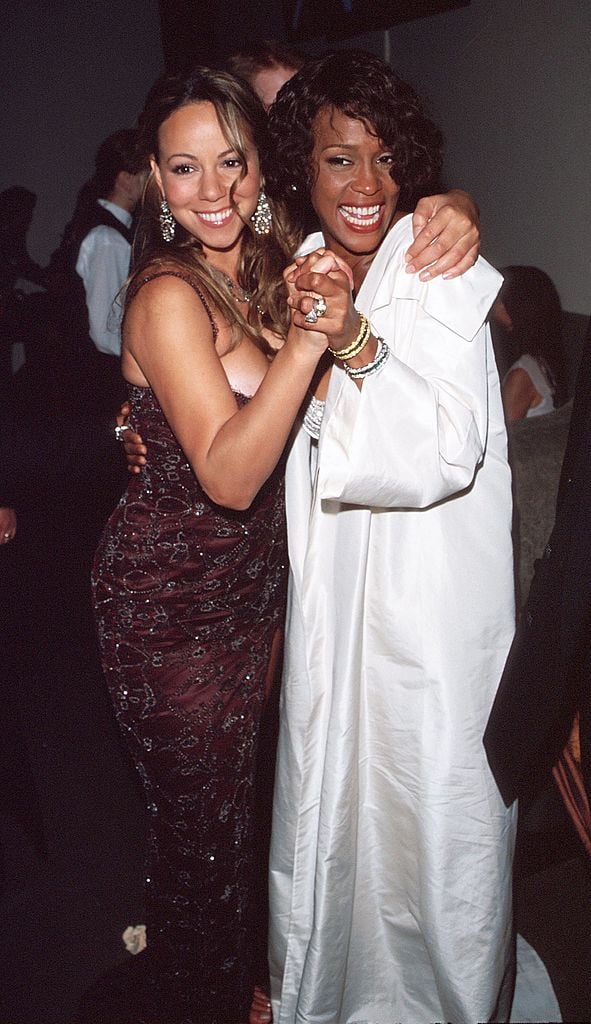 They worked together years later and Carey spoke fondly of the experiences. "Before that when we did the video, we really put all the rumors and nonsense behind us that there was a feud," she said. "Once we knew each other, we had the best time together and I was honored to work with her, so when I look at this picture, I'm really proud that we had this moment together."
Houston shared the same sentiments and told Wendy Williams in a 2007 radio interview that she loved Carey, referring to her as a "lamb chop."
Bebe Winans says Mariah Carey shaded Whitney Houston when they first met
While Houston and Carey denied that there was ever any ill feelings toward each other, Winans says that there was a feud at one point.
Winans confirmed that the media were indeed responsible for playing on Houston and Carey's so-called rivalry; however, the two women had never met one another.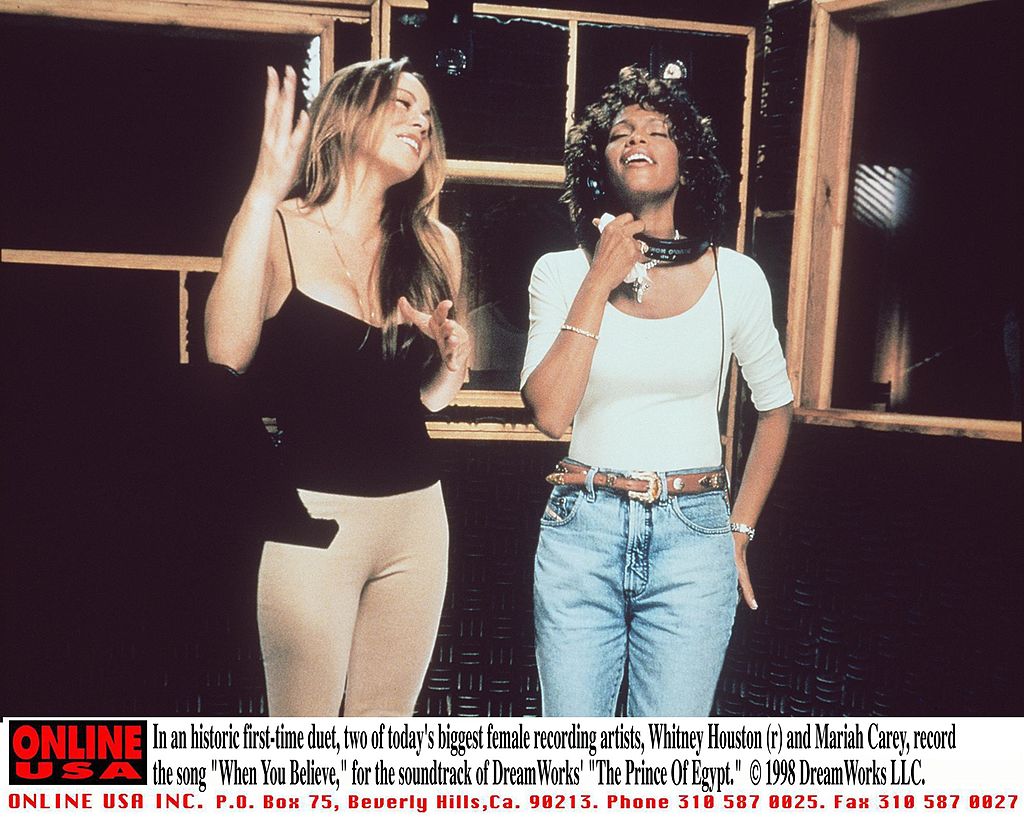 According to Winans, all three of them attended the American Music Awards one year and when he saw Carey, he insisted that Houston put the rumors to rest by speaking to her in front of their peers. 
"I said, 'You know what, this is what you're gonna do. When we leave, you've never met her, you stop right in front of her, and you reach out your hand and say 'hi," he recalled telling her. "Whitney said 'I'm not doing that.' I said, 'Yes you are. You're gonna be bigger than all this stuff. I mean, we're going back and forth and finally she says 'Okay I'm a do it.'"
But he says the introduction didn't go as planned. Houston allegedly rushed out of the venue with Winans and was viability irritated. She let him know that Carey was less than nice to her.
"We got in the car, when that door closed, she said 'Boy! I ain't never saying or doing anything you [say]," he remembered. "BeBe, oh my gosh I stopped and I turned around and I put my hand out and I said 'Hi Mariah, I'm Whitney.' She said Mariah turned her head like she didn't hear nothing. Whitney said 'The Jersey inside of me said grab her hair!'"
Thankfully there was no hair pulling and the two women later collaborated on their hit song "When You Believe" from The Prince Of Egypt soundtrack. 
They performed together at the Academy Awards and did a joint hour-long interview on the Oprah Winfrey Show.
Carey attended Houston's funeral in 2012 and shares memories of her friendship with the singer from time to time.