Becca Kufrin Finally Breaks Silence Regarding Her Breakup With Garrett Yrigoyen and Turns Off Commenting on Her Post
'The Bachelorette' Becca Kufrin finally announced her split with Garrett Yrigoyen on Instagram and turned off comments for fans.
The Bachelorette fans have been speculating for months that Becca Kufrin and Garrett Yrigoyen have broken up. The former Bachelorette lead finally broke her silence on the split and publicly announced it on her Bachelor Happy Hour podcast and Instagram.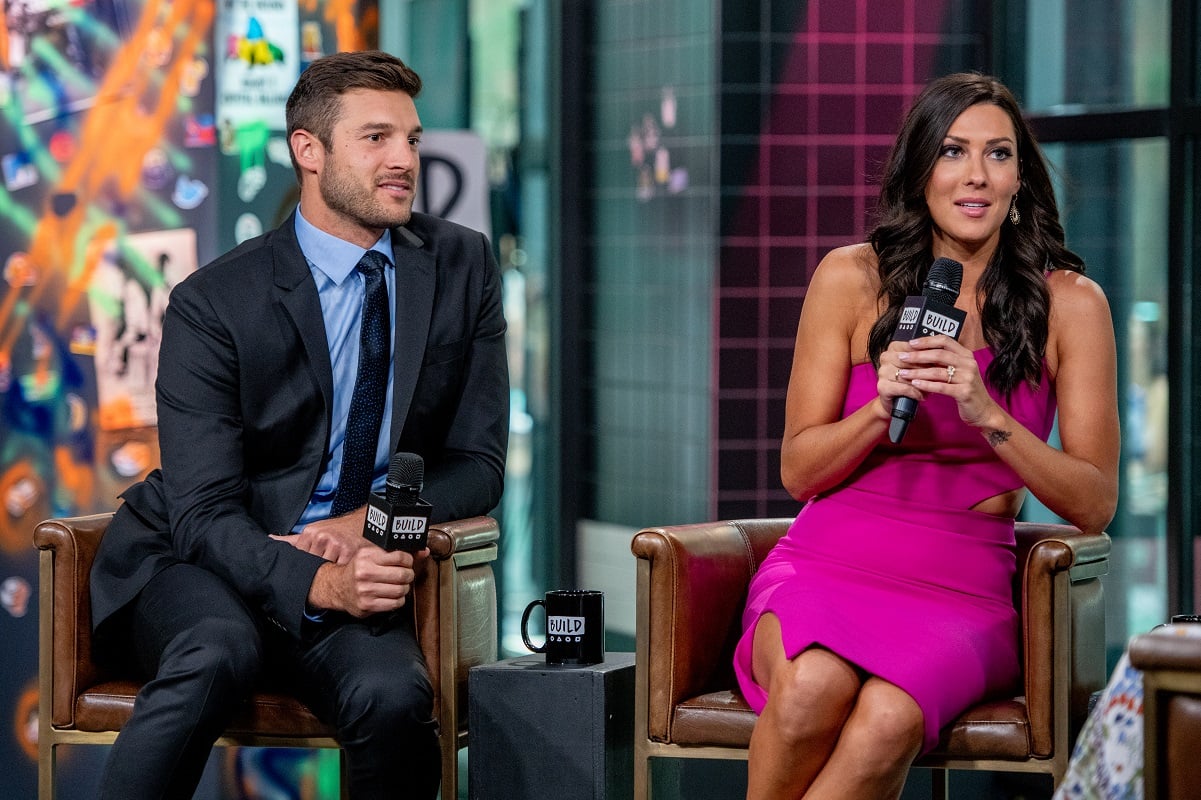 Why did fans think Becca Kufrin and Garrett Yrigoyen already split up?
The endless speculation about Kufrin and Yrigoyen's relationship troubles began in early June 2020. The podcast host openly supported the Black Lives Matter movement and racial injustice following the unjust killings of Ahmad Abrey, Breonna Taylor, George Floyd. However, her fiance instead posted a thin blue line and a lengthy statement supporting police officers.
The debate continued over whether or not the two split up after Kufrin did not defend her fiance to her cohost Rachel Lindsay on the Bachelor Happy Hour podcast.
Since the podcast, Kufrin and Yrigoyen have not shared any photos or videos of them together. Many fans also noticed that Kufrin stopped wearing her engagement ring and was staying with her mother. 
Yrigoyen, on the other hand, has been going on long camping adventures and staying with his sister when he's not in the wilderness. 
Becca Kufrin announced her split with Garrett Yrigoyen on social media and her podcast
On Sept. 1, 2020, Kufrin took the last seven minutes of her Bachelor Happy Hour podcast to tell her fans that she and Yrigoyen have broken off their engagement. Later that same day, she shared a photo of the couple with the news.
"With a heavy heart, Garrett and I have come to the loving conclusion to end our engagement," the star began. "All that we will share is that we still have nothing but love and respect for one another even though we've decided to go down our own separate paths.
"While we've arrived at this point, it doesn't diminish the countless, amazing memories made together," she continued. "We hope that everyone can allow us grace, respect, and the time to heal our hearts as we navigate this next chapter in our lives."
Immediately after sharing the picture, Kufrin turned off commenting for the post to enforce her request for "respect and time to heal."
A source close to Yrigoyen announced the news of the split to the media preemptively
Two years after Kufrin and Yrigoyen's engagement aired on ABC's The Bachelorette, a source told E! News that the couple had split. 
"Becca is still very upset with Garrett's comments and the controversy surrounding it," the unnamed source told the outlet. "Their lifestyles don't mesh anymore. Garrett wants different things, and they came to a realization that they aren't compatible anymore."
The source also confirmed what fans had thought — the couple was living apart.
"Garrett is doing a backpacking trip in the wilderness with his buddies and is taking time for himself," the insider continued. "They are trying to keep it low-key because they are still working things out, but the relationship is definitely done."