Becca Kufrin On The Alayah 'Bachelor' Drama: 'This Isn't a Game'
While some might have thought this season of The Bachelor was going to be on the slower, drama-free side, it's been anything but that. While Champagne-Gate will go down as maybe the funniest drama-filled moment, there's some new tea brewing. Sydney and Alayah showed that they also have some differences that came in the way of one of them finding a true connection with bachelor Peter Weber. And former bachelorettes Becca Kufrin and Rachel Lindsay had some things to say about it.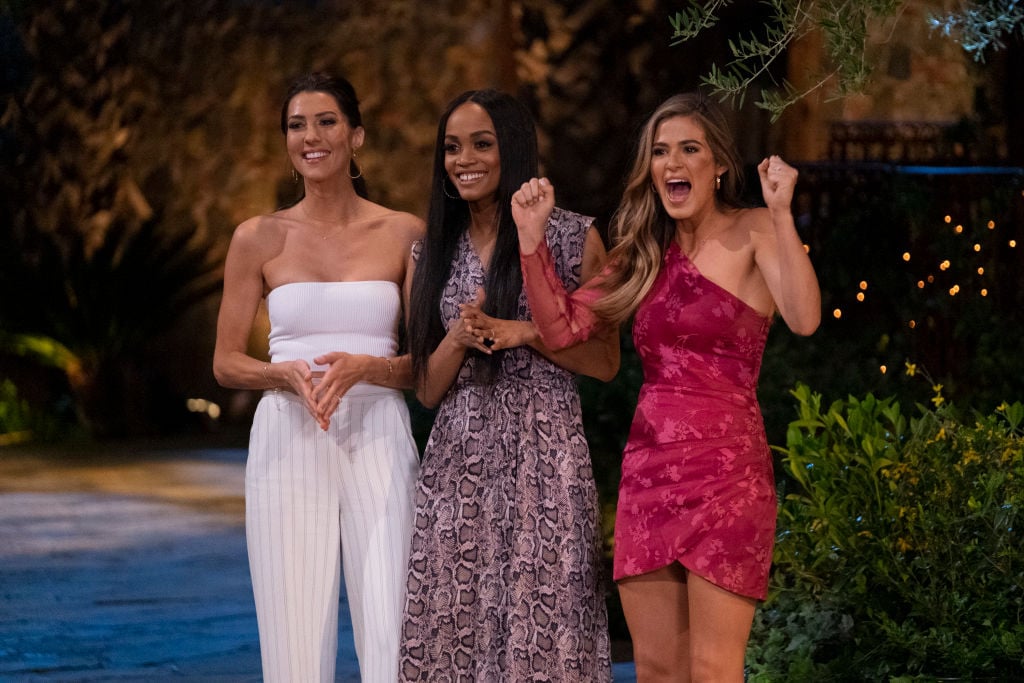 Alayah winning the pillow fight was the "beginning of the end" according to Rachel Lindsay
During the Jan. 20 episode of The Bachelor, Sydney told Weber that she wasn't sure how genuine some girls in the house were with him. But even before that, Alayah might have sealed her own fate. In the Bachelor Happy Hour podcast, hosts Kufrin and Lindsay shared their thoughts on what happened. For one, Kufrin didn't understand how they chose the winners of the pillow fight contest. She shared that even though Alayah sat on Sydney in the end, "Sydney was getting in more hits."
Because of this, Lindsay said that win might have been it for the former pageant contestant. "Yeah, and you know what? That was the beginning of the end for Alayah," Lindsay said. "Maybe if Sydney had won, Alayah would still be with us… It was really like the nail in the coffin for… Alayah in Sydney's eyes." Kufrin agreed, saying, "And I think it kind of pushed Sydney over the edge… to the point where she's like, 'I just gotta say something to someone.'"
Peter Weber "cut the sh*t" with the girls
When Sydney told this to Weber, he brought it out in front of everyone, which Kufrin respected and also noted hadn't been a tactic on the show before. "The thing that stood out to me is the fact that Peter not only brought it to the girls' attention… but he called out the girls," she said on the podcast. "I've been watching the show for years and I've seen people tell… the lead about drama that's going down but I've never seen the lead call it out in the group of girls and call out specific individuals in that setting."
She also enjoyed how Weber tried to stop the drama with an upfront approach. "I will say props to him for just confronting everyone and being like, 'Hey look, I'm here to find love and I'm gonna put it all out on the table and call out who I need to call out,'" Kufrin said. "But I haven't seen that before." Lindsay agreed too, saying, "I loved it. He said 'Cut the sh*t, Sydney what did she say?' and I was like great."
Using the word "disqualified" was already a bad look for Alayah
A big moment that stood out for the former bachelorettes was the second talk Weber had with Alayah at the pool party. Weber started digging more into how the other girls in the house felt and Victoria P. dropped a bombshell. Not only did she know Alayah prior to the show in the pageant circuit, but Alayah told her not to tell the producers about it. That, of course, rubbed Weber the wrong way, and when he asked again, Alayah had a more defensive response, using the word "disqualified."
Kufrin noted this. "[Alayah] kept saying '[They would be] disqualified if we knew each other.' I'm like, first of all, this isn't a game… This isn't a pageant that you are trying to win, or get to the next round in. You don't get 'disqualified,'" Kufrin shared. "You get sent home because this guy doesn't have feelings for you. 
Kufrin also mentioned that the facts weren't clicking into place. "For her to pair that word with then saying 'Oh, Victoria P. and I were friends and allies.' Then why would you tell her not to pretend that she knew you? That didn't add up to me."
In promos for next week, we know that Alayah comes back to the house during a group date to clear the air again with Weber and possibly get another shot at love. But all of Bachelor Nation is on edge about her, so we'll see if she actually stays.