Before 'Loki', Tom Hiddleston and Richard E. Grant Joked They Should Play Father and Son
Fans weren't the only ones to notice the resemblance between Loki actors Tom Hiddleston and Richard E. Grant. The Marvel stars recognized their physical similarities years ago. So much so that they joked about playing father and son someday.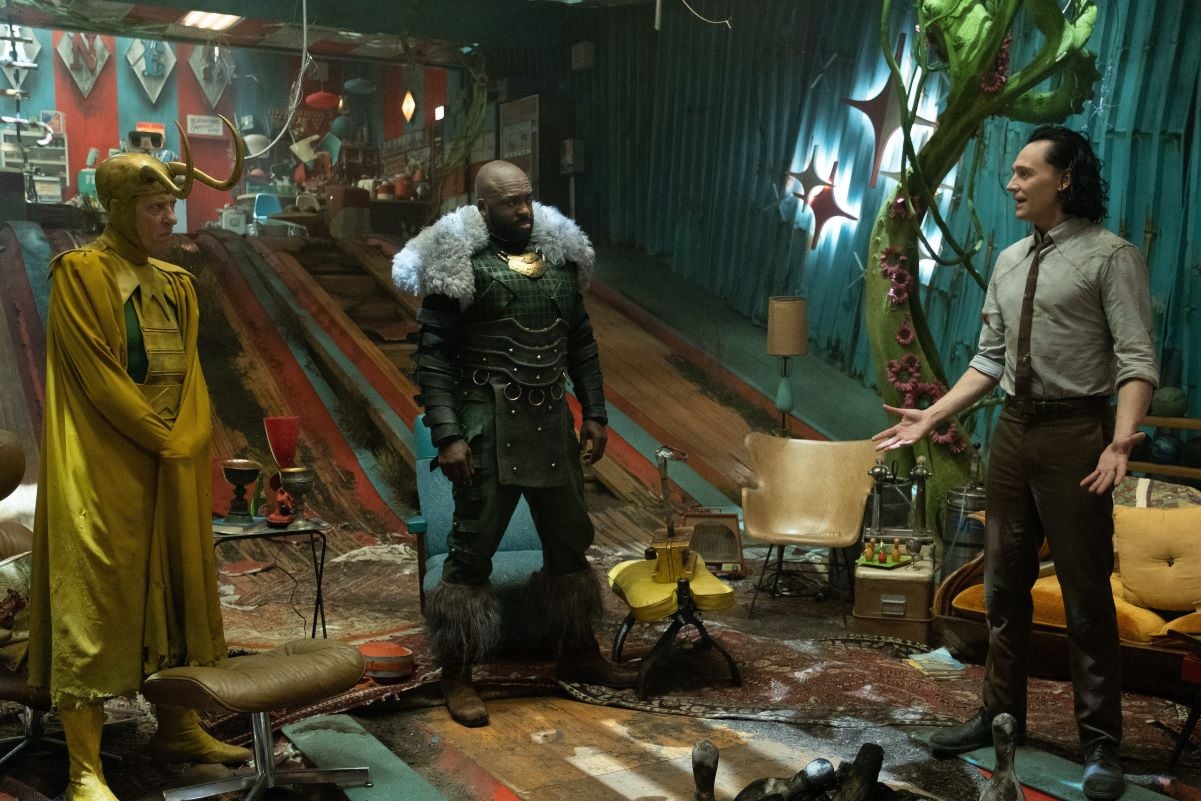 Richard E. Grant plays Classic Loki in the new Marvel series
After a brief appearance in the episode 4 post-credits scene, Grant made his debut as Classic Loki in Episode 5, "Journey Into the Mystery." His character is revealed as an older Loki variant who banished himself after realizing he wasn't who he wanted to be.
But when he began missing his brother, Thor, he left his self-banishment and created a Nexus event. Classic Loki was then arrested by the Time Variance Authority and pruned to the Void.
RELATED: 'Loki' Episode 5: What Is Alioth in Marvel Comics?
At the end of the episode, Classic Loki helps Loki (Tom Hiddleston) and Sylvie (Sophia Di Martino) by distracting Alioth. And in doing so, he finds his "glorious purpose" and is presumably killed.
Tom Hiddleston and Richard E. Grant joked about playing father and son
In a recent chat with Collider, Grant revealed that he and Hiddleston had known each other for years. And he noted that based on their similar physical traits, they often joked about Grant playing his dad.
"I've known Tom Hiddleston socially and from his career, and I'd seen him backstage at the theater and things over the decades," Grant said. "We'd always joked about playing father and son because of our vague similarity in the way that we look."
In Loki, Grant plays a believable older version of Hiddleston's character, and initially, he believed it was why he was tapped for the role. But the actor was surprised to learn that he was actually director Kate Herron's first choice to play Classic Loki.
"I thought, 'Oh, I've been cast because I have a similar physique or look to Tom,'" the actor said. "So that's what I thought, but I had no idea. Kate didn't tell me that I was her first choice. People never tell you this stuff. Maybe they think you're going to get too above yourself, but I don't know. I wish people would tell you."
Richard E. Grant would love to return as Classic Loki
While filming Loki, Hiddleston told Grant that fans would likely go wild for his new Marvel Cinematic Universe character. But the actor didn't think he would get as popular as he did.
"I thought that [Tom Hiddleston] was just blowing smoke up my fundament on the first day to make me feel better about coming into work for one episode, Episode 5, after they'd be doing it for practically a year before," Grant told Collider. "Then I saw my Instagram and Twitter feed and the reviews that came out last Wednesday, and I realized that he saw into the crystal ball in a way that I didn't. So Tom was right, and I stand gleefully corrected."
Unfortunately, it seems Grant's Loki role is limited to episode 5. But after getting tons of fan appreciation, the actor is willing to return as the God of Mischief for a spinoff.
"Classic old Loki with muscles and Alligator-dot-com, the subseries of the sub-sub-sub series, that's what I want," Grant suggested. "Classic Loki is the only one that can talk to [Alligator Loki] and understand him. It's a given. It's a scriptwriter's dream. Get it done.