A Behind-the-Scenes Clip of BTS' 'On' Performance in Grand Central Shows Just How Loud The Dancers Cheer for These Idols
Even BTS' dancers hype these K-pop idols up. Here's what we learned from a new clip of BTS performing on 'The Late Show Starring Jimmy Fallon.'
Turns out, there's a new fan chant for the BTS ARMY to learn. One behind-the-scenes Bangtan video showed BTS hanging out with their dancers before, during, and after their performance on The Late Show Starring Jimmy Fallon. It even showed these dancers hyping up BTS during "On."
BTS performed 'On' during 'The Late Show Starring Jimmy Fallon'
This K-pop group released "On" ahead of their 2020 album, Map of the Soul: 7, complete with a music video, a dance rehearsal clip, and a "Kinetic Manifesto" film. They even performed their song in Grand Central Terminal in New York City, while visiting The Late Show Starring Jimmy Fallon.
This performance, within a matter of hours, became one of the top trending videos on YouTube. A few months later, it now holds over 35 million views from fans. Now, thanks to a Bangtan Bomb, fans can see a bit of what it took to create that historic performance at Grande Central Terminal. 
This behind-the-scenes video showed what BTS does before a performance
After hanging out on the subway with Jimmy Fallon, these performers moved to Grand Central, where they got their hair and makeup done. Jungkook was singing in his chair. Jin was sipping on some coffee.
"Make me look like a New Yorker in the video," Jin said to the cameraperson, according to a translation on the video. "Don't I look like a New Yorker since I'm drinking Starbucks? A New Yorker on his way to work with a coffee in his hand."
This K-pop group wasn't alone in performing at Grand Central Terminal. BTS was accompanied by a number of dancers, who also did the choreography from their music video. From the moment these dancers saw BTS, though, they started clapping, cheering, and hyping them up.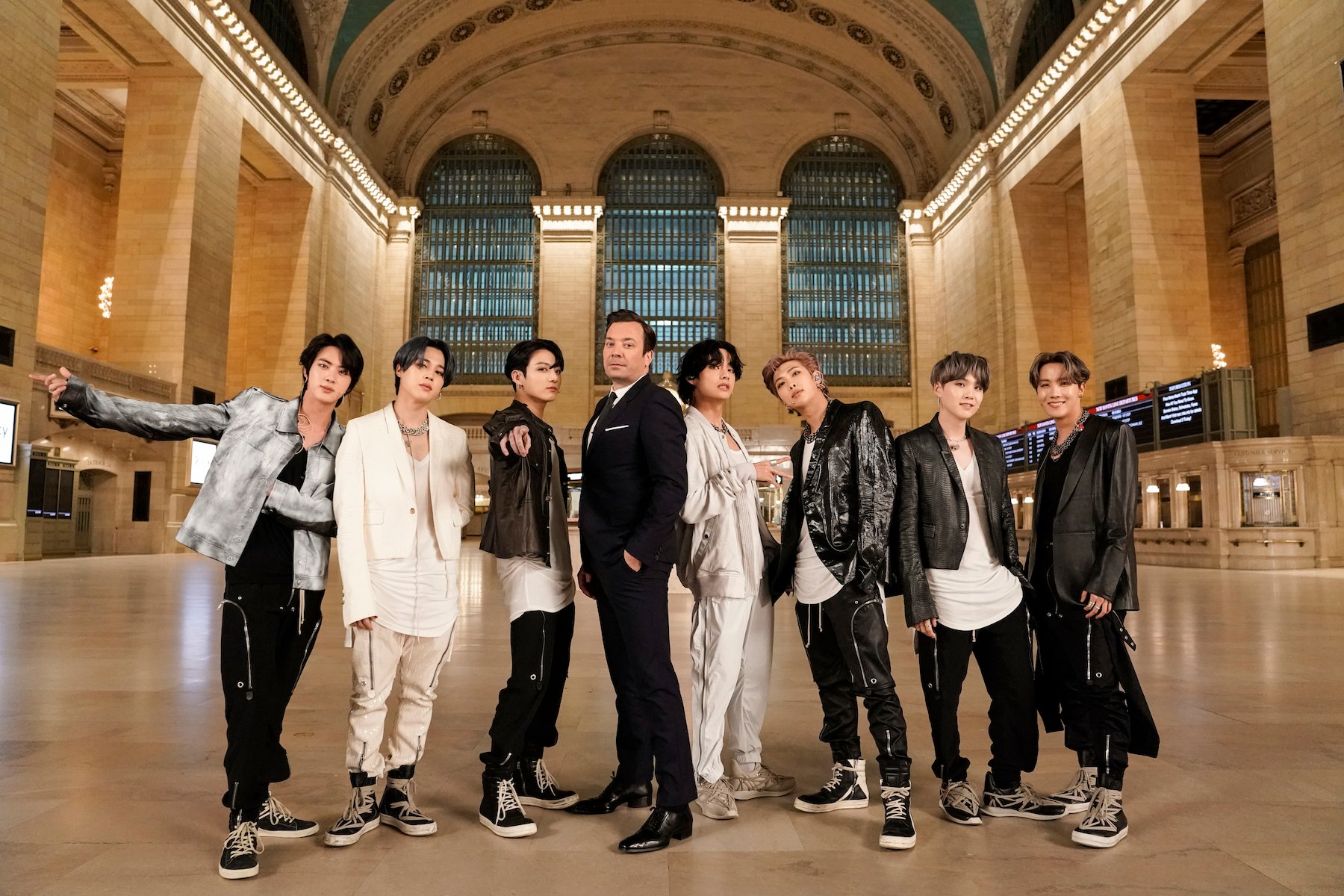 BTS' dancers shared their love for these performers 
While recording "On," these dancers shouted "let's go" during the dance break. Even after their performance, the dancers again cheered for the idols, with V, J-Hope, and Jungkook high-fiving and thanking a number of the performers. After they finished shooting, BTS shared their thoughts on their New York City experience. 
"I felt so hopeless when we first came to LA, because we only knew half of the choreography for 'On,'" RM said, with a few of the other BTS members agreeing. "I had fun performing today."
BTS first recorded this song with the help of the UCLA Bruin Marching Band. The Blue Devils appeared alongside the performers in the Kinetic Manifesto music video, complete with marching band instruments and drum sticks. 
The "Dynamite" music video is now available on YouTube. Music by BTS, including their recently released album, Map of the Soul: 7, is available for streaming on Spotify, Apple Music, and most major platforms.