'Being the Ricardos': Lucie Arnaz Wanted Nicole Kidman and Javier Bardem to Play Her Parents
Nicole Kidman says she and Javier Bardem got the seal of approval to play Lucille Ball and Desi Arnaz from their daughter, Lucie Arnaz. In fact, Lucie was against having lookalikes like Debra Messing cast in the roles. Learn more here.
Twitter may think Debra Messing was robbed of starring in Being the Ricardos, but Lucille Ball and Desi Arnaz's daughter is singing Nicole Kidman's praises. Indeed, when it comes to Being the Ricardos, Lucie Arnaz has been fully on board with Aaron Sorkin's decisions. At a press event for the drama on Nov. 14, Kidman revealed Arnaz approved of her and Javier Bardem playing her parents. And now, Arnaz has finally seen the full film. And she is blown away by what Sorkin, Kidman, Bardem, and the Being the Ricardos cast accomplished.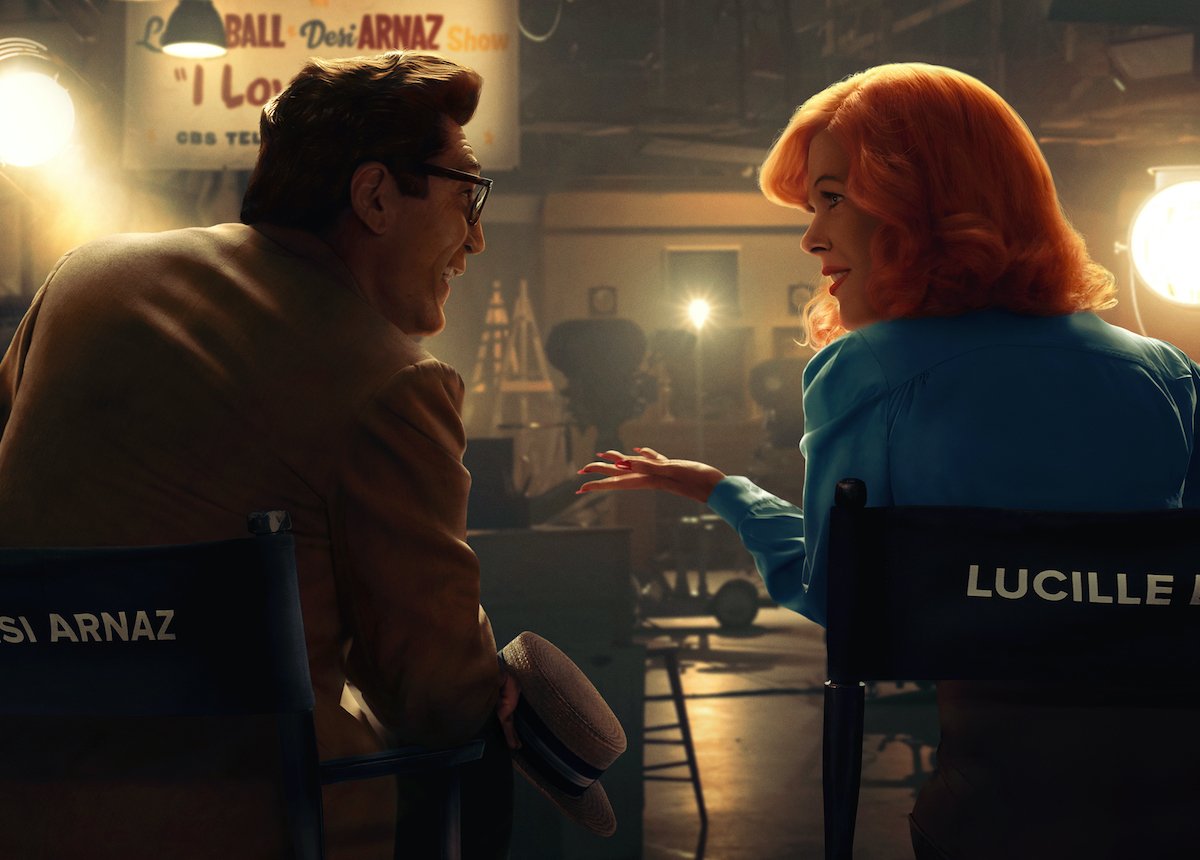 What is 'Being the Ricardos' about?
Biopics don't always get the endorsement of the subject matter's living relatives. But that's not the case with Being the Ricardos. Arnaz convinced Sorkin to write and direct the drama, which takes place during one week of production on I Love Lucy during the McCarthyism era. In the film, the future of I Love Lucy is threatened because Ball was accused of being a communist.
Being the Ricardos won't be about how I Love Lucy was made. In fact, there's less than five minutes of recreated scenes from the sitcom in the movie. Instead, it shines a light on Ball and Arnaz's relationship and what went on behind-the-scenes of the iconic series that chaotic week. It's about the real people playing Lucy and Ricky Ricardo, not impressions of those characters.
Sorkin told The Hollywood Reporter Arnaz encouraged him to "go for it" and not to worry about making her parents look good.
"We all had lunch together, and she said to me, 'I know my mother wasn't an easy woman. Take the gloves off,'" Sorkin said.
Arnaz also provided home videos that helped show the true essence of her parents.
Lucie Arnaz approves of Nicole Kidman and Javier Bardem's casting in 'Being the Ricardos'
Sorkin has gotten flack for his Being the Ricardos cast. Many feel Messing, looking so much like Ball, should have played the late star. And some wish a Cuban actor had been cast to play Arnaz instead of Bardem, who is Spanish.
At Deadline's Contenders Film: Los Angeles on Nov. 14, Kidman said she and Bardem had been in contact with Lucie and they were encouraged by her support.
"It's been a huge, huge relief because it's her parents and we wanted to honor them but we wanted to show them with their flaws," Kidman said. "Javier had his own conversations with her. She was very supportive of us. She wanted us to play the roles."
Lucie Arnaz calls 'Being the Ricardos' 'freaking amazing'
Arnaz saw Being the Ricardos in full in October. She shared her thoughts on it in a video shared to her YouTube channel on Oct. 16. And she couldn't have been happier with the movie.
"It's freaking amazing," she said, adding, "[Sorkin] captured the essence of that time in their lives so well. He captured the heart of my mother, my father, their relationship. He captured the love between those players in the I Love Lucy show, the tension that was brought on in this particular week when all hell broke loose."
"Nicole Kidman became my mother's soul," Arnaz continued. "She crawled into her head. I don't know how you do that. She cared very deeply about this part, it shows. And I believed everything she said. She looks beautiful."
As for Bardem, Lucie said he "has hit wit, his charm, his dimples, his musicality. He has his strength and tenacity, and you can tell from the performance that he just loved him. And that's what you needed."
And in case her feelings about casting lookalikes weren't clear, she added, "Thank god they didn't do exact lookalikes. I couldn't have taken it."
"Everybody in this film," Arnaz said, "right down to a guy who has one line, is perfectly cast."