'Bel-Air' Cast and Characters: A Complete Rundown
A complete rundown of all the cast and characters in Peacock's 'Bel-Air.'
Peacock's TV series Bel-Air is a dramatic retelling of Fresh Prince of Bel-Air, in which Will moves from West Philadelphia to live with his aunt and uncle in a wealthy Los Angeles suburb. Here is a complete rundown of all the cast and characters in Bel-Air.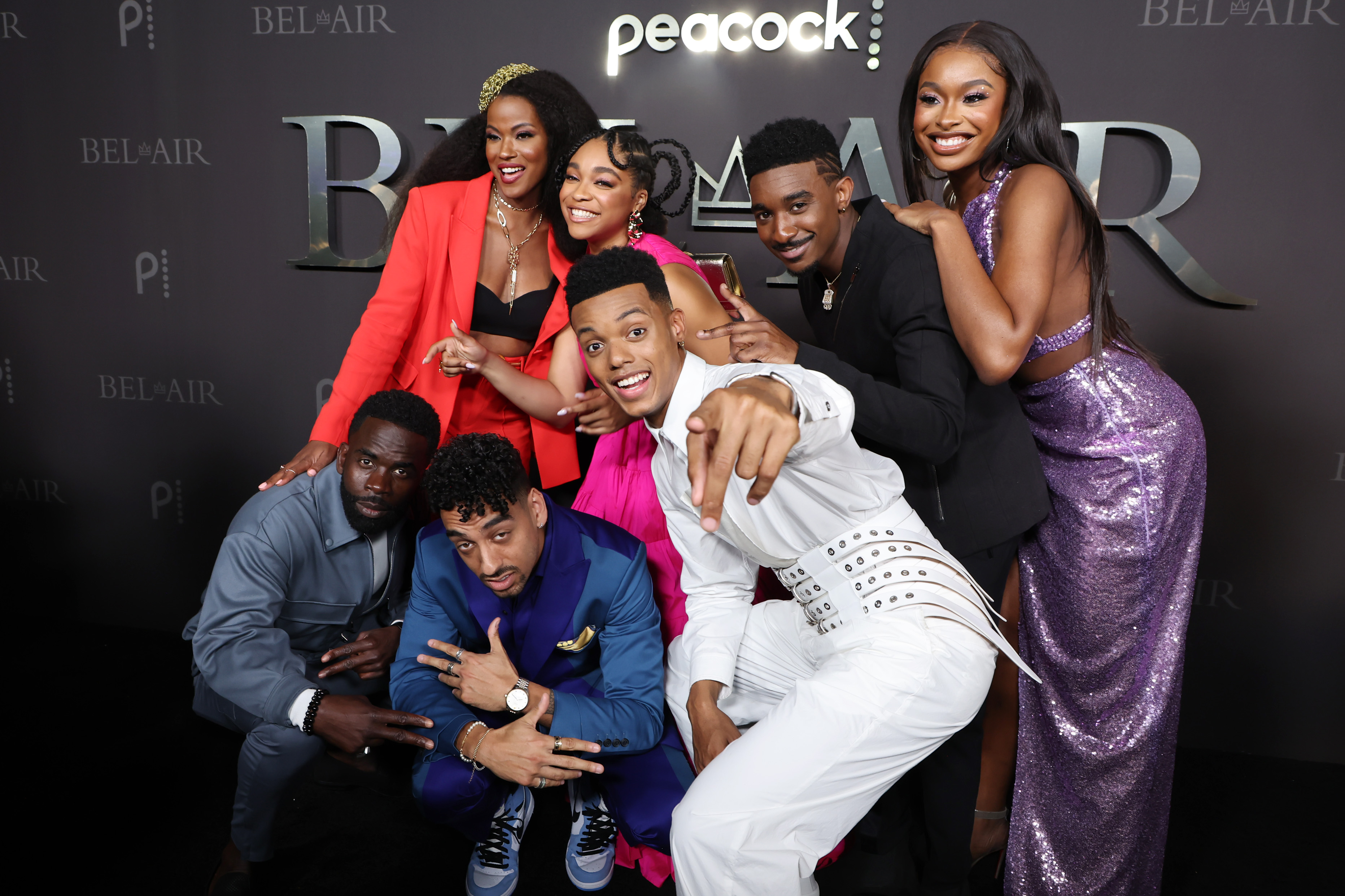 Jabari Banks portrays Will Smith in 'Bel-Air'
The dramatic re-edition introduces the audience to a straight-A standout basketball player who has to relocate from his West Philadelphia hood to a Los Angeles, wealthy suburb after an altercation with a notorious drug dealer. While attempting to fit into a different culture in LA and way of life in the mansion, 16-year-old Will Smith attempts to find his crown.
Cassandra Freeman portrays Vivian Banks in 'Bel-Air'
Will's beloved Aunt Viv strikes a bit of nostalgia with the Fresh Prince of Bel-Air fans as her love for her nephew and family is immediately apparent. However, the Peacock series paints her as a renowned artist who stepped back for Uncle Phil's political aspirations with dreams of returning to the industry.
Jimmy Akingbola portrays Geoffrey Thompson in 'Bel-Air'
The fan-favorite sarcastic butler is reprised as a no-nonsense house manager who seemingly has a dangerous side. In the reimagined series, Geoffrey also seems to have more of a confidant relationship with Uncle Phil.
Olly Sholotan portrays Carlton Banks in 'Bel-Air'
Will's cousin, and the second eldest Banks' child, has taken a darker turn for Bel-Air from the once respectful and goofy goody two shoes. Carlton is setting up as the villain of the series, now a lacrosse player who seemingly has a drug dependency.
Adrian Holmes portrays Uncle Phillip Banks in 'Bel-Air'
Uncle Phil continues his political aspirations in Peacock's Bel-Air as he is running for district attorney of the city when Will moves in. Similar to the sitcom, the Banks' kids admire their strict patriarch.
Coco Jones portrays Hilary Banks in 'Bel-Air'
The eldest Banks is reimagined with a more determined and career-focused Hilary Banks, who wants to move out of her parent's home and make a name for herself. Hilary remains a fan favorite even though she's no longer as ditsy and snobby as the sitcom portrayed.
Akira Akbar portrays Ashley Banks in 'Bel-Air'
The youngest Banks isn't as intrigued with her older cousin as in Fresh Prince of Bel-Air. In the dramatic Peacock series, Ashley idolizes her oldest sister and is more interested in figuring out her own journey. 
Simone Joy Jones portrays Lisa in 'Bel-Air'
The main character's love interest takes an interesting turn for Bel-Air as she previously dated Carlton before they met. Additionally, her father is a police chief which seemingly proves an issue for Will.
Jordan L. Jones portrays Jazz in 'Bel-Air'
Will's best friend Jazz, remembered for getting thrown out of the mansion and his unrequited crush on Hilary, is reimagined with a business-savvy vinyl store owner and a taxi driver. After all, Bel-Air might feature a Hilary and Jazz love story.
Stevonte Hart portrays Tray Melbert in 'Bel-Air'
Will's best friend from Philly, named Ice Tray (Don Cheadle) in the sitcom, has more of a presence in the Bel-Air series but doesn't express a romantic interest in Hilary this time.
April Parker Jones portrays Viola 'Vy' Smith in 'Bel-Air'
Aunt Viv's sister and Will's mom won't marry Fred Wilkes this time as the police chief is already married. Even though she's still in Philly, Vy remains a part of the show with frequent video chats to Will and the Banks.
Joe Holt portrays Fred Wilkes in 'Bel-Air'
The police chief is still the overprotective father of Lisa but has more of a presence than in the sitcom. He and Uncle Phil butt heads after the aspiring district attorney expressed support for defunding the police.
Other new characters in 'Bel-Air' include friends Tyler, Connor, and drug dealer Rashad Denton
New additions include Will's friend and teammate Tyler Laramy (Charlie Hall), Carlton's best friend and teammate Connor Satterfield (Tyler Barnhardt), Hilary's influencer housemates Chloe (Rachel Leyco), Kylo (Jon Beavers), Monica (Andi René Christensen), and pranking twins Jared (Christian Germany) and Nathan (Tash Jordan), social media phenom Ivy (Karrueche Tran), interior designer Angela (Scottie Thompson), Uncle Phil's campaign manager Steven Lewis (Duane Martin), notorious drug dealer Rashad Denton (Eazy the Block Captain), Vivian's friend Joan (Wendy Davis), Will's basketball coach (Sam Daly), Ashley's friend Romario (Cristian Soto), Ashley's crush Lucia (Rita Angel Taylor), artist Reed Broderick (Michael Ealy), Hannah Lennox (Bayley Corman) and Denise (Benita Krista Nall). Bel-Air airs Thursdays on Peacock.