'Bel-Air' Season 2: Everything We Know So Far
Fans are eager for 'Bel-Air' Season 2 following the drama in the March 31 episode. Learn what we know about it here, from Will's next move to Geoffrey's future.
Let's be honest: When news came out that Hollywood was rebooting (another) one of our most beloved TV shows, The Fresh Prince of Bel-Air, we were all a bit concerned. Luckily, it didn't disappoint. Bel-Air puts a dramatic spin on the hit '90s sitcom, with Jabari Banks in Will Smith's place as the swaggy West Philly teenager. The series launched in February and has been met with much praise for capturing the spirit of the original with a unique new framework. It's no surprise, then, that people are so eager for Bel-Air Season 2.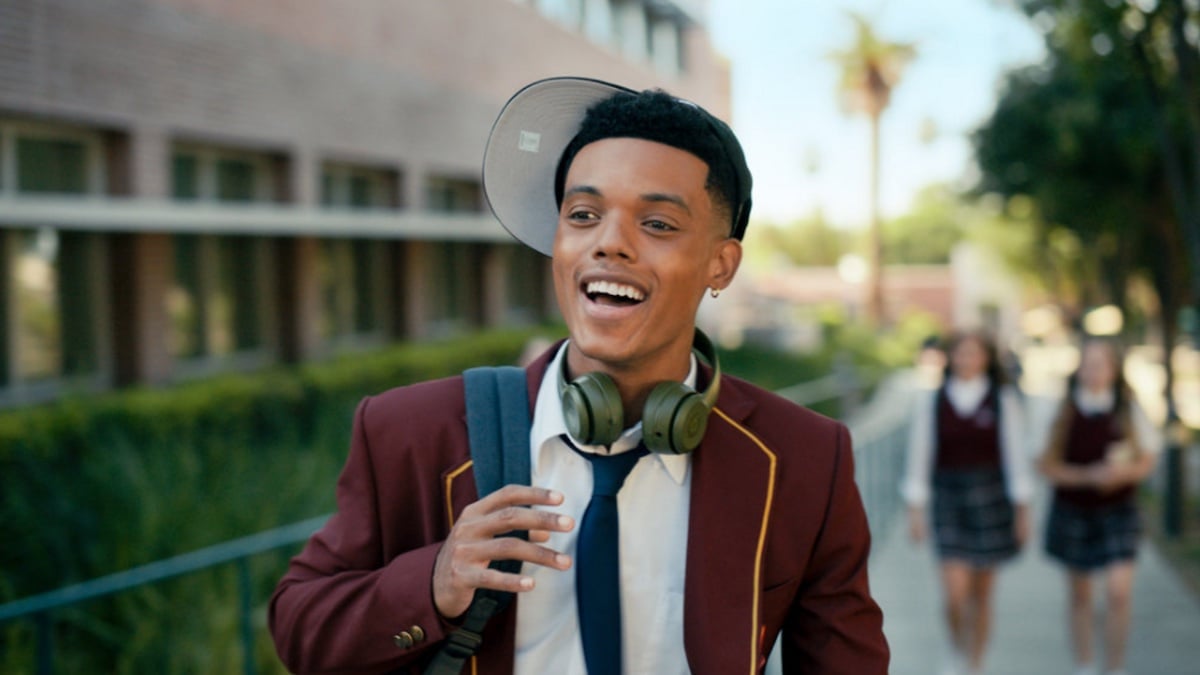 Has the show been renewed for season 2?
It was announced in September of 2020, that Peacock had picked up the show after a mock trailer for a dramatic retelling of the original series went viral online. Deadline reported at the time that the network had actually picked up Bel-Air for two seasons following a bidding war with Netflix.
"We have just officially closed the deal with Peacock with an unprecedented two-season-order from a pitch," Smith said in a statement. "I've been in this business for thirty years and that does not happen. They ordered two full seasons of Bel-Air based on the quality of the pitch and the work that you guys have done. So I want to say congratulations. I am hyped."
While the release date for Bel-Air Season 2 is unknown, Bustle speculates that the show could return in early 2023.
What to expect in 'Bel-Air' Season 2
In the Bel-Air Season 1 finale, Will learned the truth about his father. He hadn't left Will, as he had always been told, but had been incarcerated for robbery. Feeling betrayed, Will stormed out after an explosive argument with Aunt Viv and Uncle Phil. He thought about returning to Philly but seemed to reconsider after a talking-to from Jazz.
When asked for season 2 details, showrunner T.J. Brady told TVLine: "[Will is] going to try and define himself in Los Angeles outside of Bel-Air."
"We can look forward to him seeing what else that city has to offer in terms of making him feel like he belongs, places and people where he can thrive, and just figuring out a future for himself," Brady continued. "The incident with Lou coupled with Jazz's words and Will's journey are going to take him on that coming-of-age self discovery that everyone can relate to."
Brady and fellow showrunner Rasheed Newson also spoke about what's ahead for other characters in 'Bel-Air' Season 2
Brady and fellow showrunner Rasheed Newson also discussed the future for other characters. When it comes to Aunt Viv, expect her to run into challenges with her fellowship and with Reid Broderick.
Reid notably caused tension in Aunt Viv's marriage due to his track record with women and Phil's jealousy. Fortunately, they appeared to be on better terms by the Bel-Air Season 1 finale, but that quickly changed when it came out that Phil had actually fired Geoffrey. Though Geoffrey still won't pick up the phone for them, Newson confirmed that he'll be back next season.
"We want to continue those stories," said Newson. "Something we did learn in Season 1 is that when you have this many characters and you want to tell stories that are as layered as the ones we want to tell, you don't get as far with each of them as you might have thought. It feels great to have two seasons because I didn't worry. I would have loved more Ashley; I would love more Ashley and Will. We're going to build that into Season 2."