Bella Hadid Might've Shaded Her Mom Yolanda Hadid on Victoria's Secret Podcast: 'My Voice Was Never Heard'
In a recent Victoria's Secret podcast, Bella Hadid opened up about her upbringing, sharing with fans how she was conditioned to be a people-pleaser. Many fans believe Bella's words are a not-so-subtle dig at her mom. 
Bella Hadid is one of the world's most popular and successful supermodels. Sister to fellow supermodel Gigi Hadid, Bella has walked the runway for brands like Tom Ford, Marc Jacobs, Tommy Hilfiger, Versace, and Moschino. She's also appeared on many magazine covers, becoming a leading high-fashion model.
Bella comes from a famous family. Her mom, Yolanda Hadid, has her own successful career as a former model and reality TV star. In a recent Victoria's Secret podcast, Bella opened up about her upbringing, sharing with fans how she was conditioned to be a people-pleaser. Many fans believe Bella's words are a not-so-subtle dig at her mom. 
The 'VS Voices' podcast is making waves with guests like Bella Hadid and Hailey Bieber
Victoria's Secret launched a new podcast called VS Voices. It claims to be a platform for "trailblazing women around the world," hosting guests like Naomi Osaka, Priyanka Chopra, Megan Rapinoe, and Hailey Bieber in the past few months. In late January 2022, Bella sat down for an intimate interview with VS Voices. The 25-year-old candidly discussed why she has struggled with certain issues in her life.
In the interview, Bella admitted to having problems setting boundaries. She stated that she spent too much time as a "people pleaser." As reported by CNN, Bella said, "I constantly went back to men — and also, women — that had abused me, and that's where the people-pleasing came in."
Bella revealed that her childhood didn't exactly set her up for success. The Kin Euphorics co-founder noted, "I always felt like my voice was never heard growing up, so that's why I have a lot of complications. Now I'm able to open up and speak my mind, especially within my relationships and within my family."
Later on in the VS Voices interview, Bella stated that she grew up in an environment where men's voices were "prioritized" over hers. 
Fans have long suspected that Yolanda Hadid treats Gigi Hadid like her favorite daughter over Bella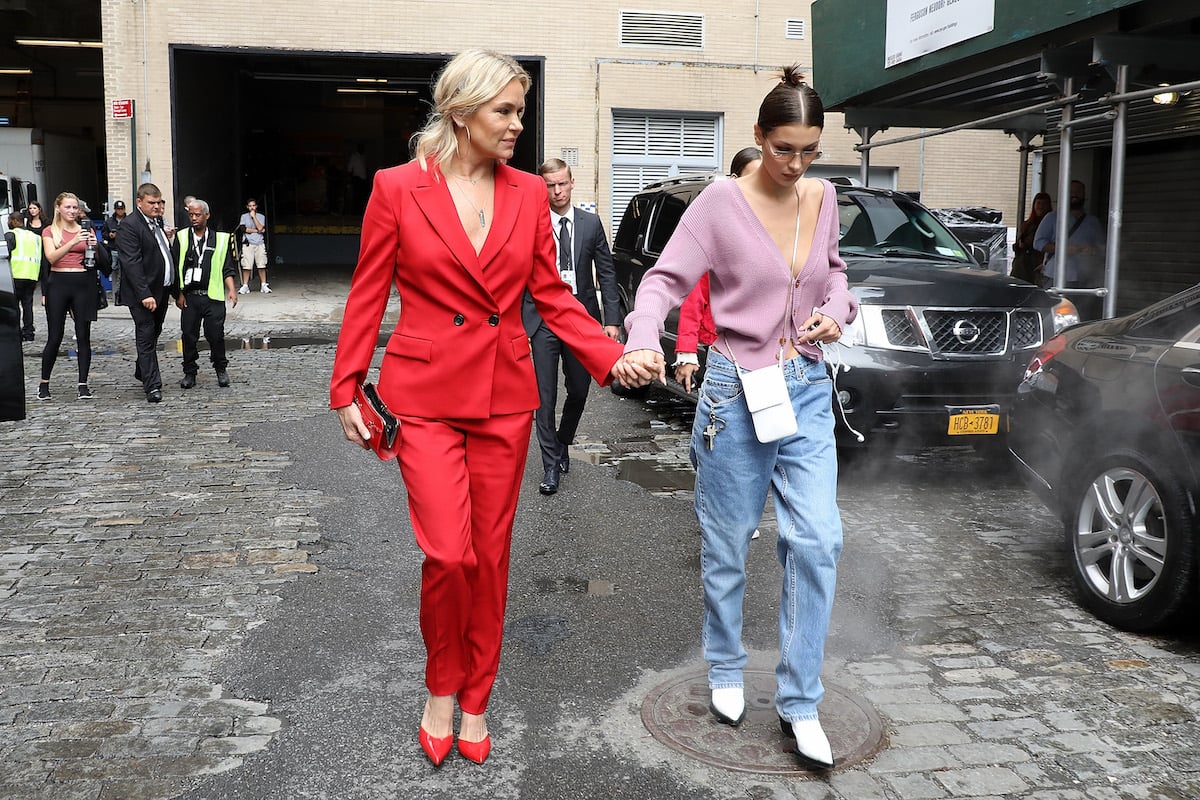 Fans have a lot to say about Bella's interview — particularly the segment where she talked about her childhood. As some fans on Reddit recently noted, parts of Bella's interview seemed like shade toward her mother, Yolanda.
"She has to be at least partially talking about Yolanda right?" one fan commented. "This tracks with what we saw on [The Real Housewives of Beverly Hills] with Yolanda's obvious favoritism of Gigi and gross worshipping of David [Foster] with the 'My King' stuff."
While on the Bravo TV show, the former Dutch model spoke out about her dedication to then-husband David Foster. Yolanda constantly prioritized him and called him pet names. She also had a strong hand in Gigi's budding modeling career. Bella seemed like an afterthought, according to many fans of The Real Housewives of Beverly Hills.
Back to Bella's comments on VS Voices. Another Redditer listened to the podcast and then posted, "I took it to mean that her mum taught her that her voice didn't matter as much as a man's, given how Yolanda put David on a pedestal and was so subservient to him."
Several fans reiterated that Yolanda seemed to prioritize either Gigi or Foster, rather than Bella. Yolanda and Foster divorced in 2017 after six years of marriage.
Bella has been open about her mental health struggles
Bella has worked hard to overcome the challenges in her life, and she's been transparent about the importance of mental health. The 2016 Model of the Year has credited therapy for helping to get her out of the cycle of "people-pleasing.
As Elle reports, Bella takes a few days every month away from social media. She also relies on "shots, vitamins, and biotics" to help keep her feeling her best.
Fans praise Bella for her willingness to be vulnerable on social media. The famous model has even shared snapshots of herself experiencing anxiety and depression on Instagram, telling fans it might be hard, but prioritizing one's own mental health is of utmost importance.