'Below Deck': Anastasia Surmava From 'Below Deck Med' Says 'Breakfast Is Easiest' but the Crew Disagrees
The Below Deck Galley Talk crew dished about their experiences dealing with breakfast orders on Below Deck.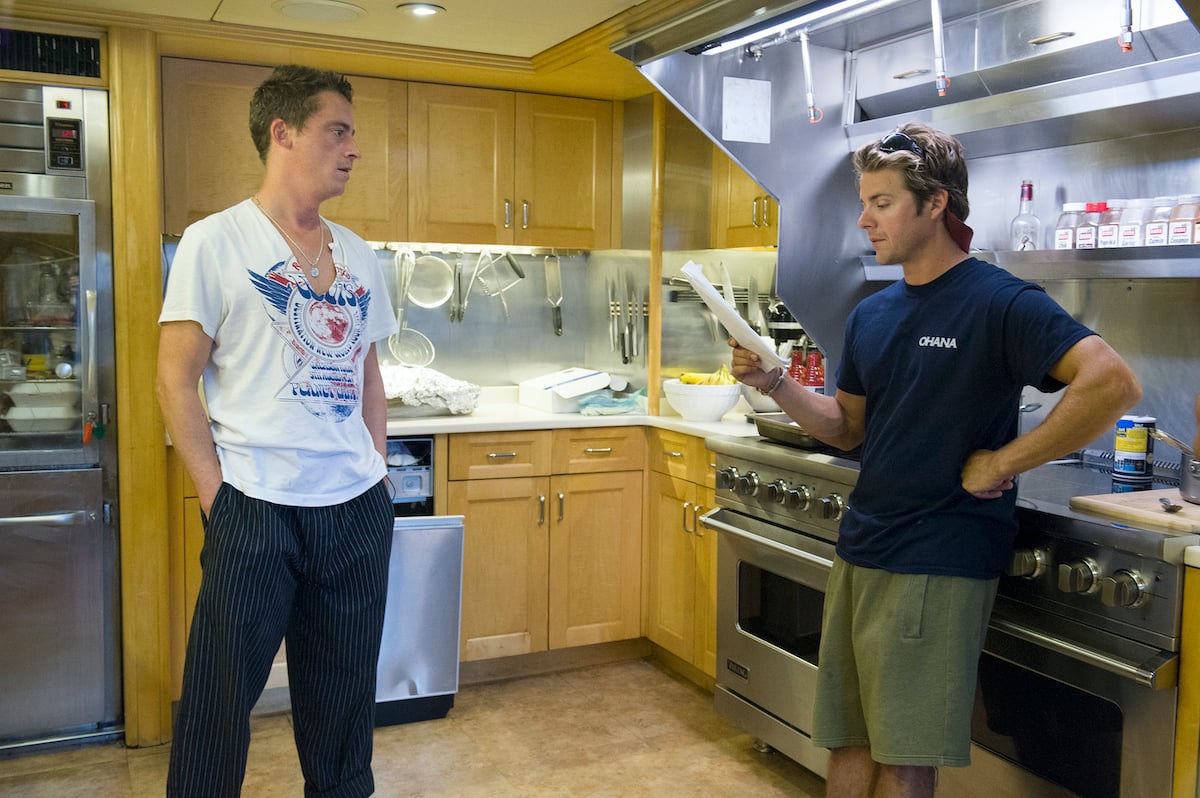 Chef Anastasia Surmava from Below Deck Mediterranean said breakfast was actually the easiest meal to cook for guests. However, Amy and Kelley Johnson from Below Deck recounted chef Ben Robinson's mania when it came to the morning meal.
"Breakfast can just be a nightmare," Amy Johnson remarked. But over at Alex Radcliffe and Surmava's crib, they had a differing perspective. "What's the easiest?" Radcliffe, also from Below Deck Med, asked Surmava. "Breakfast, lunch, or dinner?"
"Breakfast is easiest," Surmava said immediately.
The Johnson siblings had a completely different experience. "I remember Ben like throwing pots and pans," Amy Johnson recalled. "Because breakfast can be so difficult." Kelley Johnson added, "Losing his sh*t." Cameras flashed back to Robinson having a total meltdown in the kitchen.
Anastasia Surmava shared that the chef job is extremely stressful
Surmava started as a third stew on the show but was promoted to chef when the first chef was fired. While she knocked every meal out of the park she eventually asked Captain Sandy Yawn if she could return to the third stew job.
"The huge thing is you don't have a team," Surmava told Showbiz Cheat Sheet. "You're completely by yourself and you don't have your bussers and dishwashers and your pastry chef. You don't have any support, really. On the bigger yachts, you may have a sous chef and a crew chef. But generally, you don't."
"So you're everything, you're it," she continued. "It's really stressful and you have to be so organized and so good with time management. I think a lot of people watch the show and were like, 'How come you just couldn't get it out hot or on time?'"
"But oh my God, you are one person trying to cook everything to the correct temperature and then you've got to keep it hot," she said. "And then you have to plate it to this high-end status. All that takes a lot of time. And then you're thinking, 'I still have my desserts to think about, I have this to think about it.' It's a lot."
Chef Ben made this snarky comment about breakfast
It's no secret that breakfast was Robinson's White Whale. He tweeted about it during his last season on the series. "Yup… Only dull people are brilliant at breakfast – Oscar Wilde," he wrote when he appeared on Below Deck Med Season 4.
Captain Lee Rosbach also had some stern words for Robinson when Robinson got snarky in the galley about breakfast during Below Deck Season 4. "Ben, what in the world am I ever going to do with you?" Rosbach blogged in 2016.
"Your job is to prepare exquisite meals for guests that pay a great deal of money to eat them," Rosbach continued. "And you do that so well. Does it really make a difference whether they call it brunch or breakfast? They are eating at different times. It's not easy on anyone, but you seem to be the only one with your nose out of joint on what it's called. Please stop with the nit picking. You are a brilliant chef. But your personal life and opinions have no place here."