'Below Deck': Andy Cohen Was Frustrated With Shane Coopersmith on 'WWHL'
Shane Coopersmith from Below Deck frustrated Watch What Happens Live host Andy Cohen when he danced around questions about regret this season.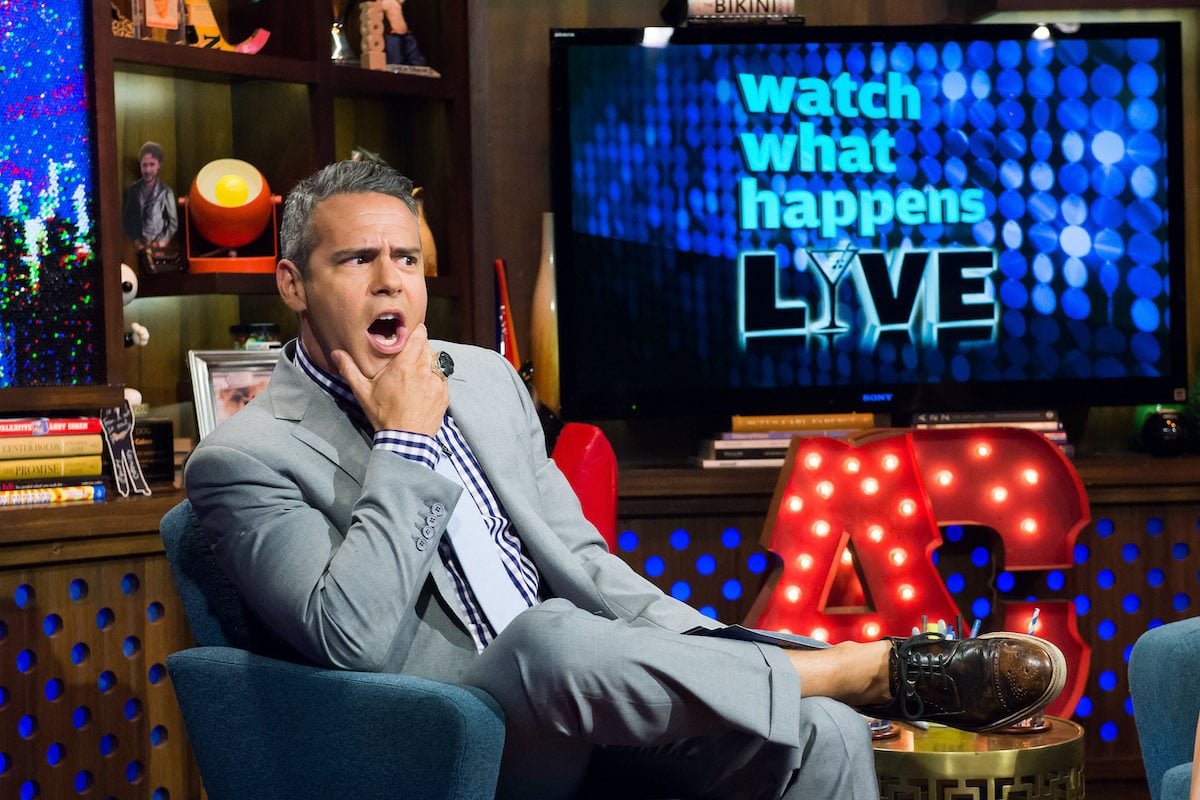 Coopersmith appeared on WWHL following a Below Deck episode and was asked to play a round of "Do You Regret it?" Coopersmith's time on the show has been filled with errors and negligence when he napped during the workday and created a few dangerous situations due to being so green.
The WWHL game is a staple Cohen likes to play with a slew of Bravo personalities, especially when the person's storyline is shrouded in controversy. But somehow, Coopersmith couldn't manage to actually conclude if he regretted several things that happened on the boat, which Cohen later reflected on.
'Last night was… frustrating!' Andy Cohen shares
Cohen shared the game from the show on his Instagram story. He wrote, "Last night was … frustrating!" on the videos. Cohen asked if Coopersmith regretted napping on the job and was his sleep mask obnoxious. Instead of responding with a "yes" or a "no," Coopersmith went into a detailed explanation of what bosun Eddie Lucas was doing and what he was doing.
"This exchange reminds me of SCTV sketch 'half wits,'" Cohen wrote over the video as Coopersmith continued to recount the situation. Since WWHL is only a 30-minute program, Cohen finally interjected, "No regrets!" But then Coopersmith continued and admitted he felt bad he left the crew outside working while he slept.
"So you do regret it?" Cohen then asked. Adding, "I can't" on his Instagram story. Instead of answering the question, Coopersmith says, "Next question."
Does he regret anything?
Cohen's frustration began to show with the deckhand. "Well, do you regret it or not?" Cohen asked Coopersmith. "The game is 'Do You Regret It!'" Again, Coopersmith doesn't give Cohen a straightforward answer.
"I mean … yes and no," he said. "To be honest with you." Cohen seemingly gives up at this point. "Okay," he said. Coopersmith also danced around whether he regretted lashing out at Lucas over the weather sarcasm. But he eventually said he didn't regret talking back.
Did Coopersmith answer any of the questions? He regrets leaving the lazarette door open all night. But Coopersmith does not regret apologizing to Captain Lee Rosbach for sleeping in before Lucas even mentioned it to Rosbach. He has no regrets about helping out during the first dinner when Lucas had to remind him that the deck team was "back of the house."
He made sure viewers knew the only reason he did Below Deck was to "spread the knowledge about environmentalism and sustainability." In fact, Coopersmith reiterated this point several times during his appearance.
Find out how much longer Coopersmith will be on the show to share his sustainability message. Below Deck is on Monday at 9/8c on Bravo.