'Below Deck': Andy Cohen Was Left Speechless Over Captain Lee's Remark About Delores Flora Having Her Own 'PFDs'
Captain Lee Rosbach's attempt at humor fell a little flat when he joked about how Below Deck charter guest Delores Flora had her own "personal floatation device" when she jumped overboard.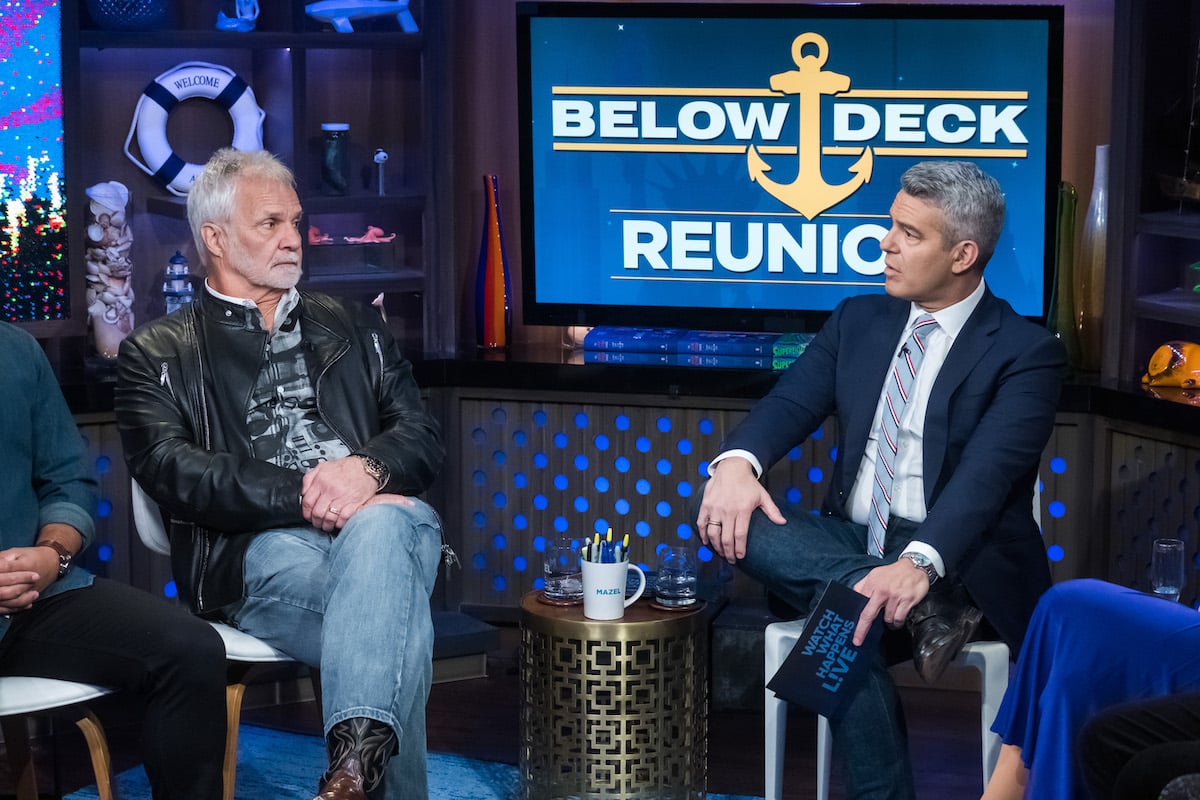 Rosbach asked Flora to leave the yacht after she decided to go for a night swim while drunk. Rosbach warned her not to jump into the dark waters but she didn't listen. She also mocked from him while swimming, which prompted him to tell the guests their charter had ended.
While Rosbach changed his mind the next day and allowed the remainder of the guests to remain, Flora later didn't think she did anything wrong. In fact, she said no one threw her a life vest or called "man overboard" when she appeared on Watch What Happens Live with Andy Cohen.
Rosbach appeared on WWHL, which is when he was asked to respond to Flora's comment.
Andy Cohen and the audience fell silent over Captain Lee's 'PFD' remark
Host Andy Cohen asked Rosbach for his thoughts on Flora's appearance on WWHL. "I think she's totally delusional," Rosbach said about Flora's comments that she didn't do anything wrong.
That's when Cohen recounted that Flora said she wasn't thrown a life vest and she has a problem with authority. "Well, have you seen her?" Rosbach asked Cohen. "I mean she has her own PFDs (personal floatation device)."
RELATED: 'Below Deck': EJ Jansen Blasts Nico Scholly, Says His 'A** Would Have Been in the Water So Quick'
Cohen's response: "Oh boy." The nearby virtual audience also looked uncomfortable, completely silent. Rosbach tried to lighten the mood with a chuckle. But he then became serious.
"What she did was wrong," he said. "She shouldn't have gone there. I told her not to go in the water. I don't know what part about that she did not understand. It's very simple I was very explicit. And it is dangerous to go swimming in the water at night. When you can lose sight of somebody really, really quickly. And then you don't just get it back."
Delores Flora didn't take Captain Lee seriously
Flora told Cohen she had a problem with authority. "I do have a problem with authority," she said while shrugging. "And the first time I remember getting in trouble was for jumping into the deep end of the pool. So I always had a problem with jumping in the water. It is what it is."
Rosbach became furious with Flora, but for some reason she didn't take him seriously. "I didn't take him seriously," she admitted. "There was no 'man overboard' protocol thrown out there. No one threw me a life ring. No one threw me a vest. So no I didn't take him seriously."
RELATED: 'Below Deck': Some Viewers Were Annoyed Delores Flora Was Rewarded for 'Vile Behavior' When She Appeared on 'WWHL'
Despite Cohen insisting that he brought Flora on the show due to fan request, several fans balked at her presence. "Andy is really up here interviewing Dolores the drunken charter guest," one person commented on Twitter. Him: 'the viewers demanded it.'" 
"I'm sorry I don't get rewarding such vile behavior," one fan replied to Kate Chastain's tweet that she loved seeing Flora. "She was so rude and disrespectful. She looked down her nose at the crew and the captain. He treated her the way she deserved and that should be the end.