'Below Deck': Are Kate Chastain and Josiah Carter Finally Rekindling Their Friendship?
Did Bravo's Below Deck Galley Talk get Kate Chastain and Josiah Carter from Below Deck to finally start talking again?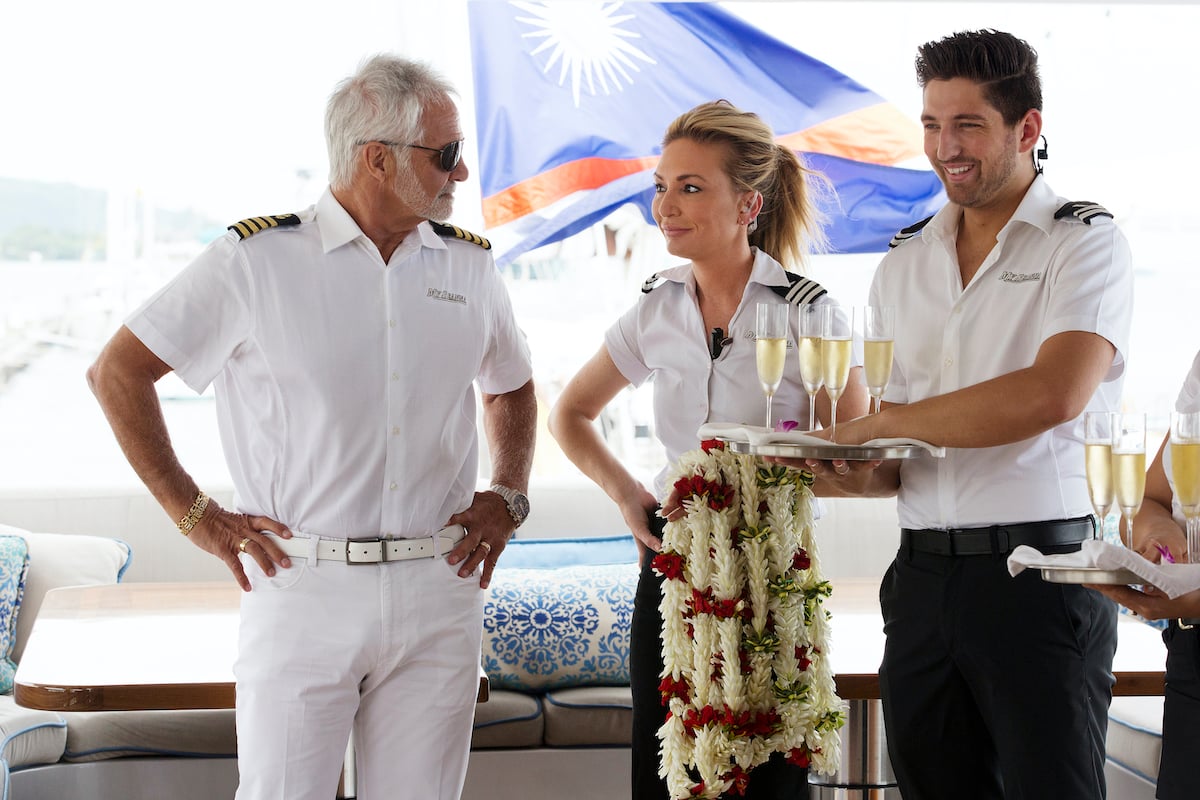 In 2019, Carter told Showbiz Cheat Sheet that Chastain ghosted him after season 6 wrapped. But now Chastain shared that not only is Carter on her yachting dream team, but she recently sent him a message.
"He's [in] a different time zone in Mallorca or Manchester, but they did just get a dog — him and his lovely partner Michael — so I kind of sent him a little message from my dog saying, 'Can't wait to meet you!'" she told US Weekly.
Josiah Carter said Kate Chastain stopped speaking to him
Carter and Chastain were together during the Below Deck 100th episode celebration last January. But it seemed as though they didn't have the same chemistry as they did on the boat.
 "She doesn't speak to me anymore," Carter told Showbiz Cheat Sheet. "I have no idea why. When we filmed the reunion, we were fine." He added that Chastain left a few of his messages unread and didn't respond.
 "Maybe she's just busy," he wondered. "I thought Kate was really cool and fun. But I don't know." He added, "But no one is too busy to reply, 'I'm good how are you?'"
Carter and Chastain had a fun Twitter exchange last season when fans noticed Chastain's back tattoo and wondered when she got it. "In [Tahiti] with @josiahcarter_ after the end of last #BelowDeck season," she replied.
"God that was a painful afternoon," Carter added. "note to self, never go to a tattoo shop and say do what you want @Kate_Chastain."
Was Josiah Carter supposed to replace Elizabeth Frankini?
Carter may have spilled a little tea during the last Galley Talk episode. Third stew Elizabeth Frankini was fired and Carter told Julia d'Albert Pusey he was supposed to come in and finish season 8. "Do you know who Captain Lee called to finish the last two weeks in Antigua?" Carter said to d'Albert Pusey. "I'll give you one clue." He then gestured to himself.
Many fans have begged for Carter to return to the series. In fact, Isabelle "Izzy" Wouters suggested on Twitter that Carter should become chief stew. Carter replied with an emoji that indicated he's ready. 
 "I vote for Josiah to make a comeback," another person wrote on the Twitter thread. "I learned something new the season Josiah was on Below Deck. Never knew that you could go to school to train as a butler. Learn something new every day."
Captain Lee Rosbach would also love to have Carter return to the show. "Along those lines, I'd probably have Josiah back," Rosbach said during a 2019 Stars Marketing Group event. "He's a classically trained butler which means he's probably overqualified, but he adapted really, really well."
While many would love to see him return next season, Carter recently adopted a puppy. Also, his partner Michael's son and girlfriend are expecting a baby. If family obligations would allow him to steal away for six weeks, could fans see him on their screens next season?
The Below Deck Season 8 finale is on Monday, Feb. 15 at 9/8c on Bravo.