'Below Deck' Biggest Docking Crashes, Disasters, and Near Misses
Below Deck Sailing Yacht Season 2 has the worst boat crash in Below Deck history, but it isn't the only docking drama on the show.
Captain Lee Rosbach from Below Deck and Captain Sandy Yawn from Below Deck Mediterranean have had their fair share of docking headaches, dramas, and near misses. Yawn infamously battled an epic anchor chain tangle that took the crew an entire day to remedy. Rosbach had crew so green, they left a spring line attached to the dock. The boat drifted and hit the dock.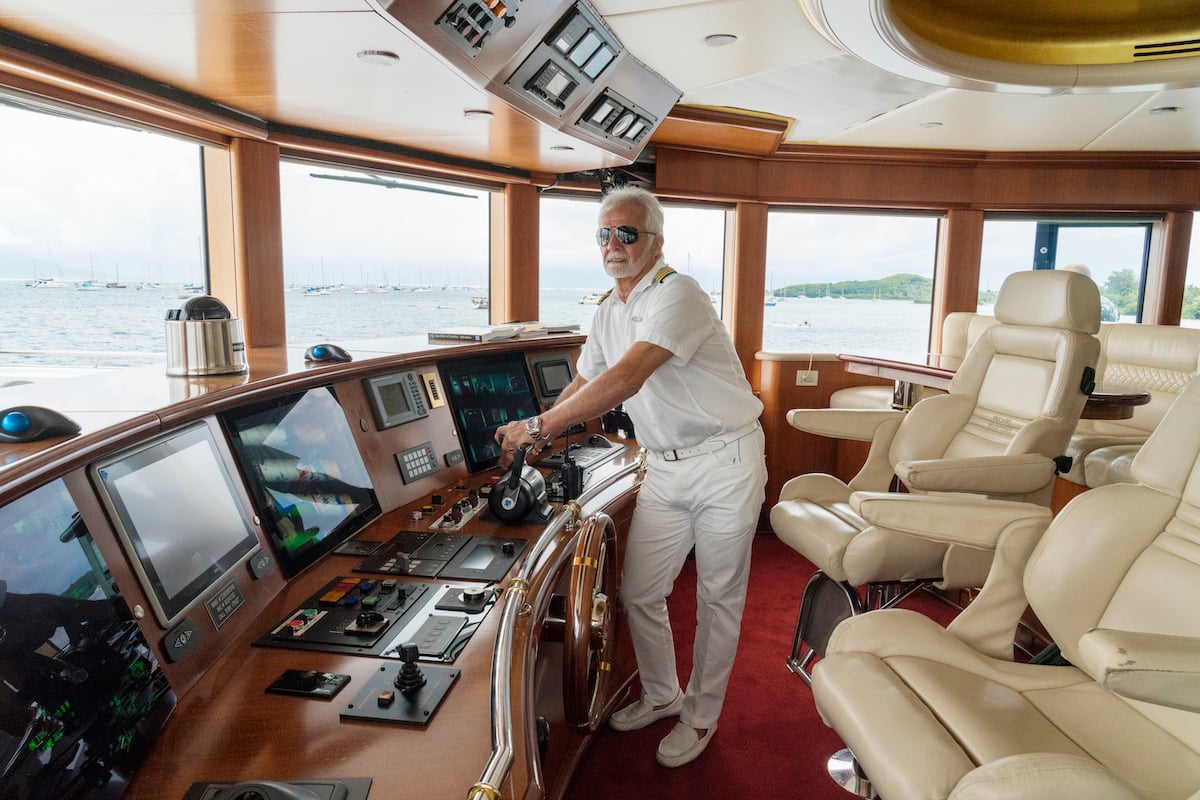 'Below Deck Sailing Yacht's' Captain Glenn explains why the sailing yacht crashed
Captain Glenn Shephard from Below Deck Sailing Yacht explained to Showbiz Cheat Sheet why the yacht not only bumped the dock, it crushed the concrete.
He said the crew could feel the impact, but thankfully no one was hurt. Still, he said the accident was serious.
"I've had issues before," he explained. "I've never had an issue with the result like we had. And you can tell I was quite upset about it. I've never had that kind of result, but I've definitely had issues before where I've lost everything. The engines shut down. I have no thrusters, nothing. And that can be a little nerve-wracking."
RELATED: 'Below Deck Sailing Yacht' Takes Over Bravo Ratings After Hookup Show
"But that's where we actually bump into the dock if I can put it that way, but we hit quite hard," he recalled. "That's something that can be a showstopper, like an 'end the season' and kind of thing. It's something that can be very, very serious. People can get injured, it can be very serious."
"But there was a malfunction involved," he added. "I was telling the boat to do one thing and it wasn't responding in the correct way. There was a throttle malfunction. There are computers involved in the throttle controls and the propeller and it's balancing the load on the engine. And I may have over-stressed it or something and it couldn't respond. Unfortunately, I had too much momentum."
Captain Sandy's yacht also lost power during 'Below Deck Med' Season 5
Yawn likely knows how Shephard felt because viewers watched The Wellington completely lose power last season. Bosun Malia White called distances as she helped to guide the yacht to the dock. "Hey this rudder is going back to port," Yawn said to first mate David. "I lost the bow truster."
Yawn remained extremely calm but is seen working on the controls. "Drop the anchor," she said. "The engines are gone." A loud alarm is heard and the deck crew looked concerned. "Why is our stern going this way," White wondered. "The wind. And no thruster."
RELATED: 'Below Deck Sailing Yacht': Colin Macrae Says 'the Show Is Not Scripted' and He's Not the Father of Dani Soares' Baby
"We have lost all power," Yawn explained in a confessional. "Without the bow thruster, I cannot control the bow. What that means is we are probably gonna hit something if not run over something."
Captain Lee's 'Below Deck' crew made a serious mistake at the dock
The Below Deck Season 5 crew were some of the greenest ever and their inexperience showed. Rosbach was ready to leave the dock and was pulling away when he thought all the lines were cleared. Lead deckhand Nico Scholly wondered why the bow was getting closer and closer to the dock.
That's when he realized the spring line was still attached. "Watch the bow" is heard on the dock, followed by a loud thud. "Godd**mit!" Rosbach barked and he is furious.
RELATED: 'Below Deck Sailing Yacht' Fans Express Shock Over the Last Moments of Midseason Trailer
Rosbach is so exasperated, he later brings in E.J. Jansen to act as bosun. Jansen trains Scholly to take over and the deck team almost finishes the season without incident. Unfortunately, Bruno Duarte gets his leg stuck in a rope. The rope is so tight it causes a serious laceration.
Captain Sandy couldn't cut and run after the 'Below Deck Med' anchor tangle
Yawn faced a mind-boggling anchor chain tangle during her first season of the show. Deckhand Malia White brings up the anchor and the crew is shocked with what they find. "Oh God," Yawn said as the anchor crashed back into the water. Bosun Wesley Walton and deckhand Max Hagley investigate. That is when they realize the "kink" is really bad.
"Max this is what happens at night when you drop two anchors in the water and the wind changes," Walton explained to Hagley. "And your boat starts going around it. So you start spinning around. Then the anchors get intertwined all the time."
RELATED: 'Below Deck Sailing Yacht': Dr. Frank Tips $8,000 More Than Barrie Drewitt-Barlow for a Shorter Charter
Walton admitted he'd never seen a tangle like that before. "This is really twisted," he said in a confessional. "I'm looking at myself now and just thinking I don't have an actual solution to this." Yawn had a solution – untangle it. She explained during the episode that if they cut the anchor they can't dock the boat. If they can't dock the boat, they could kiss their season goodbye.