'Below Deck': Captain Lee Just Recovered From Surgery When He Had His Onboard Accident
Below Deck Season 8 begins with Captain Lee Rosbach in the hospital. Bosun Eddie Lucas boards My Seanna only to find the superyacht without a captain.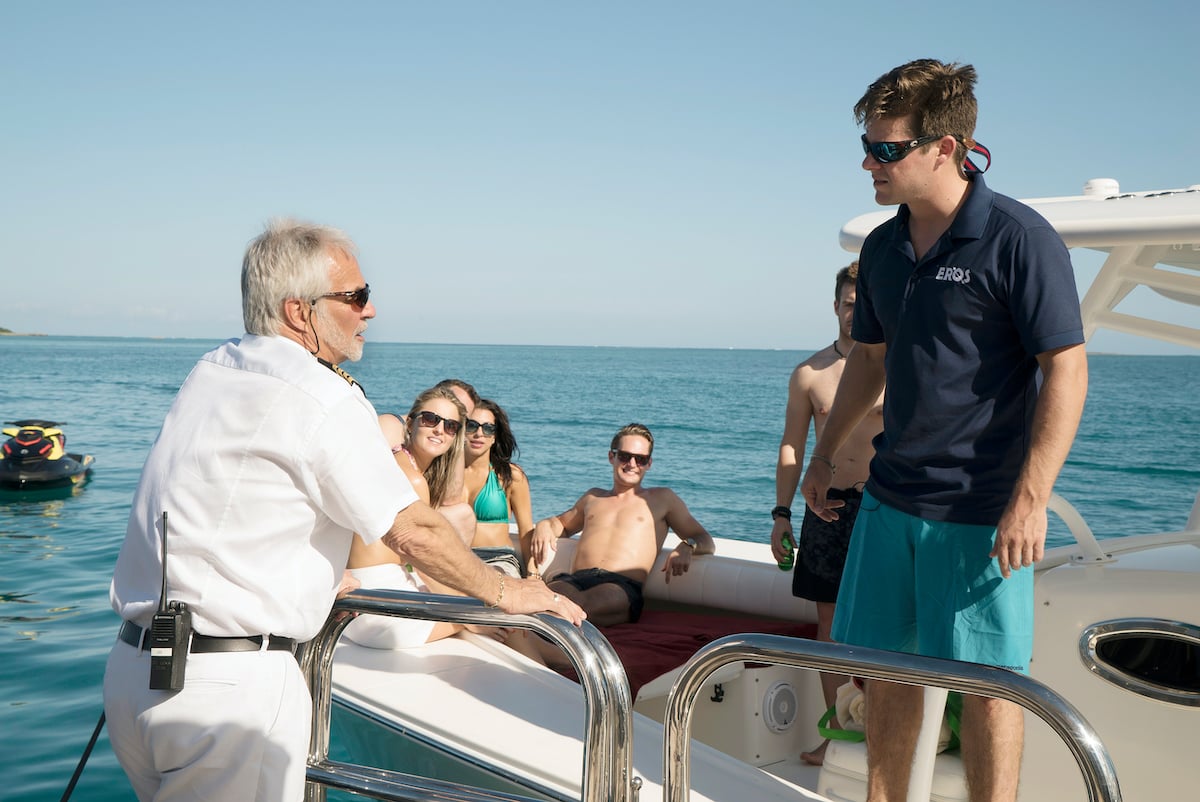 "Captain Lee is always on the boat the first day," Lucas said in a confessional looking concerned. "This is weird. Something's wrong." He calls Rosbach's cell phone after an exhaustive search. That's when Lucas learns Rosbach took a spill and broke his ribs.
"I'm embarrassed to say, but I fell in the shower," Rosbach shared. "Went down pretty hard. Busted a couple of ribs. I might need surgery. If it's bad I may have to head home. Hell, this season may be over for me before it even starts." Lucas now takes over as the superyacht greeter and gets the crew settled while Rosbach is in the hospital.
Thankfully, Rosbach doesn't need surgery and eventually joins the crew. He is visibly in pain but he powers through and heads into the first charter with gusto.
Captain Lee was already on the mend from surgery
Rosbach had just finished physical therapy from having surgery on his rotator cuff and bicep. He hinted at an injury when he threw out a pitch at a Miami Marlins baseball game in late August 2019. "Sorry i one hopped it to home plate, I hope I get another chance to do it again after the surgery. I will not disappoint," he tweeted. 
That's when he shared he was having surgery on his pitching arm. "I couldn't much, 3-4 pitches at the most, I have two tears in my rotator cuff and a torn bicep which I'm getting operated on in the am," he tweeted.
RELATED: Why Is Captain Lee From 'Below Deck' Having Surgery?
Rosbach shared a photo on Instagram leaning on a red sports car. "See that shoulder I'm leaning on, going in tomorrow morning to get it fixed," he wrote. "Surgery's at 6 AM. Can't wait to have it back to normal and back in the gym full bore. Thanks Dr Levy. Rotator Cuff x 2 and bicep repair. All is good. Catch everyone on the flip side."
Rosbach worked hard to recover from surgery. He shared a photo from physical therapy on Feb. 2. "Last day at PT. The pros at XL Therapy put me back together. 100% again," he wrote. "Great job guys."
The crew wasn't sure if Captain Lee would make it for the season
Lucas said that Rosbach has been a mentor since the day he met him. "And to now find out that he's in the hospital, is terrifying to me," Lucas admitted in a confessional. "If Lee doesn't show up, this first charter isn't going to be happening." The first charter was scheduled to begin the following day at noon. "So, it's very concerning," Lucas added.
Cameras show Rosbach being wheeled into x-ray as Lucas briefs new chief stew Francesca Rubi. Lucas does a great job getting the crew settled while Rosbach is at the hospital. "Come back and work on a yacht, Eddie," Lucas says to himself mocking. "It'll be fun they said! I think I have an aneurysm coming on."
RELATED: 'Below Deck': Eddie Lucas Wants the Show to Return to Yachting, Not 'F**king and Fighting' (Exclusive)
Rubi tells her stew team that Rosbach fell. "He's actually not on the boat," she said. Both Lucas and Rubi try to answer questions from the crew about Rosbach's condition but they aren't sure if he's going to join the crew or not.
Below Deck is on Monday at 9/8c on Bravo.