'Below Deck': Captain Lee Laughs About 'Innovative' Charter Guest Who Jumped Overboard
Captain Lee Rosbach didn't laugh when Below Deck charter guest Delores Flora jumped overboard, but he did chuckle about a guest who found a workaround to his "no jumping off the boat" order.
Rosbach mused about a group of "Irish lads" who got drunk and enjoyed jumping off the boat. "I must say, they were fun, they were just a great time," he remarked on One Live, Rosbach shared on Twitter. "They just wanted to have fun."
Below Deck guests are often seen jumping off the boat during the day when the crew is in place to ensure the jump is safe. But viewers know that Rosbach has a strict rule that no one can jump in the water after sundown. The sun was starting to set and one of Rosbach's stews, Amy Johnson, told the guests it was time to wrap it up. But instead of toweling off, Rosbach recalls a move one guest made that definitely tickled his funny bone.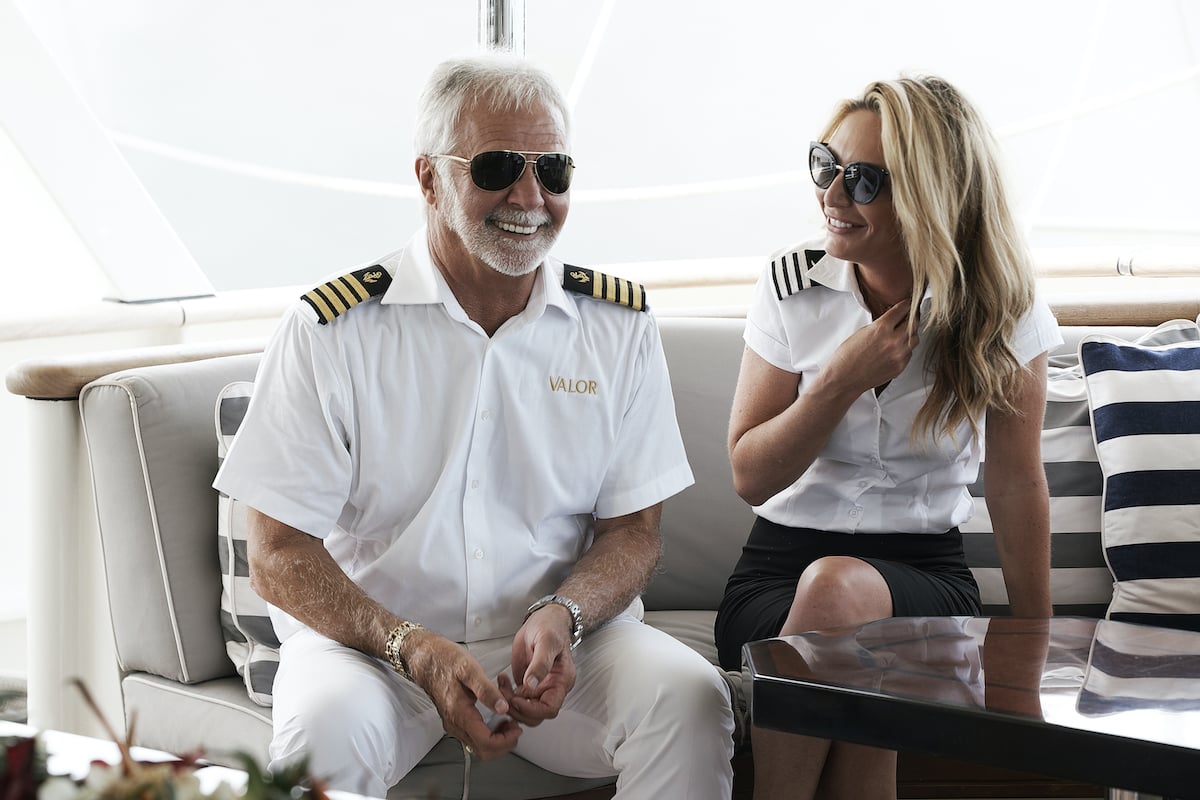 Captain Lee laughs about how a guest got around his 'no jumping' rule
"It was comical because we were standing up on the bar deck, the jacuzzi deck and it's pretty open," he recalled. "And it's a favorite spot where people like to jump off the boat. And so these guys were finding the highest spot they could possibly get to, and jumping off into the water. Which I'm fine with."
"But it was getting dark, it was dark," he added. "And they had been partying pretty hard all day. And so one of my stews, I think it was Amy said, 'OK guys that's it. We're going to bring the jumping off the boat to a stop.' No more jumping off the boat."
RELATED: 'Below Deck': Kate Chastain Reveals Several 'Firsts' for Captain Lee When the Drunk Charter Guest Jumped Into the Water
"And he looks at her and he goes, 'No more jumping off the boat, right,'" Rosback recalled. "She goes, 'Right.' So he turned to his mate who was standing right next to him, and he just picked him up and threw him overboard. And then he turned around to her, palms up, and goes, 'He didn't jump.'"
Rosbach laughed, "I mean you said no more jumping and he definitely did not jump. I thought that was quite innovative ."
Captain Lee wasn't laughing when Delores Flora jumped off the boat at night
While Rosbach giggled about this group of guests, he was enraged when Flora jumped off the boat during a formal dinner. Flora joined a group of friends for a charter on Below Deck Season 8. She got drunk during dinner and decided to go outside onto the swim platform and jump in the water at night after Rosbach told her not to go swimming.
"Get your godd*mn a** back to this boat," Rosbach screamed at Flora. "Now!" She taunted him from the water as the crew and other guests begged her to return to the boat. Flora even asked the crew for bacon from the water.
RELATED: Below Deck's Kelley Johnson Says Captain Lee Is 'All About Rules and Safety' After 'Below Deck Med' Season 6 Trailer Drops
"Delores jumping in the water is the ultimate f**k you to the captain, Rosbach said in a confessional. "She's drunk. It's dark. I don't need somebody jeopardizing their own life on my watch." Rosbach ultimately kicked Flora off of the boat the next day and the rest of the guests continued with their charter.