'Below Deck': Captain Lee Said Jen Howell Had a 'Mean Streak' and Would Have Fired Her
Below Deck Season 5 stew Jennifer Howell may have avoided getting Captain Lee Rosbach's infamous plane ticket home, but that doesn't mean he didn't want to give her one.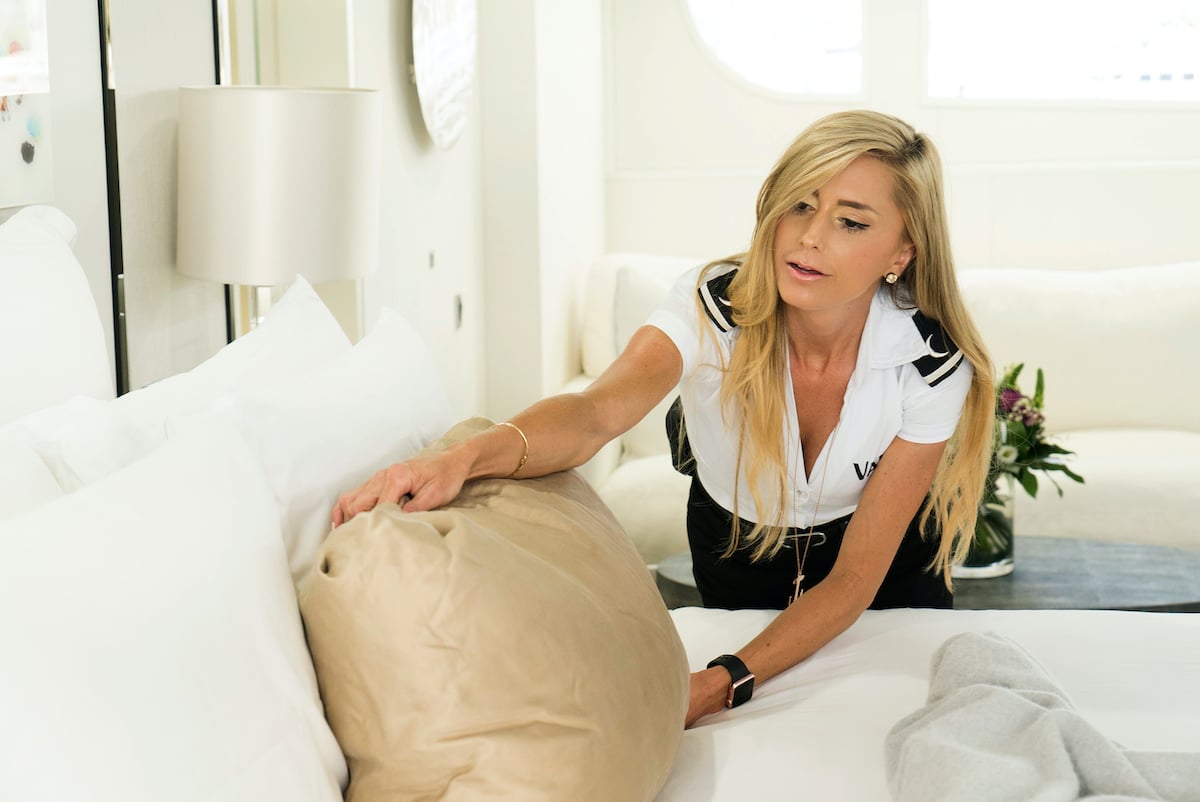 While Howell struggled with her job, the crew also witnessed a mean streak that came out after a night of far too much drinking. Howell started to meltdown when the crew returned to the boat. Deckhand Baker Manning tried to help Howell back to the boat, but Howell turned on her. Howell went in a different direction, telling the crew they didn't care about her.
Manning rolled her eyes calling Howell a "f**king idiot." That's when Howell called Manning a "whore." Manning laughed it off, but later things got physical when deckhands Kyle Dixon and Bruno Duarte confronted Howell for calling Manning a whore.
The 'Below Deck' crew night turns sour thanks to Jen Howell
Howell tried to complain to bosun Nico Scholly about Manning but couldn't form a coherant sentence. Meanwhile Dixon came for Howell asking her where she got off calling Manning a whore. The deck team explodes and starts fighting. Meanwhile, chef Matt Burns, Scholly and girlfriend Brianna Adekeye were just trying to sleep.
Duarte tried to calm Howell down but that resulted in the two getting physical. Howell tried to push her way past Duarte and he restrained her. "I'm gonna lock you in the bathroom if you are still screaming at me," Duarte told Howell.
Of course, Rosbach did not personally witness the behavior but shared in his Bravo blog he was mortified. In fact, his blog is titled, "I would have fired Jen."
Jen Howell isn't the worst drunk Captain Lee has seen but in the 'top 5'
Rosbach was angrier than a "pissed on chicken" when he saw what transpired. He let it rip in his blog.
"Jen, let get this over with," he wrote. "You may not be the worst drunk person I've ever observed, but you are in the top 5 no doubt. You have a mean streak that really jumps out after a couple of pops. Kate was totally correct – had I witnessed your behavior, last charter or not, you would have been walking down the dock."
Howell apologized the next day but Rosbach said it was a little too late. "And your 'after the fact' apologies are just sorry ass excuses for bad behavior that you simply cannot rationalize at all," he added. "And enough with the eye roll. You are in no position to be doing that sort of thing, period. I really hope you suck it up and make it through this last charter. I had such high hopes that you would reach your potential this season, but will have to wait and see I suppose. Oh, and I totally agree with you that Kyle was really just overacting to you sampling his food. To refuse to eat anything was just childish behavior on his part."
Captain Lee also thought Bruno Duarte could have handled the situation differently
Rosbach also didn't appreciate that Duarte ended up getting physical with Howell. "Bruno, you need to realize that, one, that whole conversation with Jen should have been left alone, and two, you never ever put your hands on another crew member, unless they want you to," Rosbach wrote.
"Now I'm not clairvoyant, but my guess is Jen did not want to be locked in the bathroom, which by the way locks from the inside, for future reference," he added. "And she certainly didn't appear to want you to escort her to said bathroom either. Got yourself in a situation that you could not possibly win, no matter how good your intentions were."