'Below Deck': Captain Lee Says 'Dead People Don't Tip Well'
Drunk charter guest Delores Flora isn't the only inebriated guest to test Captain Lee Rosbach's patience on Below Deck.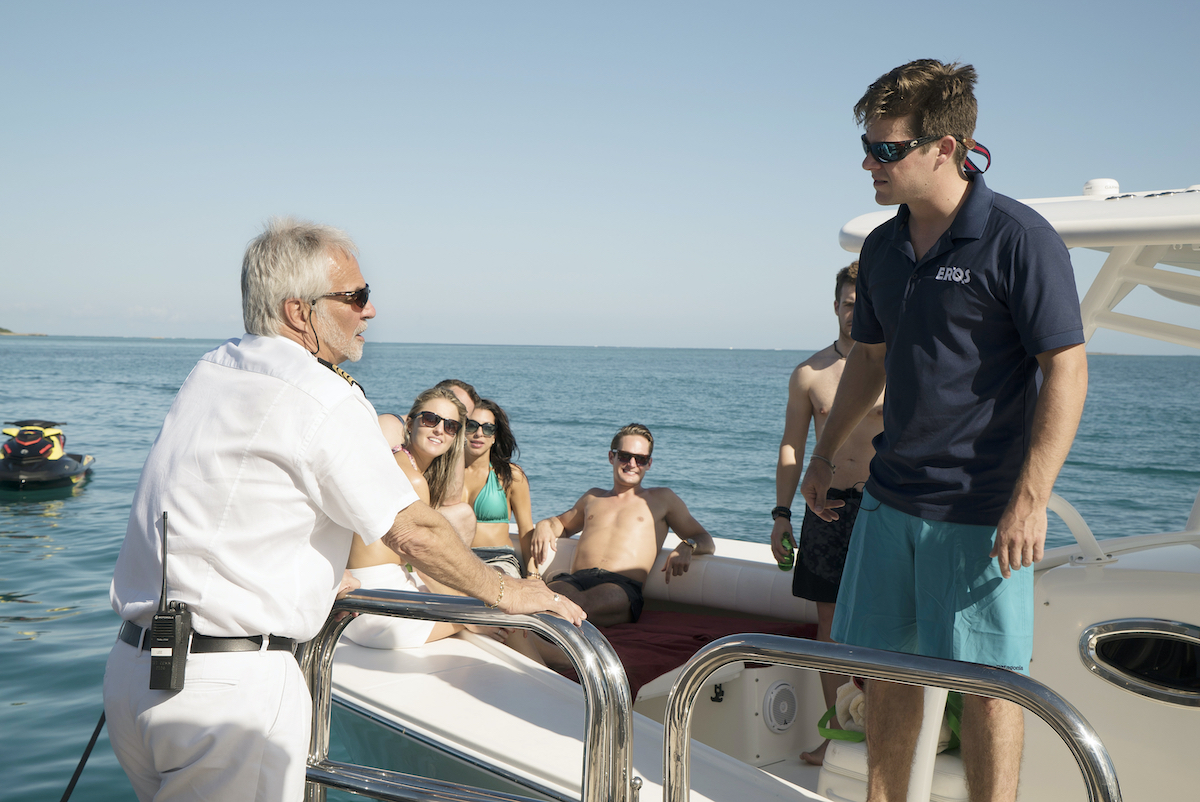 Longtime viewers likely recall Steve "Foam Man" Bradley when he rode a jet ski while inebriated during season Below Deck 6. Not only is he drunk, but bosun Chandler Brooks allows him to operate the water toy without a life jacket. "It's hard to have a good time when you're dead," Rosbach said, Vulture recounts.
'Dead people don't tip well,' Captain Lee Rosbach says
Rosbach blogged about the instance, reminding the crew that "dead people don't tip well." He admonished Brooks for backing off when Bradley ignored his suggestion for the life jacket, reminding him he'd support any safety measures on the boat.
"Chandler, not sure what you were thinking when you let a guest go out without a life jacket, especially one like Steve," Rosbach wrote in his 2018 blog. "Had you told him no, not without a jacket, I would have totally backed that play. Dead people don't tip well. I didn't undermine you, you did that all on your own. If you come out and tell your crew that you are not their boss once you're off the boat, then stick to it."
RELATED: 'Below Deck': Chef Rachel Is Dealing With COVID but Says She's Still Healthy
Rosbach ended up confronting Bradley himself about the life jacket. But he assured fans he and Bradley were still friends. "We have my friend Mr. Foam man, Steve, back again, and as usual, he can be a handful," Rosbach wrote. "A well-intentioned, fun-loving, not-a mean-bone-in-his-body handful. And this trip is no exception. As he stated when he left, he didn't know, because he didn't remember. Good thing we documented it. And yes, we are still friends."
How did Steve Bradley get the 'Foam Man' nickname on 'Below Deck'?
Bradley is a repeat guest on the series and obtained his "Foam Man" moniker during his season 3 appearance. He insisted on having a foam party one night, but the wind on the deck was not cooperating. Despite the massive amounts of foam being produced by a local vendor, the foam was generally blowing right off the deck.
At the same time, Bradley's friends decided to go to watch from the deck instead of partaking in the foam party. He beckoned them to have fun with him but no one budged. "Steve wants foam up to his neck," bosun Eddie Lucas said in a confessional. "But the wind is blowing like 25 knots. And it's just taking the foam and blowing it away."
RELATED: 'Below Deck': Kate Chastain Dishes About Her Favorite (and Least Favorite) Stews
A few guests joined him, but only after the stews joined him on the deck. Amy Johnson, Rocky Dakota, and Kate Chastain "partied" with Bradley. While Dakota said in a confessional she's happy to give the charter her all, Bradley becomes inappropriate and tries to kiss her. Dakota laughed it off and just walked away from him.
Lucas showed up in a robe and yelled, 'Foam party!" Meanwhile, Rosbach looked a little embarrassed for Bradley and he did not join the crew on deck for the foam party. "Steve is … wow," Rosbach said in a confessional. "He has taken having a good time to a level I wasn't sure was attainable."