Below Deck: Captain Lee's Deep Thoughts Include 'Wiping My A** With 80 Grit Sandpaper' and the Ocean Is the 'Swimming Dead'
Captain Lee Rosbach from Below Deck has a bucketful of famous "Captain Lee-isms" but he also shared his "Deep Thoughts" on a slew of topics including paperwork, steak, fishing, and more.
Bravo captured Rosbach's musings in a series of videos, introduced by chef Ben Robinson. "And now, deep thoughts with Captain Lee," Robinson is heard softly introducing each video.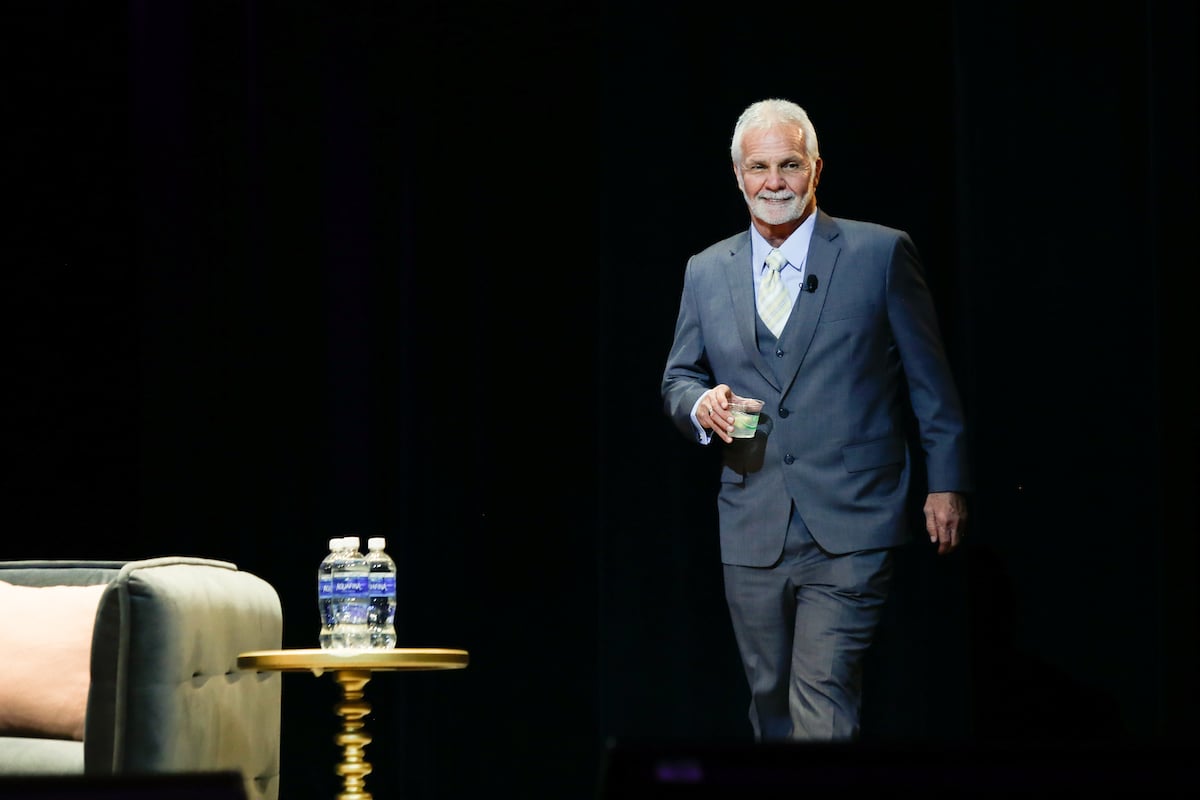 Captain Lee from 'Below Deck' has many opinions about fish and fishing
Rosbach pondered the saying, "If you give a man a fish, he'll eat for a day. If you teach a man how to fish … he'll sit on the boat for seven hours and drink beer."
And while Rosbach viewed fishing as more of a social gathering than sport, he shared what goes through his mind when he's sitting on that boat, drinking beer while fishing. "Whenever I'm fishing, I think to myself, 'If a beautiful ribeye suddenly lowered from the sky, on a line, would I try to eat it?'" he wondered. "Hell, I probably would because you know … steak."
RELATED: 'Below Deck': Which Charter Guests Had the Most Outrageous Requests and Preference Sheets?
Rosbach took the notion of fishing one step further with his opinion of the fish themselves. "All fish are cannibals because they eat other fish," he said. "That means the ocean is really just one non-stop zombie movie. It's like the Swimming Dead out here."
Captain Lee from 'Below Deck' isn't a fan of paperwork
When it comes to being the captain of a yacht, Rosbach snarked about one of his least favorite chores. "I like filing all the required paperwork to run a yacht," he said. "But then again, I like wiping my a** with 80 grit sandpaper as well."
Rosbach also got a little philosophical in a few clips. He shared why he thinks walking on water wouldn't be that great. "Because there is really no place you can sit down."
RELATED: 'Summer House': Carl Radke Shares Captain Lee From 'Below Deck' Told Him, 'You Can't Go Wrong Doing the Right Thing'
He also wondered about heaven. "I don't know if there's an ocean in heaven, but if there is and God has a yacht, I bet it has a really sweet hot tub," Rosbach said.
Captain Lee's 'Deep Thoughts' are the perfect compliment to his Captain Lee-isms
Below Deck fans are often treated to a new "Captain Lee-ism" every season, but he always manages to utter some fan favorites during nearly every season. Some popular ones include:
"You can drive a straight pin up my a** with a 10-pound sledgehammer." As Rosbach says, his patience is transparent.
RELATED: 'Below Deck': WWE Stars From 'Miz & Mrs.' Would Love to Be Charter Guests
"We screwed the pooch so many times we should have a litter of puppies running around." This is a Rosbach favorite. As he's used it with his own crew, but also tweeted it about a previous episode of Below Deck Med, Bravo's The Daily Dish reports.
"I'm madder than a pissed on chicken." This one is typically delivered when Rosbach has literally had more than enough nonsense.
"I would rather drag my d*ck through 10 miles of whiskey bottles." Rosbach likes to turn to this one any time his crew is being especially salty.