'Below Deck': Could Eddie Lucas Return With a New Job for Season 9?
Could Eddie Lucas return to Below Deck as first officer, leaving room for a new bosun?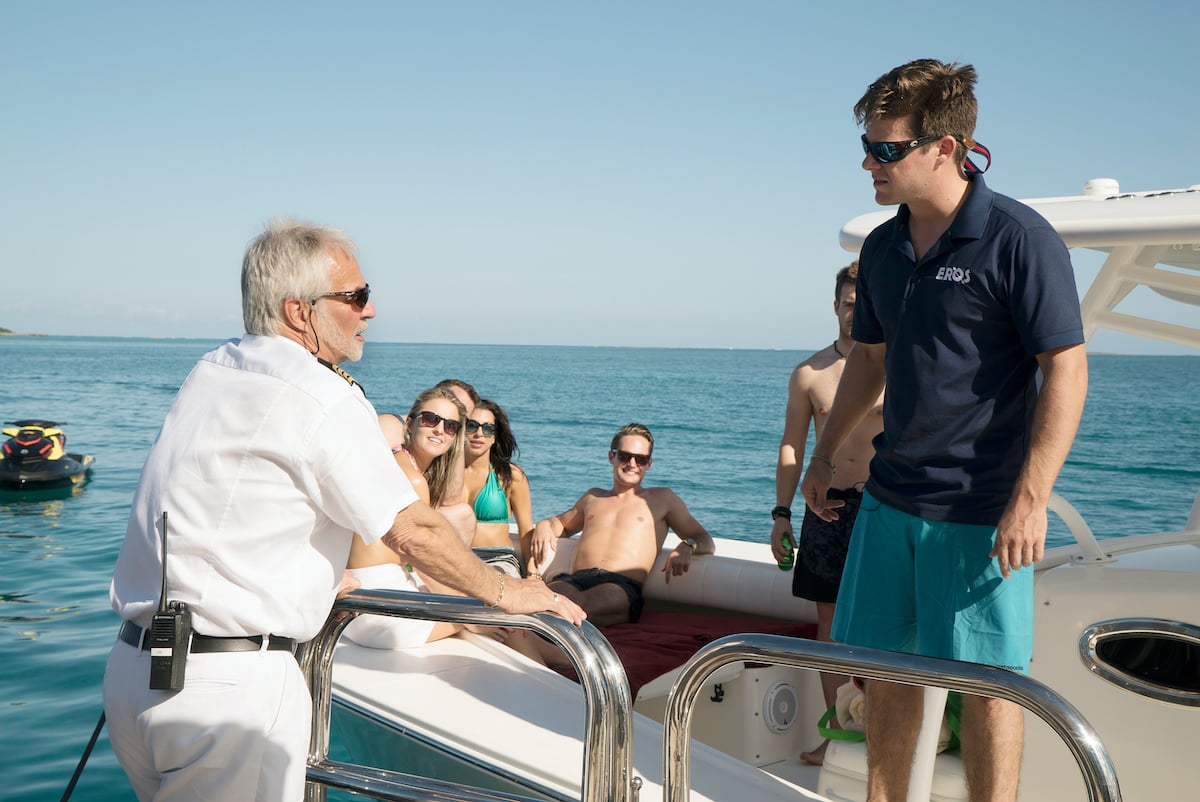 It wouldn't be the first time the franchise featured a first officer. It also opens the gateway for Lucas to even take over at the helm of the show someday. In an emotional moment, Captain Lee Rosbach gave Lucas three stripes during a season finale tear-jerker. Rosbach then said in a confessional that Lucas is what he hoped for in a son, which gutted fans.
The series thus far has included two crew members in the first officer position. Aleks Taldykin from Below Deck Season 1 and Paget Berry from Below Deck Sailing Yacht Season 1 were both in the first officer position.
Captain Lee can count on Eddie Lucas
While casting has not been confirmed, having Lucas return makes sense as Rosbach has shared he needed a confidante on board. Chief stew Kate Chastain previously filled that role. But she's since retired and Lucas moved into the space.
"Eddie was someone who was always sort of on our radar," executive producer and showrunner Lauren Simms told Bravo. "He took some time off, and Captain Lee needed someone he could trust this season. And so, the timing was perfect. [Captain Lee] didn't have the best luck with his deck crew the last couple seasons, and with Kate leaving, he needed someone he could trust on his vessel."
"If you don't have an Eddie or a Kate that you can count on, you might as well just resign yourself to the fact that you're gonna be pulling your hair out before the season ends," Rosbach said.
Eddie Lucas earned those stripes
Rosbach said Lucas certainly earned those stripes. "I don't hand things out easily," Rosbach explained in the Below Deck After Show. "If you're gonna get somewhere, in my book you gotta do it the old-fashioned way. You have to earn it."
"And Eddie earned it, all the way along," Rosbach continued. Lucas was also part of the virtual interview, nodding his head, appearing to be choked up. "He hit some speed bumps like we all do. But he stayed the course. And he got over it." Lucas helped to launch the series. But after having an embarrassing affair during season 3, he left the series.
Lucas returned for season 8 in a better position. This time he dealt with one of the greenest deckhands to appear on the show. "But we made it through," Rosbach reflected. "And he earned his stripes. And then some."
"It meant a lot to me and kinda choked me up a bit," Lucas said. "It's been so many years since I first started as a deckhand. And getting my second stripe with Captain Lee. Going through everything I went through after season 3. And really hitting what it feels like rock bottom in my life so far. Like really hitting rock bottom." Lucas described his path back to the show, how he built back his confidence but also his career. "To have that recognized and get my third stripe was … I was proud of myself. It meant a lot."