'Below Deck': Do Sailing or Motor Yacht Crew Make More Money?
The Below Deck Sailing Yacht Season 1 crew walked away with $16,000 each in tip money amounting to about $143,000 for the six-week season.
Not bad cash for six weeks of work, but the sailing crew's tips only hit about mid-range when it comes to tipping on the franchise. Perhaps tips came in lower because the sailing series was new or do sailing yachties tend to make less money than a motor yacht crew? One yachting resource says the crew tends to make less on a sailing yacht. But is that always the case?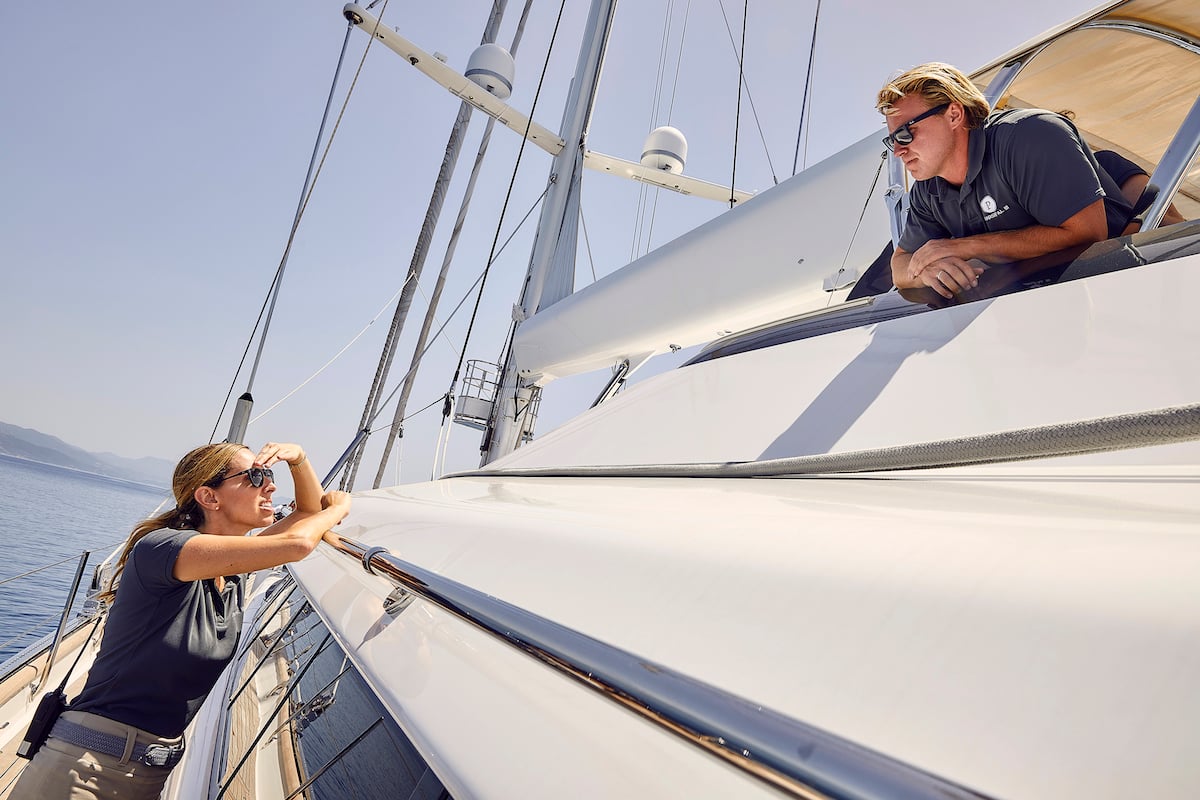 Why do sailing yachties make less money than motor yachties?
Yachtie site, Crewfinders broke down the pros and cons of working on a motor versus sailing yacht. While sailing yachties soak in more seamanship and travel, they tend to earn less money than motor yachties, partially due to the emphasis on job formality.
Below Deck viewers likely notice that the sailing crew tends to change uniforms far less than the motor yachties. Also, Captain Glenn Shephard is extremely hands-on and even shares a bunk with another crew member.
While Captain Sandy Yawn from Below Deck Mediterranean and Captain Lee Rosbach from Below Deck may pitch in occasionally, they typically aren't seen carrying the guest's luggage or washing the boat. Yawn and Rosbach certainly don't share a cabin with another crew member.
"One of the most important considerations is money," Crewfinders shared. "Salaries are based on experience, skills and yacht size among other things. Motor yachts pay more in salaries but more is expected of the crew. Sailboats pay less but afford more opportunities for the crew."
Adding, "Motor yachts are more formal regarding uniforms, owner and guest relations, and job requirements. That is why the salaries are higher."
How do motor yacht job salaries stack up to sailing yacht salaries?
Sailing yacht jobs do not seem to be as plentiful as motor yacht opportunities. However, when comparing a few positions on similar-sized vessels, motor yachts tend to pay a higher salary.
For instance, a deckhand on a 50-meter sailing yacht might earn about $3,250 per month, according to a job featured on Yotspot. However, a deckhand job on a 45-meter motor yacht pays closer to $4,000 per month.
A solo stew on a 23-meter sailing yacht could make about $2,500 a month. But a motor yacht stew brings in closer to $3,300 per month for the same sized vessel.
But a first officer job on a sailing yacht could be a higher-paying job. Yotspot featured a chief officer job on a 55-meter sailing yacht that paid about $7,223 per month. But then roughly the same position might pay a little more than $6,000 per month on a 70-meter motor yacht.
Obviously, experience and yacht owner salary preferences are heavily weighed so each employer and scenario is different.
And while some motor yacht jobs may pay more, Rosbach recently shared that he thinks sailors have a tougher gig. "Sailing vessels are a lot of work, but we usually have more crew on same size motor yacht, but I would say sailing on a big sailboat is harder," he tweeted.
Catch Below Deck Sailing Yacht every Monday at 9/8c on Bravo.