'Below Deck': Hints Point To Chef Rachel's Return as Her Relationship With Eddie Lucas Becomes Explosive
Chef Rachel Hargrove suddenly quit Below Deck but is she truly gone for good? Hints and teasers point to Hargrove's possible return as both she and bosun Eddie Lucas mentioned they end with a contentious relationship.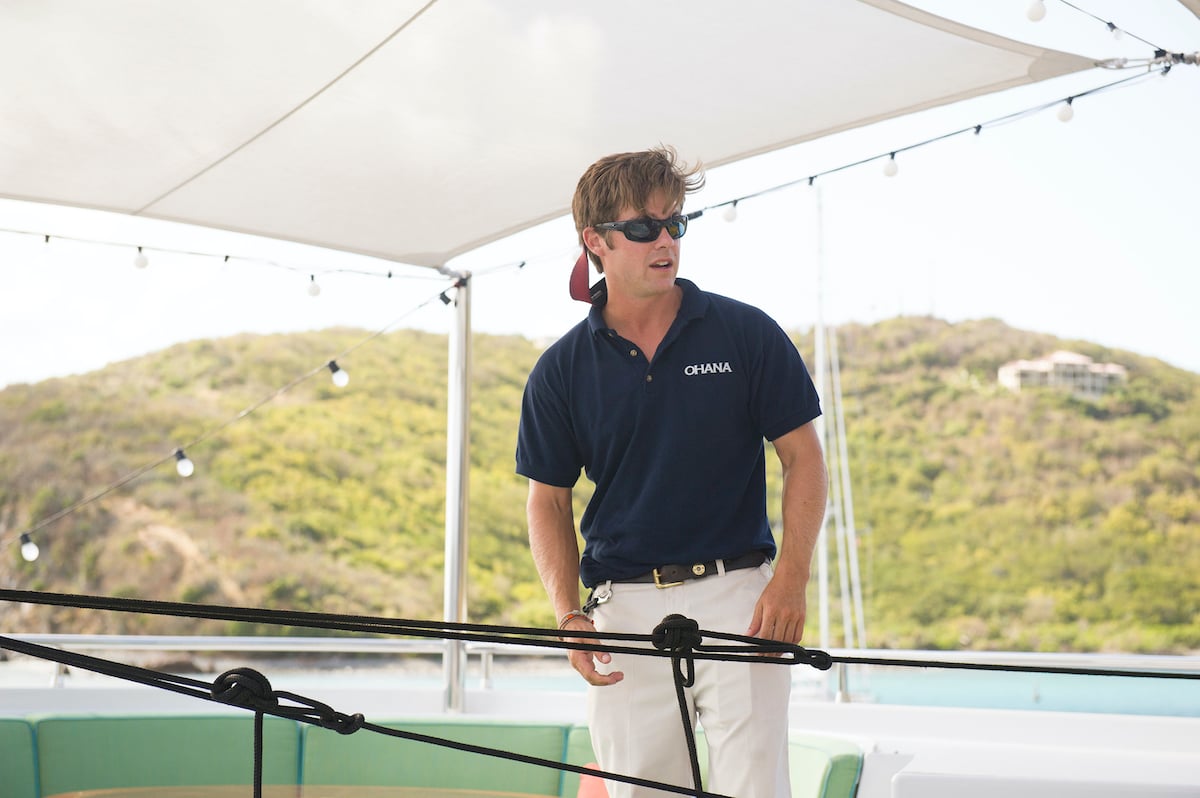 However, Hargrove and Lucas's relationship looked nothing but friendly and supportive before she left. He pledged his support to her when she told him that she was exhausted from being the boat's "psychologist." Crew member after crew member confided in her about their disagreements with each other.
She was also struggling with the news that COVID-19 (coronavirus) was becoming a global pandemic. Meanwhile, the U.S. based crew kept filming, not realizing the world was headed for trouble.
Hargrove suddenly bolts from the boat when a preference sheet meeting becomes overwhelming. The guests have endless requests and she tells the the crew she is out and wants a plane ticket home. Adding, "go f**k yourself" to Captain Lee Rosbach.
Eddie Lucas teased that his relationship with Chef Rachel gets dicey
Lucas told Showbiz Cheat Sheet his relationship with Hargrove goes south. "She is a character," Lucas said. "She is a character. Crazy as they come. And her and I had some really, really great moments. But those moments like kind of died out pretty quick."
He also dropped a further hint that more happens in their relationship. He played a game on Watch What Happens Live with Andy Cohen and was asked who he would "share a bed with." Lucas was given a choice between Hargrove and Raquel "Rocky" Dakota. Lucas and Dakota had a secret and combustible romantic affair during season 3.
RELATED: 'Below Deck': Eddie Lucas Hints at Tension With Chef Rachel
"Eddie, who would you rather share a bed with, Rocky or chef Rachel?" host Andy Cohen asked Lucas. "Oh God," Lucas said, looking a little stumped. "Um, yeah, Rocky."
Lucas also said he didn't think Hargrove would have said goodbye to him if he was fired from the boat. Hargrove was the only crew member to avoid telling Shane Coopersmith "goodbye" after he was fired.
Tensions get "really bad" with Eddie Lucas, Chef Rachel hinted
Another big hint Hargrove may return was that she said her relationship with Lucas intensifies. Thus far they've only had cordial and friendly exchanges.
"It's really bad," Hargrove told Decider about Lucas. "But I'm one of those where I just hash it out or I walk off. I don't care. I'm one of those. Where I'm like, 'Mm. Is it something personal?'"
RELATED: 'Below Deck': Chef Rachel Says Things Get 'Really Bad' With Eddie Lucas
"Something was published where he said, 'I have an issue with authority.' I was like, [sigh]," she continued. "I'm just going to go back and think about Cartman. Remember with Cartman, he was like, [Cartman voice] 'Respect my authority!' It was really like that. I was like, authority is Captain Lee: Chief Officer, Chief Engineer. That's it. Because I'm a department head as well."
Hargrove also said "it is what it is" about her working relationship with chief stew Francesca Rubi. These teases and hints may indicate that viewers haven't seen the last of Hargrove.
Below Deck is on Monday at 9/8c on Bravo.